Tesla's Pickup Truck has been the subject of a cool 3D render from the digital media company TurboSquid ahead of its the vehicle's planned unveiling event in November.
Tesla's Cybertruck is set to be shown to the public after initially being announced at the Semi unveiling event in November 2017. Speculation regarding the appearance of the truck has been buzzing because Tesla has managed to keep the exact details of the vehicle completely under wraps.
The truck has been subjected to numerous artist renderings in the past, particularly after Elon Musk related comments about the vehicle's design in an interview with Recode. where the Tesla CEO said it is "gonna be like a really futuristic-like cyberpunk, "Blade Runner" pickup truck."
The rendering from TurboSquid is based on Musk's teaser image of a pickup truck from the Tesla Semi unveiling event in 2017. TurboSquid states the rendering, available for purchase at a price of $99 on their website, can be used for anything in a virtual setting, like video games or interactive training methods. Those who purchase the rendering will be able to open the doors for a look at the truck's interior, giving them one of the most detailed depictions of the vehicle to date.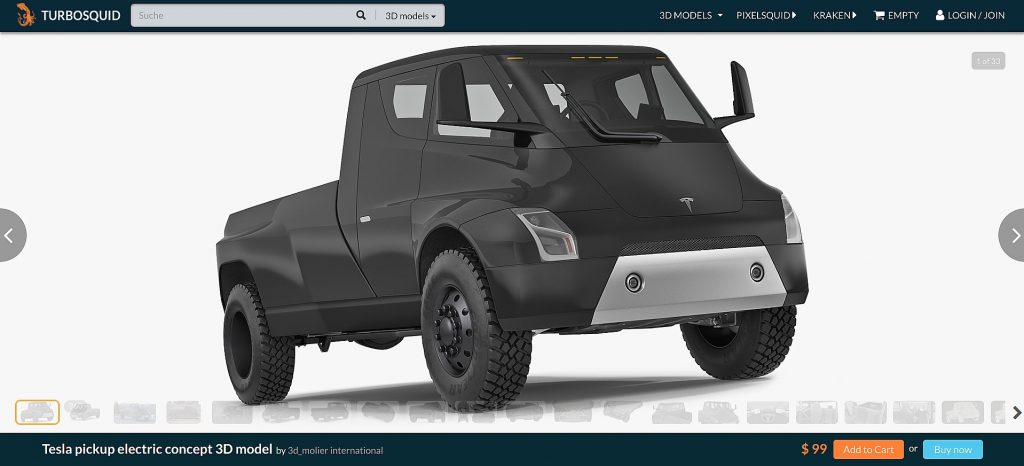 The rendering shows room for four passengers, with the driver's seat isolated and located in the center of the truck. It also features a row of seating in the rear of the vehicle that will seat three people comfortably. The dash features two different screens, one on each side hinting the design of the Pickup could be similar to Tesla's Semi, a vehicle that features one centralized seat with two dash screens. Other interesting features of the truck are an elongated bed, and a single wiper blade system that is somewhat similar to the concept wipers for the Tesla Roadster.
Production of the Tesla Pickup will begin after the first builds of the Model Y in 2020. The truck is rumored to have a starting price of $49,000, between 400 and 500 miles of range, with Musk joking that the vehicle will feature a 300,000-lb towing capacity — nearly 23 times the amount of J.D. Power's most popular pickup truck of 2019, the Ford F-150.
The Tesla Cybertruck is set to rival some of the most popular pickup trucks in the world. The truck will compete with Rivian's R1T, another full-electric pickup that is planned to begin production sometime in late 2020. Both vehicles will change the idea that a powerful truck capable of hauling trailers and boats has to be powered by gas or diesel fuel, as the trucks will both outperform many ICE pickups in terms of towing, speed, and efficiency.
TurboSquid's full 3D models for its Tesla Pickup Truck concept could be viewed here.