A recently leaked Elon Musk email provides insight into the Tesla Cybertruck's target precision for the all-electric pickup truck's production. Tesla Giga Texas appears to be burning the midnight oil to perfect the Cybertruck before it is released.
"Due to the nature of Cybertruck, which is made of bright metal with mostly straight edges, any dimensional variation shows up like a sore thumb," wrote Elon Musk in an internal email to employees.
"All parts for this vehicle, whether internal or from suppliers, need to be designed and built to sub 10 micron accuracy.
"That means all part dimensions need to be to the third decimal place in millimeters and tolerances need to be specified in single digit microns. If LEGO and soda cans, which are very low cost, can do this, so can we.
"Precision predicated perfectionism," Musk told employees.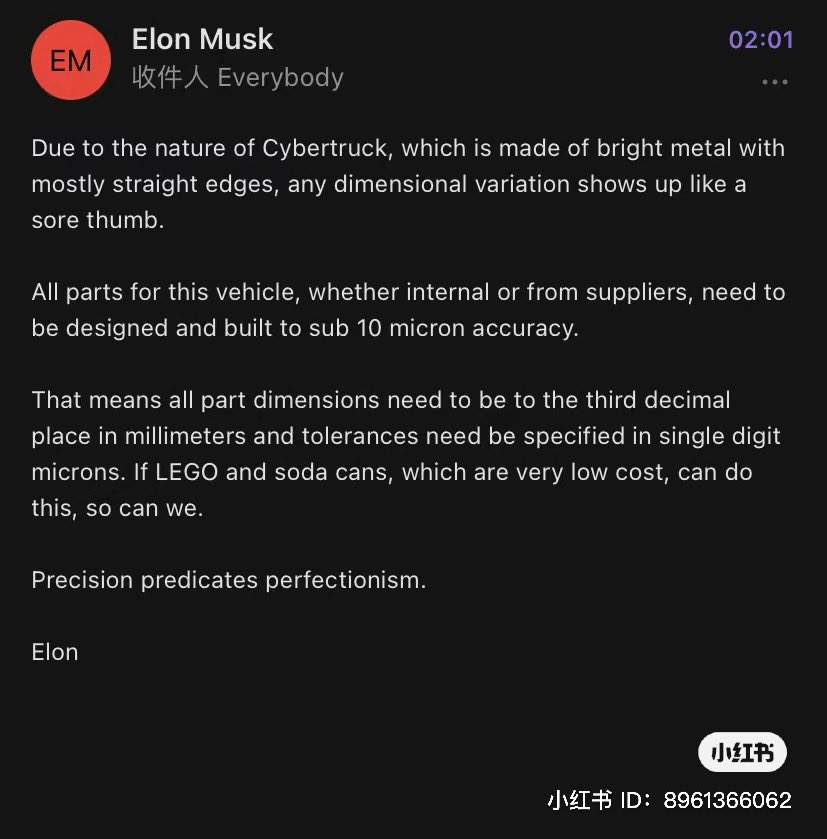 The Cybertruck's origami-like structure and unique body shape probably does make production a little challenging for Tesla. In May 2023, the German newspaper Handelsblatt released reports regarding internal Tesla documents, some of which provided information about the Cybertruck's alpha prototypes and issues the company was running into as it figured out the EV pickup truck's mass production process.
One of the challenges Tesla faced with the Cybertruck's alpha prototypes was body sealing and–in extension–noise levels. The leaked internal documents revealed that Tesla had to hand-seal the Cybertruck. Tesla stated in the documents that "there are a number of areas that we do not have a clear path to sealing" for the Cybertruck's production version.
As a result of the Cybertruck alphas' sealing process, the all-electric pickup truck's cabin has an issue with noise levels. In its report about the issue, engineers noted that the alpha prototypes were significantly noisier than initially projected during the design phase. Testers had identified at least 21 potential noise leaks in the body of the Cybertruck.
With sightings of multiple Cybertrucks rolling out of Tesla Giga Texas lately, it appears the EV manufacturer has solved most of the pickup truck's production challenges. Elon Musk's recent email hints that Tesla is now working on refining the Cybertruck's production process.
Tesla is expected to hold a Cybertruck event by the end of 2023. Like the Model Y deliveries during Cyber Rodeo, the company may deliver some Cybertruck units during the event.
Thanks to Cybertruck Owners Club for the tip. The Teslarati team would appreciate hearing from you, too. If you have any tips or thoughts to share, contact me at maria@teslarati.com or via X @Writer_01001101.