In a lot of ways, the Cybertruck is a personification of Tesla's tendency to fly in the face of convention. This is true for several of the all-electric truck's aspects, from its overall shape to its bed, which the electric vehicle maker calls the "vault."
The Cybertruck's bed is 6.5 feet long, allowing the truck to carry daily long items with ease. And thanks to a motorized tonneau cover, the vault is secure. The original prototype even included lights that ran alongside the vault, illuminating the area. The Cybertruck's vault was quite eye-catching, and attendees of the vehicle's unveiling event were drawn to it.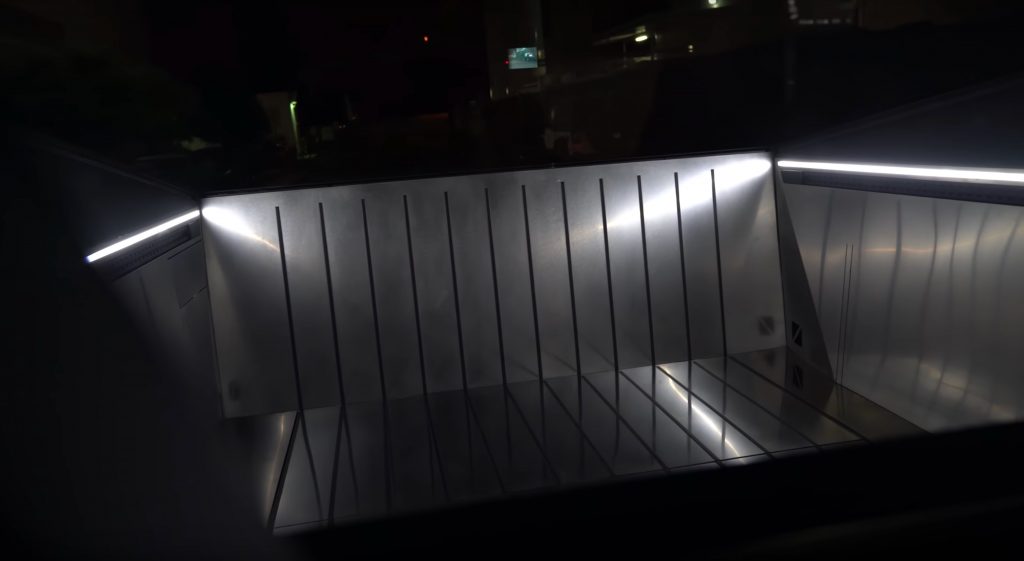 Since its unveiling, the Cybertruck has gone through a number of changes. The vehicle got a bit smaller, so it does not seem to be capable of carrying six people anymore. Its vault also appears to have been redesigned, as hinted at in videos of the Cybertruck's bed that were taken at the inaugural Electrified Cars & Coffee meet at the Petersen Automotive Museum on Sunday.
A look at the vault in the original Cybertruck prototype from late 2019 would show that the motorized tonneau cover is very sleek. The buttons that controlled the motorized tonneau also seemed like they were designed to be as elegant as possible. These design choices received some skepticism from automotive fans, as the thin and sleek motorized tonneau and controls looked like they would be prone to faults when the vehicle gets dirty.
Interestingly enough, the vault appears to have been redesigned in the newer Cybertruck units like the one that was brought over to the Petersen Museum. The Cybertruck's tonneau cover was thicker, and the rubber linings in the bed hinted that the vault would resist a fair amount of rain. More importantly, the buttons that controlled the motorized tonneau cover — and seemingly the tail gate as well based on their graphics — now seem to be optimized for durability. 
One could not be faulted for stating that the Cybertruck appears to have become more utilitarian as it moved closer to production. Its motorized tonneau cover and controls, which are arguably less sleek but more durable compared to their counterparts in the original Cybertruck prototype, suggest as much. This bodes well for the vehicle, as it suggests that Tesla is really putting in some serious effort to ensure that the Cybertruck is as tough as possible.
Don't hesitate to contact us with news tips. Just send a message to simon@teslarati.com to give us a heads up.