Tesla Motors receives a $34.7 million tax break from its home state of California to up annual production from 21,500 sedans to upwards of 50,000 units.
California is known to carry some of the nation's most stringent emissions policies so it comes as no surprise that green technology companies have been given special tax incentives for the positive environmental impact they bring forth.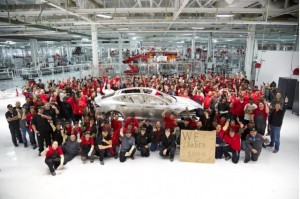 The most recent exemption issued by the California Alternative Energy and Advanced Transportation Financing Authority allows Tesla Motors to purchase up to $415 million worth of manufacturing equipment without having to pay sales and use tax.  This represents a substantial victory for Tesla Motors especially as it continues to struggle with meeting high production demands for the Model S sedan and the upcoming Model X crossover.
It's important to note that Tesla Motors has leveraged similar tax exemptions in the past on equipment purchases of $612 million. These breaks ultimately helped Tesla ascend into the mainstream automotive market through its mass production of the award-winning Model S.
A representative from California estimates that the exemptions will result in a net benefit of $24.4 million to the state through additional job growth and tax revenue from the increase in car sales.
With all that aside, the realized gain in reducing oil dependency through the use of sustainable energy, alone, is worth more than anything.  Go California!