A concept artist has showcased a cool and creative take on Tesla's pickup truck, which is expected to be revealed sometime later this year. Bold and unapologetically futuristic, the Tesla Truck render is a pretty good representation of Elon Musk's upcoming "cyberpunk" vehicle.
When Elon Musk discussed Tesla's upcoming pickup truck to veteran tech journalist Kara Swisher last November, he noted that the vehicle will be so futuristic, it won't look out of place in the iconic sci-fi Blade Runner franchise. Musk even mentioned that if the vehicle does not sell well because it's too cyberpunk, then the electric car maker will release a more "conventional" truck.
Concept artist Emre Husmen's take on the Tesla Pickup Truck definitely qualifies as one of the more futuristic takes on the upcoming vehicle. The artist's design features generous ground clearance and an incredibly aggressive stance. Futuristic headlights and taillights also provide accents to the vehicle's Model X-inspired front fascia. Similar to Rivian's acclaimed R1T pickup, Husman's take on the Tesla Truck features a double cab design and a rather short bed.
The design of Tesla's Pickup Truck is still pretty much under wraps. During the unveiling of the Tesla Semi, Elon Musk mentioned that the vehicle could be derived from the all-electric long-hauler. Musk even showed a couple of artist's renditions of the Semi-based pickup truck that have proven to be quite polarizing. Tesla provided another teaser of the vehicle during the Model Y event as well, but it only featured a cryptic, angular image that incited numerous interpretations from the electric car community.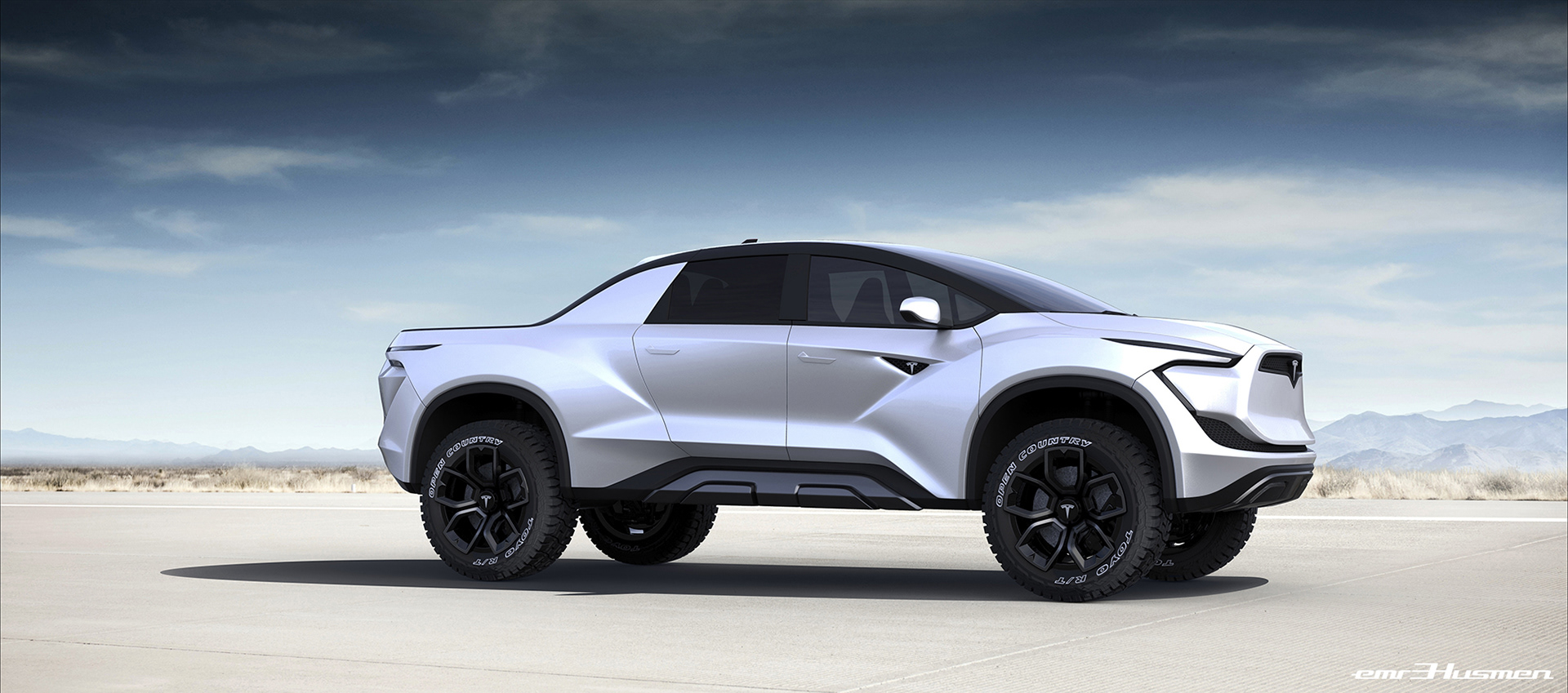 Regardless of its final design, the Tesla Truck will likely provide ample competition for the juggernauts of the pickup market like the Ford F-150 and the Dodge RAM. This is partly due to the vehicle's specs, which include dual motors and a pretty insane towing capacity of 300,000 pounds. The vehicle is also expected to be large enough to seat six people, and include practical features such as a 240-volt connection for heavy-duty tools and an air compressor to run other equipment.
The pickup truck market could very well be the next big frontier for electric vehicles, especially in the United States. Kicking off the segment is the critically acclaimed Rivian R1T, which was unveiled to much enthusiasm late last year and expected to be released in 2020. Auto veteran Ford has also announced that it will be developing an electric version of its best-selling F-150 truck, which, if successful, could end up converting a significant number of traditional pickup truck drivers to electric transportation.