Earlier today, Tesla stock was given a Sell rating by Goldman Sachs, citing the arrival of competitors from established automakers. Some of these competitors are dubbed as "Tesla Killers," such as the Jaguar I-PACE and the Mercedes-Benz EQC. The financial firm's renewed Sell rating on Tesla appears to have affected the sentiment of some investors, resulting in TSLA stock ending the day down 4.21% at $288.95 per share.
Earlier today, the electric car industry also welcomed its latest vehicle from legacy automaker Mercedes-Benz. At an event in Stockholm, Sweden, Daimler AG Chief Executive Officer Dieter Zetsche unveiled the Mercedes-Benz EQC, an all-electric crossover SUV that symbolizes the company's commitment to the upcoming electrification of the transport industry.
"There is no alternative to betting on electric cars, and we're going all in. It is starting right now," Zetsche said.
Mercedes-Benz tried hard with the EQC, with Zetsche stating that the vehicle will be profitable, and that it would "offer the best package" compared to rivals. The EQC also looks very much like a conventional Merc SUV, with its almost understated lines, its high ground clearance, and its tough stance. The EQC's basic specs are quite decent, with two electric motors that produce 402 hp and 564 lb-ft of torque. The SUV can accelerate from 0-60 mph in 4.9 seconds and hit a top speed of around 112 mph. That being said, the Mercedes-Benz EQC's range and production date ultimately prove that it won't be so easy for legacy automakers to gain EV expertise that is comparable to Tesla's.
The Mercedes-Benz EQC is equipped with an 80 kWh battery pack, which puts its size between the base Model X's 75 kWh battery pack and the Jaguar I-PACE's 90 kWh battery. Despite its generous battery size, the EQC's estimated range is very conservative at around 200 miles per charge. Charging the vehicle from 10% to 80% is also estimated to take around 40 minutes. The EQC's apparent lack of range has not gone unnoticed. Alex Roy, a veteran of the auto industry, for one, noted that the EQC's range was a big "miss" for the established German automaker.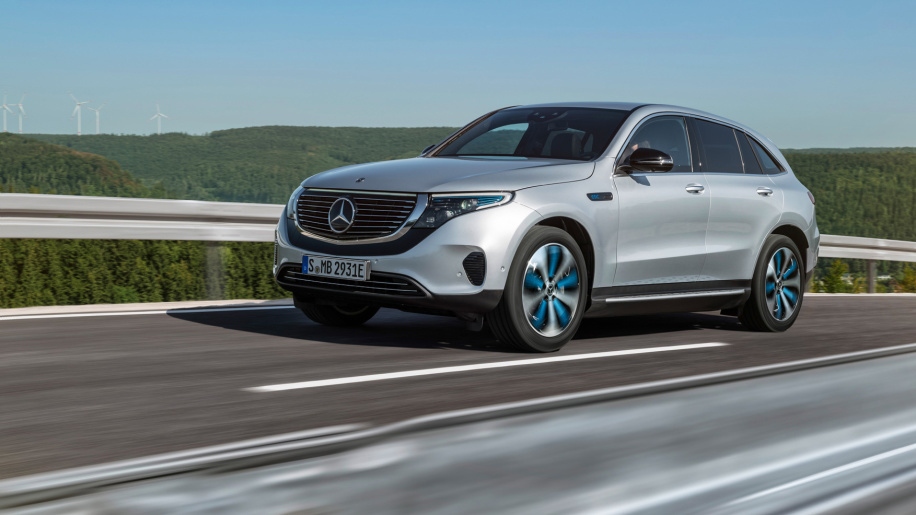 In a way, this could be attributed to Mercedes-Benz's lack of experience in designing and building all-electric cars. And it's not just Mercedes-Benz, either. Jaguar's I-PACE is listed with a 240-mile range, but informal, real-world tests online have noted that the vehicle's battery consumption is quite high. The same could be true for the EQC. It might have a big enough battery, but it could prove to be the electric equivalent of a gas guzzler.
This is something that Tesla has refined over the years. Elon Musk has opted to develop Tesla's battery packs and even its software in-house, allowing the company to create vehicles that just work. In terms of range, Tesla's cars usually come very close to their rated range, in some instances even exceeding it. Even the Model X 75D — one of Tesla's largest, heaviest offerings — could go as far as 237 miles with a 75 kWh battery. Tesla's progress in developing and building electric cars ultimately cannot be discounted, as Volkswagen AG, a prominent German automaker, was one of the investors willing to help fund Tesla's attempted privatization. 
Another notable detail from the Mercedes-Benz EQC's unveiling that validated Tesla's experience in building electric cars is the German-made SUV's production timeline. Mercedes expects to start manufacturing the EQC sometime next year, with deliveries beginning in 2020. Compared to Tesla's hyper-aggressive timetables, Mercedes-Benz's timeline is very conservative, especially considering that the automaker is looking to build the EQC in some of its existing facilities.
There is very little doubt that Tesla is the company that ultimately made electric cars desirable, proving to consumers that battery-powered vehicles are actually realistic alternatives to fossil fuel-powered cars. Since starting the production of the Tesla Roadster, the company has gained a lot of experience, a lot of it coming from trial and error. Over the years, Tesla has refined its battery technology, to the point where the company is now attempting to hit a battery pack cost of $100 per kWh. Its 2170 cells that power the Model 3 are also proving to be impressive, with Detroit veteran Sandy Munro praising it as some of the finest batteries he has ever analyzed.
A central part of the Tesla Killer thesis is that competitors from established automakers can easily catch up and overtake the California-based company with vehicles that are far superior in quality and performance. If the range and estimated delivery date of the Mercedes-Benz EQC are any indication, it appears that the arrival of these competitors might be just a little bit too late. After all, by 2020, Tesla is planning to start the production of the next-generation Tesla Roadster, a supercar to end all supercars. The Tesla Model Y, a CUV expected to be even more popular than the Model 3, would likely be in production by then as well.
Watch the Mercedes-Benz EQC's unveiling in the video below.