Just a little over a week after Elon Musk walked away from Tesla's privatization deal, Goldman Sachs has resumed its coverage of the company. With this renewed coverage comes a strong Sell rating, citing increasing competition from rival carmakers as a reason behind a possible decline in Tesla's share in the EV market.
A recent note penned by Goldman Sachs analyst David Tamberrino stated that the financial firm believes Tesla stock (NASDAQ:TSLA) would drop 30% in the next 6 months due to the arrival of competing electric vehicles over the next few years. Amidst the release of Goldman Sachs' note, Tesla shares have taken a 3% drop during Tuesday's intraday.
"We see the medium-to-longer term industry backdrop as challenging for Tesla's products; this follows from an increasing number of EV launches from both traditional OEMs and other start-up competitors — at a time when the company's product cadence hits a gap. We believe the company will see pressure to its lead in EVs as competition catches up," Tamberrino wrote.
The Goldman Sachs analyst provided a list of some of the electric car makers he believes would be a legitimate threat to Tesla, among them vehicles from BMW, Jaguar, and Porsche, as well as other legacy carmakers that have pledged to release electric cars over the next few years.
"With regional mandates and tightening CO2 standards, both traditional and new entrants are expected to launch several EVs in the coming years — with a large crescendo in the early-to-mid 2020s. Altogether, we remain bearish on the company's ability to execute, achieve its targeted production ramp/margins, and sustain FCF [free cash flow] generation," Tamberrino wrote.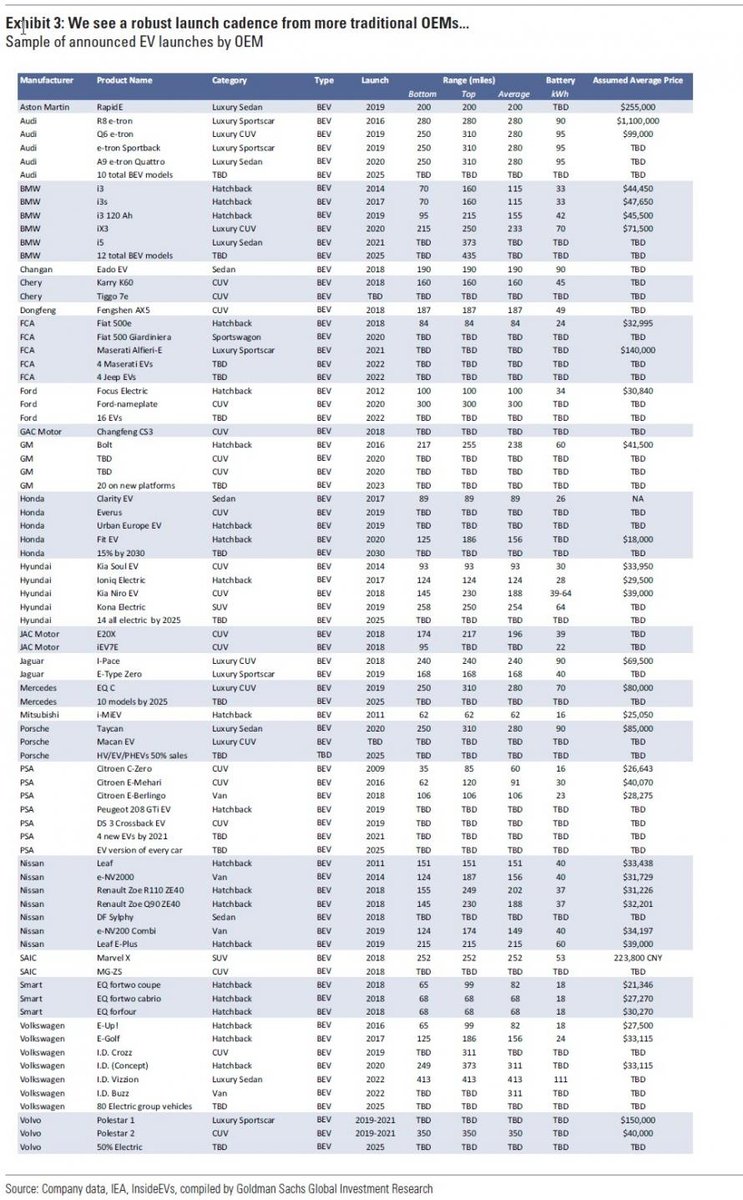 It should be noted that the Goldman Sachs analyst has maintained a firm Sell rating on Tesla for a while now. David Tamberrino, for one, has kept his Sell rating on the company since last year, partly causing his rankings in websites such as the TipRanks to suffer. So far, Tamberrino has an average return of -9.0, ranking him as #4,553 out of 4,875 among TipRanks' list of Wall St. analysts.  
The idea of rival car companies coming up with "Tesla Killers" has been around for a very long time, and over the years, these vehicles have taken many forms. Last year, it was the Chevy Bolt EV being hailed as the Model 3 killer. This year, it's the Jaguar I-PACE. Next year, it will probably be the Porsche Taycan.
While it is true that these vehicles are legitimate competition for Tesla's electric cars in terms of quality and performance, their usually limited production numbers prevent them from actually having a shot at toppling the Model S, X, and 3 from their spots at the top of the premium EV market. Chevy, for one, has not really pushed the production of the Bolt this year, Jaguar is reportedly planning to produce up to 30,000 units of the I-PACE annually, and Porsche has revealed that the initial production of the Taycan would be at 20,000 cars per year. Tesla, even at its present state where it is still refining its Model 3 production, is looking to produce around 50,000-55,000 Model 3 this Q3 2018. That's practically the planned annual production of the Taycan and the I-PACE combined.
Besides, the idea of electric cars "killing" an electric car maker is flawed at its core. Tesla's electric vehicles, after all, are a step towards sustainability. Thus, if other manufacturers are designing their electric cars in the same way that Tesla is, then they should not be releasing vehicles that are designed to "kill" other electric cars — they should be creating vehicles that are designed to "kill" gas and diesel-powered automobiles.
As of writing, Tesla shares are trading down 3.25% at $291.70 per share.
Disclosure: I have no ownership in shares of TSLA and have no plans to initiate any positions within 72 hours.