Does the Tesla Gen III Model E mass-market sedan need the Gigafactory to be successful? That's what Chris Porritt, Tesla Motors vice-president of engineering seems to hint at.
What Porritt also mentioned was an enigmatic: "Building the Gigafactory will help make battery manufacturing more cost-effective", referring to the Model E, which is expected late 2016 to early 2017. Does this mean, he associates the battery price and the Model E's success with the launch of the Gigafactory? It certainly sounds like it.
Model E needs the Gigafactory to succeed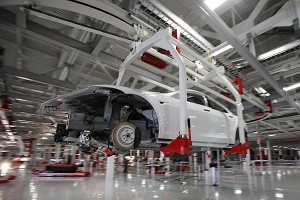 In order for Tesla to get ready to build and launch the Gigafactory, we know it will require roughly $5 billion by 2020, resources, and strategic partnerships and locations. The Gigafactory is a feat of engineering and will need to be conveniently located so that any electric vehicles (EV) Tesla Motors builds can be reached in an efficient way. California seems like the most likely candidate, since Tesla builds its Model S there presently.
ALSO SEE: Third-Generation Tesla 'Model E' Will Utilize Steel Construction
But if Tesla is to reach its goal of shipping 500,000 cars a year, more than 10 times its current output by 2020, it most likely will have to do this without the help of the federal subsidies. It will need the help of Panasonic, which it has to date, as well as other key players in the energy storage field. In order to do this – make the Tesla Gen III an affordable success, it is becoming clearer that they'll need to build at least one Gigafactory in less than a year before the next-gen EV is produced. This complicates matters much more than simply launching a new car?
Tesla Gen III without the Gigafactory?
The Model E could be launched without the Gigafactory. After all, Tesla has already successfully launched two cars without it, and is about to do the same with the Model X. However, launching it without the factory would make it very hard to meet a low price point of $33,000 and still maintain roughly 200 miles of range. Porritt's quote directly links the commercial success of the Model E with the Gigafactory.
The success of the Model E, Tesla's Next-Gen of electric cars, hinges on the successful building and implementation of the Gigafactory.