"I want land, I want a good deal and I want it near Tesla's new Gigafactory."
If you're in real estate, an investor or just watch the news you know there has been a high demand for land near Tesla's new Gigafactory located in the Tahoe Reno Industrial Park.
Vacant land surrounding the Gigafactory has been on sale for many years but with minimal interest from buyers. Once the announcement came that Tesla was building the world's largest battery factory within the vicinity, interest around land and real estate has come pouring in from every outlet.
A significant amount of deals have been completed with little to no knowledge to the public and LLC's are being created to mask the actual purchaser. If you drive out to the Industrial Park you'll see signs all over USA Parkway saying "Land for Sale". Six months ago these signs rarely existed or would be overlooked with no interest. Not anymore!!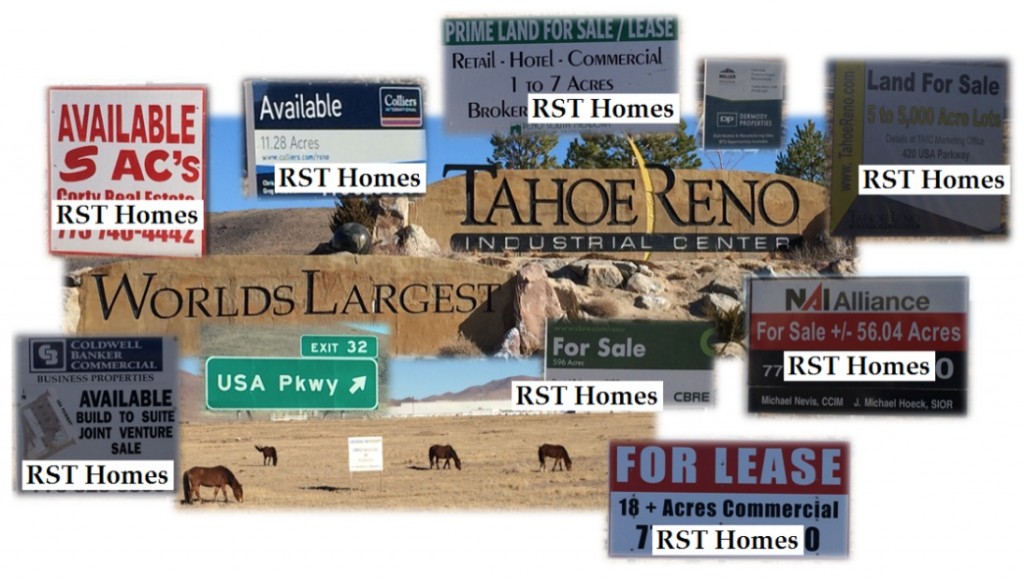 I had a call from a client stating "I have $5 Million and I want an apartment complex near Tesla" … Yes, that sounds great but you know this investor was not from the area or knew very little about the land he wanted to buy. The Tahoe Reno Industrial Park is just that, an Industrial Park, not a place to have residential housing. The companies in the Industrial Park may produce smells and loud noises that are not too conducive to residential or mulit-family housing but there is a plan for a Hotel located right off USA Parkway not too deep into the park. Tesla's announcement has brought more than just construction jobs, their supply chain and lots of talk. It brought money to the area.
"I have $5 Million and I want an apartment complex near Tesla"
Just a short 15 minute drive west is the cities Reno and Sparks (separated by a freeway). On August 19th, 2014 a 296-unit apartment complex called Eastland Hills was purchased for $27.5M and created a lot of talk in the area. Many attributed this purchase to Tesla and our local news paper the Reno Gazette Journal calling it the "Tesla Touch".
Reno Sparks Tahoe Homes reported another apartment complex just a half of a mile away from Eastland Hills, a 256-unit luxury garden style complex Villas at D'Andrea was purchased for $32M on December 18th, 2014. You can see how months later the Tesla Gigafactory announcement is still having a large impact on the community.
When it comes to buying vs building the Reno/Sparks market is finally at a breakeven point. We have low re-sale inventory, approximately 2.6 months when the norm should be around 6 months of inventory. This has been putting pressure on new construction. We have lots of new developments opening in the area and even though we're 15 minutes away from the Tesla Gigafactory, land is being scooped up all over.
What are you waiting for?
by Candy Noel
Real Estate Professional at RenoSparksTahoeHomes.com