While in Paris earlier this year, Elon Musk made a passing remark about Tesla engaging with other manufacturers about use of its quick charging Supercharger network. Now comes word that Tesla has joined CharIN, the industry group that created and promotes the CCS charging standard commonly found on the SAE-Combo plug.
Well known EV writer and charging expert Tom Moloughney tells InsideEVs, "I was just told something interesting from a contact I have. I'm guessing you guys have heard of the CharIN Association by now. They are basically a group of European Automakers that got together to work on what will eventually be considered (officially) Level 3 charging based on CCS. They have been working on 150kW CCS DC Fast charge for a few years now and experimenting on speeds up to 300kW. [A]bout a month ago, Tesla quietly asked if they can become a "Core Member." Now, I'm certainly not suggesting Tesla is going to switch to CCS, but this is very interesting."
According to the description from the CharIN website:
The Charging Interface Initiative e. V. – abbreviated to CharIN e. V. – is a registered association founded by Audi, BMW, Daimler, Mennekes, Opel, Phoenix Contact, Porsche, TÜV SÜD and Volkswagen. Based in Berlin, it is open to all interested parties. The three primary aims are:
To develop and establish the Combined Charging System (CCS) as the standard for charging battery-powered electric vehicles of all kinds.
To draw up requirements for the evolution of charging-related standards and develop a certification system for use by manufacturers implementing the CCS in their products.
To promote the CCS standard worldwide.
CharIN has completed work on a 150 kW CCS charging standard and is moving towards the development of a 300 kW standard. The first experimental 150 kW units will be installed soon in California for testing purposes.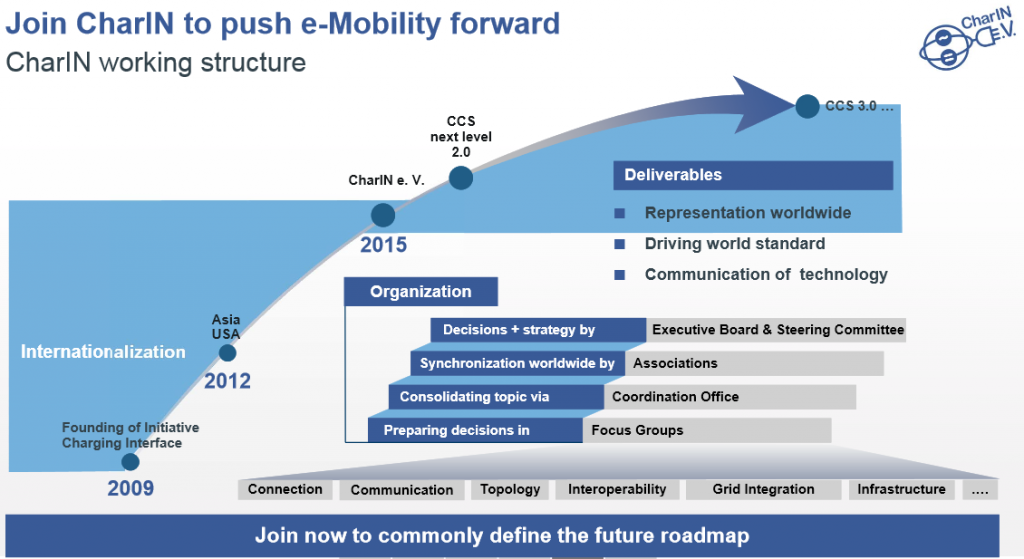 What does this mean for Tesla owners? The answer to that question is not entirely clear, but standards are crucial to the adoption of any new technology. The more members of an industry adhere to a given set of standards, the better for all concerned. Since Tesla says its mission is to promote the mass adoption of electric cars, whatever results flow from its association with CharIN have to be good news for current and future Tesla drivers.