The Tesla Model 3 price cuts have put the cost of a new base Tesla Model 3 lower than that of some used Tesla Model 3s in some cities.
The Model 3 has already become cheaper to buy than ever before in the U.S. due to the recent price cuts. The recent price cuts enable buyers to purchase a base Model 3 for $43,990, and with the EV tax credit, that price is further reduced.
For those living in certain states or cities, the prices can be even further reduced with grants or EV incentives, as seen in the tweet by Ash Martian below.
Wild, Tesla has made buying a new Model 3 cheaper than buying one used.
New qualifies for $7,500 rebate
Used does not qualify for $4,000 until price goes goes below $25,000

New: $36,500
Used: $38,600

In this example, 2020 lacks many features + at least 25mi less range. pic.twitter.com/OFca3aYW9s

— Ash Martian 🌏🚀🏳️‍⚧️ (@1stMarsColonist) January 14, 2023
In her tweet, Ash Martian compared a new base Tesla Model 3 that would cost $36,500 with the U.S. $7,500 EV Tax credit to that of a 2020 base Model 3 priced at $38,600.
If we subtract $7,500 from the original price of $43,990, we actually get $36,490, of which some may round up to $36,500. Used Tesla Model 3s don't qualify for the $4,000 rebate unless the price goes below $25,000.
Tesla sells both used and new vehicles on its website, and the prices vary by zip code and availability. Some used base Tesla Model 3s are either lower than the new or of a similar price range, while the new base Tesla Model 3s are lower than some used Model 3s of all variants.
For example, in New Orleans, Louisiana, the lowest price for a used Model 3 is in the $33,000 range, with the highest price, at this time, being $59,800 for a used 2022 Model 3 Long Range with Dual Motors and All-Wheel Drive.
In Austin, Texas, where Tesla is now headquartered, you can get a used Tesla Model 3 with prices as high as $57,300 for a 2022 Tesla Model 3 Performance Dual Motor All-Wheel Drive. The lowest prices for used Tesla Model 3s in Austin were in the $35,000 and $36,000 ranges for 2019 base Model 3s.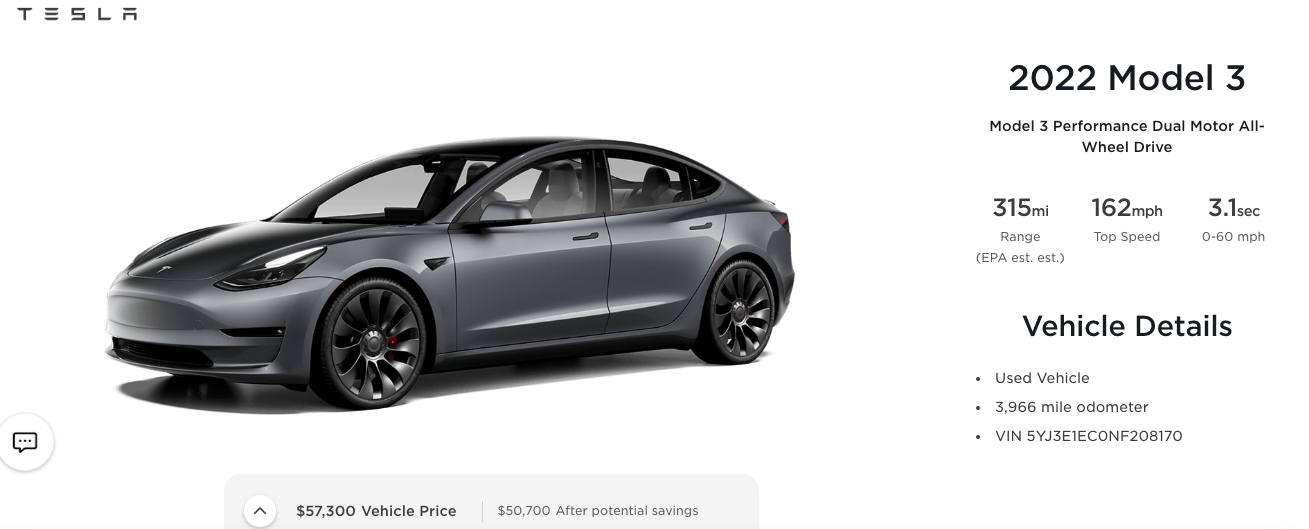 In Fremont, California, the lowest-priced used Tesla Model 3 is a Standard Range with Rear-Wheel Drive for $35,600   and another 2019 base Model 3 for $37,600, which is higher than the cost of a new Tesla Model 3 with the EV tax incentive.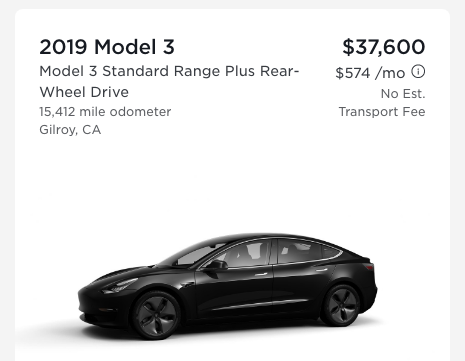 The EV tax incentives will not only help Americans be able to afford an EV, but with Tesla's price cuts, Americans will own one of the safest cars the National Highway Transportation Safety Administration has ever tested.
Disclosure: Johnna is a $TSLA shareholder and believes in Tesla's mission.  
Your feedback is welcome. If you have any comments or concerns or see a typo, you can email me at johnna@teslarati.com. You can also reach me on Twitter at @JohnnaCrider1.
Teslarati is now on TikTok. Follow us for interactive news & more. Teslarati is now on TikTok. Follow us for interactive news & more. You can also follow Teslarati on LinkedIn, Twitter, Instagram, and Facebook.