Tesla will be rolling out Track Mode V2 as a free over-the-air (OTA) update to all Model 3 Performance owners who purchase the company's race-focused Track Package.
Track Mode V2 introduces a deeper level of customizations and settings for Model 3's Handling Balance, Stability Assist, and Regenerative Braking. Also included in Tesla's second-generation Track Mode are features geared for Post-Driving Cooling, Compressor Overclock, and even one that acts as an onboard lap recorder.
The electric carmaker invited select Tesla owners and vloggers to a secret event last month at the Thunderhill Raceway in Willow, a town about eight hours away from Los Angeles, California, to showcase what drivers can do with the Model 3 Track Package and Track Mode V2. YouTuber Salomondrin was one of the fortunate guests to try the new hardware package in combo with the improved Track Mode. The Track Mode V2, according to Alejandro of the Salamondrin YouTube channel, is a huge upgrade from the previous iteration. The new Tesla Track Mode allows you to personalize the settings so drivers can squeeze more performance out of the car while feeling safer as well.
"Tesla wants to show that these cars are not just meant to go on road trips. These cars are not just meant to be your daily. These cars are fun like crazy," said Alejandro.
Tesla Track Mode V2 comes as a welcomed addition to any Tesla race car driver and veteran performance tuner like California-based Unplugged Performance. CEO Ben Schaffer, whose company's race-tuned Tesla Model 3 Ascension-R has continued to set lap records with, tells Teslarati that Track Mode has empowered amateur racers to compete with some of the industry's most notable performance cars.
"Software is so deeply rooted into the driving experience when racing any Tesla. Software is absolutely a key advantage of the Tesla platform, especially when more control is given to drivers to adjust settings to their liking. There is no question that V2 will instantly unlock faster lap times and allow more fun for all Tesla drivers of every level of skill and modification," says Schaffer.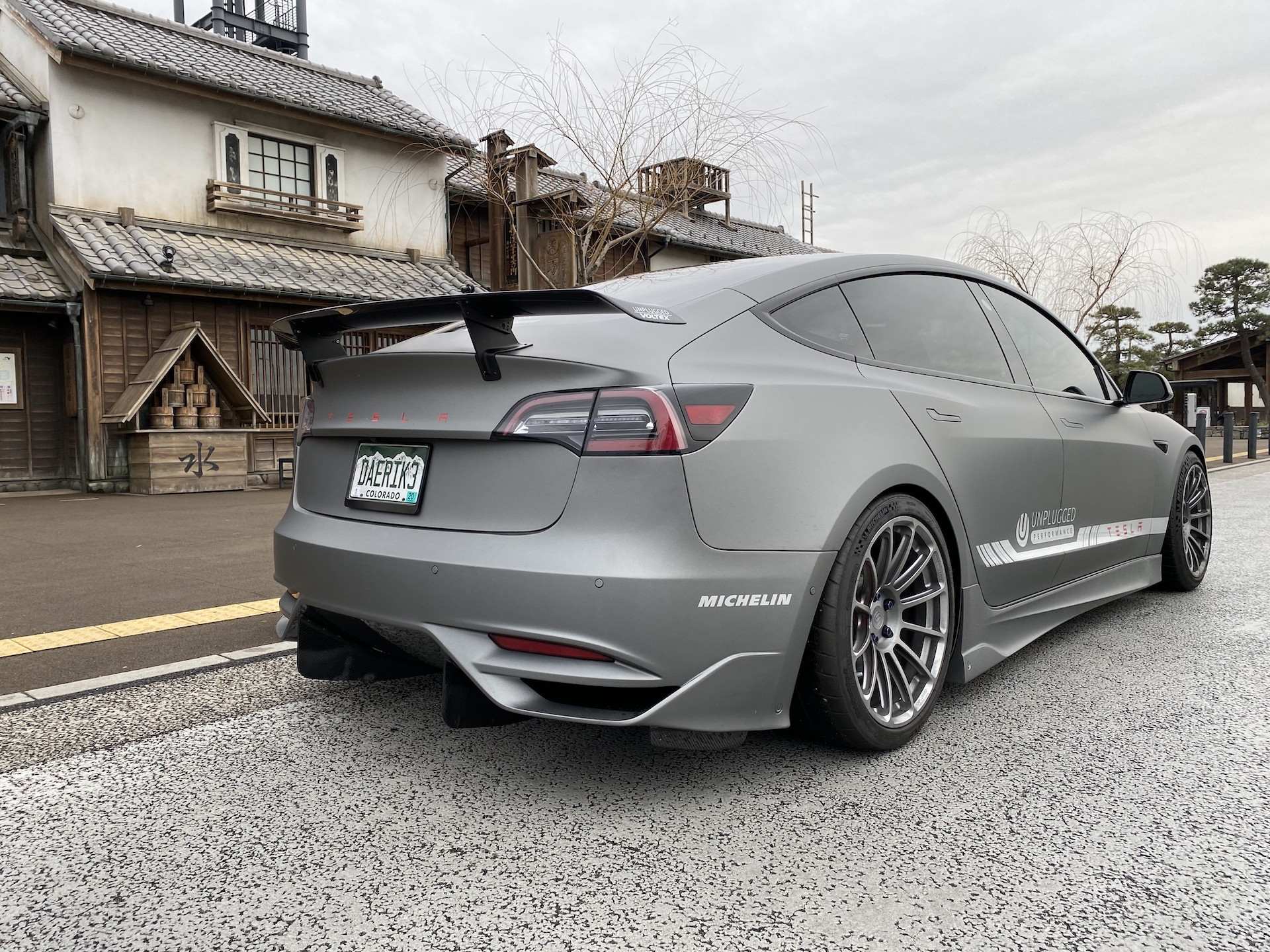 Tesla Track Mode V2
To access Tesla Track Mode, one can click the car icon on the touchscreen, then go to Driving, and then click Track Mode. A disclaimer would pop up reminding drivers that the Track Mode disables or restricts certain Driver Assistance features and vehicle functions and that it should not be used in public roads.
Track Mode V2 will provide vehicle statuses, including data for the powertrain, tire temperature, and G-Force.
Track Mode V2 Release Notes
Track Mode has been improved to make it easier to monitor the status of your car, create custom track mode settings profiles and record your track day data.
Monitor the status of your car motors, battery, brakes and tires, allowing you to adjust your driving in real time. G-meter, a real-time accelerometer, can now be viewed in the Cards area of the touchscreen. The map now displays a Lap Timer. Follow the onscreen instructions to place a start/finish pin on the map. At the completion of each lap, the Lap Timer displays the duration of the lap. It also displays the times associated with the previous and best laps in the driving session.
Track Mode allows you to save up to 20 Track Mode profiles to suit your preferences or driving scenario, or customize for a specific track. A new settings profile can be created by tapping Track Mode Settings > Add New Settings, entering a name for the settings profile, then adjusting settings including Handling Balance, Stability Assist, Regenerative Braking, Post-Drive Cooling and Compressor Overclock. Refer to the Owner's Manual for more information regarding each setting.
You can now save a video and data of the Track Mode driving session to a plugged in USB flash drive which must contain a folder named "TeslaTrackMode" (without the quotation marks). When "Save Dashcam for Laps" is enabled, Track Mode stores a video of each lap in a driving session when using the Lap Timer. Track Mode also stores the car status and telemetry data including details about the vehicle's position, speed, acceleration, and use of accelerator which is stored as a .CSV file on the USB flash drive.
"… fine-tuning control to get the rear bias, front bias however you like, and then stability and regen. Track Mode 2 was created for enthusiasts that just needed more control and Tesla went above and beyond here," said YouTuber YouTuber EverythingApplePro who was also invited to test drive a Model 3 Performance with Track Mode Package and Track Mode V2 software.
"It's well worth it. The amount of control you are given in the software is amazing. No manufacturer really gives you that amount of control where you can actually change a hundred percent to the rear and take away all the safety features. Beautiful experience."
Tesla has not disclosed when the OTA update for the Track Mode V2 will roll out but the $5,500-Model 3 Track Package— which includes Zero-G Performance wheels, Michelin Pilot Sport Cup 2 tires, high-performance brake pads, track-focused brake fluid, center cups,  pressure sensors, and lug nut covers– shipment is expected to begin in April.
Check out the Tesla Model 3 Track Mode V2 videos from Salomondrin and EverythingApplePro below: