Tesla's mission is simple and includes getting other automakers to join in the party. The Chevy Bolt, quirky as it may look, technically beat Tesla to market with a 200+ mile range EV that can be had for the $35,000 ballpark. Nissan, who I humbly believe to be the only other automaker currently taking full EVs seriously, has just announced their all new 2018 Leaf. The party is undoubtedly slow, but other automakers such as Volvo have at least talked about "electrification" (clever marketing shorthand for hybrids) but we can no longer deny that electric vehicles are here and their growth will not be able to be stopped.
Just as every concept EV talked about before 2016 was touted as a "Tesla killer," it is now impossible not to compare every new electric offering with the much anticipated Tesla Model 3. So let's do just that. The table below highlights some key specs for each.
| | | |
| --- | --- | --- |
| | NISSAN LEAF | TESLA MODEL 3 |
| Base price, before tax credits | $29,990 | $35,000 |
| Price with options | SL – $36,200 | Premium + EAP – $45,000 |
| Range (miles) | 150 (higher coming 2019) | 220 (310 for $9,000 upgrade) |
| Battery | 40 kWh/ (higher coming 2019) | Undisclosed |
| Charge time – Level 2 | Up to 22 miles per hour | Up to 30 miles per hour (std batt) |
| Charge time – Level 3 | Up to 88  miles per ½ hour | Up to 130 miles per ½ hour (std) |
| Charging network | No dedicated network | Tesla Supercharger, pay per use |
| Overall Length/Width | 176.4" / 70.5" | 184.8" / 82.2" |
| Cargo space | 23.6 cf | 15 cf |
| Body style | 4-door hatchback | 4-door sedan |
| Infotainment | Apple CarPlay, Android Auto | Tesla's own |
| Main display | 7" | 15" |
| 0-60 mph time | 8 seconds (Motor Trend est.) | 5.6 seconds |
| Driver's Assist Suite | ProPILOT ($2,200) | Autopilot ($5,000) |
| Automatic Emergency Braking | Standard | Standard |
If you want to get into a relatively long range EV (150 miles or greater) for the lowest possible price, the base 2018 Nissan Leaf wins out. I will also assume that you will be able to get your hands on a Leaf much sooner than a Model 3. Finally, if you absolutely insist on a hatchback, the Leaf has it.
Outside of those three things, and possibly the still large size of a Model 3, I can't personally find any reason to choose a Leaf over a Model 3. To be clear I'm proud of Nissan for upping their game a bit. The 2018 version is in my very humble opinion, far superior in the looks department to the frog-like 2017 it is replacing. Nissan's V-Motion grille is sharp, and hopefully takes your attention off the obvious charge port cover above it. The lines of the car itself are much more closely aligned with Nissan's other offerings, which I find to have adequate design. Similarly, the rear tail lights are modern and edgy. If you can excuse all the buttons, the interior looks sharp. The Apple and Android faithful alike will appreciate the available car play integration. The bottom line for me is that every EV is a step in the right direction, even if this car won't compel families to ditch the gasoline completely. In the absence of a reliable and dedicated fast charging network for long distance travel, the Leaf is still primarily a commuter car. 150 miles of range will simply allow a few after work activities without much thought.
I am excited to see the range and price that Nissan makes available in 2019 because for now, the base cost per mile of $199.93 falls far short of Tesla's $159.09. I'd also like to see them re-think their battery management system, which I am to understand leaves something to be desired. One owner described his experience with a 2014 Leaf as losing 20% capacity thus far.
When looking at what we know about the Model 3 however, I can't really compare the Leaf in any serious manner. I'm trying to be reasonable, to give Nissan a fair shake, but there are several things that make me a Tesla fanatic that are sorely missing from the Leaf – and any other current EV for that matter – that may or may not ever come close.
Supercharging. EVs will remain a commuter or secondary car until you can load up the kids and head to Disney with the reasonable assurance that there are plenty of chargers along the way that will a) be working, and b) charge quickly. Tesla has made a huge commitment in this front because they know that's what it takes.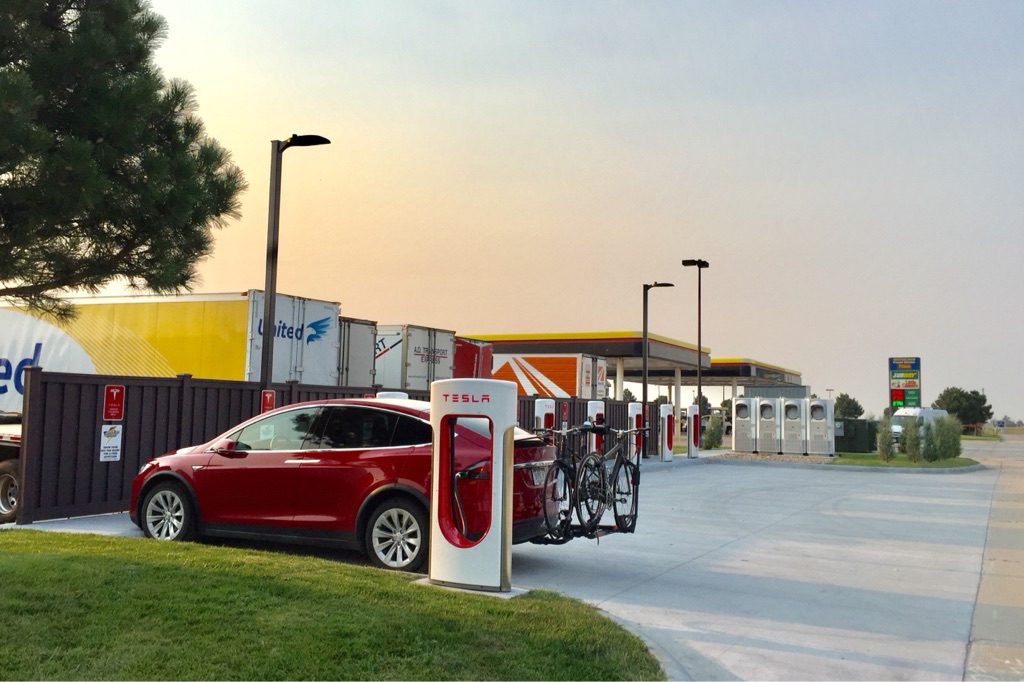 Over the air updates. I have not yet heard of Nissan taking this approach, but I suspect if they do, it would be limited to maps and small changes. I don't foresee the Leaf being able to give your car the sudden ability to automatically open your garage four years after you've purchased it. Some current automakers do have software updates for their vehicles, but my understanding is that you have to bring it in to the dealership to have it done. This totally defeats the purpose.
Dealerships. You'd be hard pressed to find a harsher critic of dealerships than I. Whether discussing the 2011 Jeep Wrangler that took me 3 hours to get for the exact price I walked in and demanded, or that time I spoke on behalf of a recently widowed neighbor with an actual cash budget who could not, no matter how you pitch it, afford that extended dealer's warranty package, I can go on and on and about how much I dislike the experience. It always takes hours. You always get passed around from salesperson to manager to finance person. You may even get your credit run 10 times simultaneously (I'm talking to you, Hyundai dealership!) No thank you. I will order my car online, know the exact price and meet you there with a pre-printed check for the exact amount owed.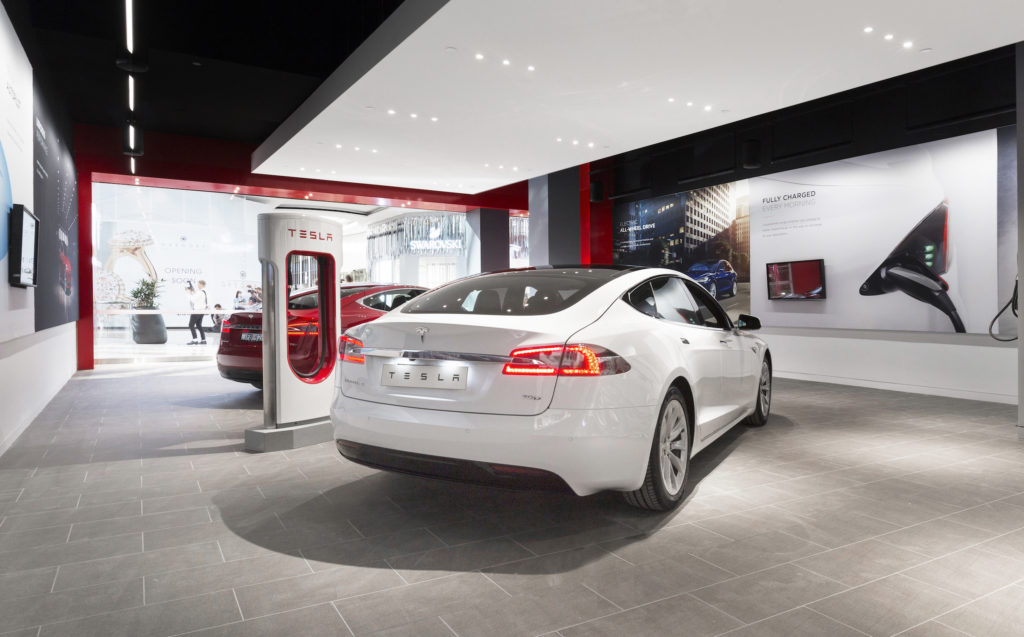 Looks. I get it, I really do, people love hatchbacks. My Model S is a hatch and has accommodated many a Home Depot trip. My once beloved Scion tC was a hatch, and once hauled 27 boxes of Pergo brand laminate floor planks.  Even the Jeep with the horrible dealership experience picked up a washing machine. A washing machine! But I simply cannot wrap my head around the idea that you could conceivably compare the gorgeous, timeless and sleek looks of the Model 3 with the quirky, if a bit modern and sharp, Nissan Leaf.
Performance. There's a reason I never considered a hybrid or EV before. Now that I'm a bit older and have the budget to pick a car I actually like, I'm not going to voluntarily drive something that takes 8 seconds to get to 60. I want tight steering, good handling, and the ability to make my passengers squeal with delight when I punch it.
Interior. This is a personal preference and I'm with you if you think the minimalistic interior of the Model 3 is crazy. It is. But I can just about promise you that you will not miss all those buttons. I sat in a Porsche Macan at the auto show and while I expected to feel great inside a new offering from a brand with as much clout as Porsche, I was too busy wondering what in the world all those buttons did. It's almost a joke how many.
Confession: I started this post excited about the new Leaf. I tweeted about it first thing this morning; the more the merrier in EV world if you ask me. But when getting right down to the specifications, it's hard not to see that everyone else still has a long way to go. They're taking baby steps while Tesla is competing in the long jump.
What do you think? Do the two cars compare? Tell us in the comments!