The following post was originally published on EVANNEX
Grant M. is like a superhero with a secret identity – during the week, he works as a lawyer, but on the weekends, he takes his Tesla S60 to the autocross track to do battle with the forces of fossil fuel.
Autocross, also called solo or (in Canada) autoslalom, is a timed competition in which drivers navigate a course that includes straightaways, curves and slaloms. It's less about fast acceleration and high speed than about handling and precision driving. The autocross community is egalitarian – any kind of car can compete, and drivers of all skill levels are welcome. Courses are usually temporary, set up with cones on a speedway parking lot or a disused airstrip – this prevents experienced drivers from gaining an advantage, as the course may be different every time.
According to the Sports Car Club of America, most autocross courses are designed so that the cars won't exceed normal highway speeds – around 55-60 mph. However, "that doesn't mean they are slow. Well-designed courses will feel plenty fast as you attempt to maintain that speed through a series of elements. Imagine slaloming every barrel in a 55-mph construction zone, and you will start to get the idea." As the New Brunswick Sporting Car Club puts it, "While AutoSlalom events typically involve lower speeds than other motorsports, the number of driver inputs per second is comparable to Formula One."
Driving an electric vehicle (EV) on the autocross track is very different from driving a gas-burner. The EV's instant acceleration gives it an advantage coming out of corners onto a straightaway. However there's also a drawback: EVs, especially the Tesla Model S, weigh a lot more than their gas-powered counterparts. "Trying to take a corner fast and hard with a car that weighs 4,500 to 5,000 pounds" isn't easy, Grant told us. "I'm probably 1,000 to 1,500 pounds heavier than every other car in my class."
Regenerative braking presents another challenge. "It's like engine braking, as if you were downshifting. You have to take that into account too – it can slow you down pretty far on a really sharp corner, and sometimes that can lead to the back end of the car sweeping out, just because while you're braking and taking a turn, you lose contact with the tires."
In a sense, an EV has the opposite attributes of a gas car: it's slower in the tight turns, but faster on the straight sections. Grant's competitors know they have to watch out for the Tesla on the straightaways. "I can't take the corners as fast as everybody else, but when I see a straightaway, with my instant torque and acceleration I can make up some time."
The Model S is not an ideal autocross car, so Grant doesn't expect to win a first-place finish any time soon, but his times are improving, and he often earns a respectable place in the top 3 to 5. "It's very hard to beat cars that are made by the manufacturers to actually go on tracks." The BMW M3 seems to be the number-one competitor. "They're very fast and much smaller."
Grant competes at SCCA events in Southern California in the F Street class, in which cars must be totally stock – the only modification allowed is the tires, so some drivers opt to use "stickier" models. He's the only Tesla driver on the Southern Cal autocross scene (and apparently the only EV driver, though he has seen a couple of Volts at events), so he and his car get a lot of attention.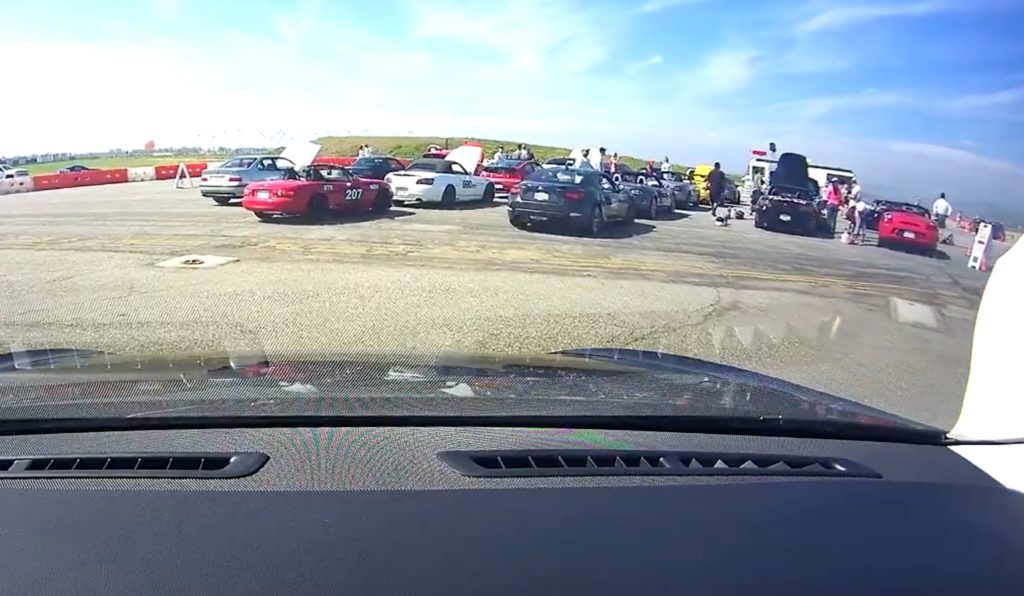 Although he's the only electric driver among a field of car guys and motorheads, Grant says he has encountered no chauvinism or hostility – on the contrary, most of the other drivers find his Tesla Model S very interesting, and are excited about the technology (he does hear some jokes about his vehicle's silence). This being Southern California, some of the other drivers own Teslas themselves, although they prefer to bring their M3s or Corvettes to the autocross track.
In fact, Grant has become something of a Tesla ambassador to the autocross community – all the car guys have heard about the P100D and its 2.2-second 0-60 time, but he has educated many of them about nifty features such as Autopilot. Everybody wants to take the Model S for a spin, and we all know how that often ends up – it's possible that Grant has inspired a car guy or two to buy a Tesla of their own.
And why shouldn't you follow his example? Autocross events are held in all 50 states, and beginning racers are welcome. If you've ever wondered how your Model S might perform on a track, an autocross event could be a good place to find out. You'll have fun, improve your driving skills, and help to spread the word about driving electric.