Winners of Tesla's sixth referral program which concluded early this year have begun to receive official e-mail invitations to attend a "private Model 3 viewing" at the Tesla Factory in Fremont, California. Winners have been asked to RSVP by May 10th and choose from either a Friday, June 2nd event attendance or one the following day on June 3rd.
The e-mail sent by Tesla with subject line Your Exclusive Invitation: VIP Tesla Factory Tour outlines details for the exclusive event for existing Model S and Model X owners that made 5 or more qualifying referrals between October 16, 2016 and January 15, 2017.
Aside from being one of the first to bear witness to what is likely the final production version of Tesla's highly anticipated Model 3 ahead of the official July launch event, referral program winners and their guest will be treated to an extended VIP factory tour which will also include a Q&A with Tesla's Chief Designer Franz von Holzhausen.
We've provided a copy of the email sent to Teslarati courtesy of the popular Tesla-focused YouTube Channel DÆrik, and founder of TeslaInventory.com.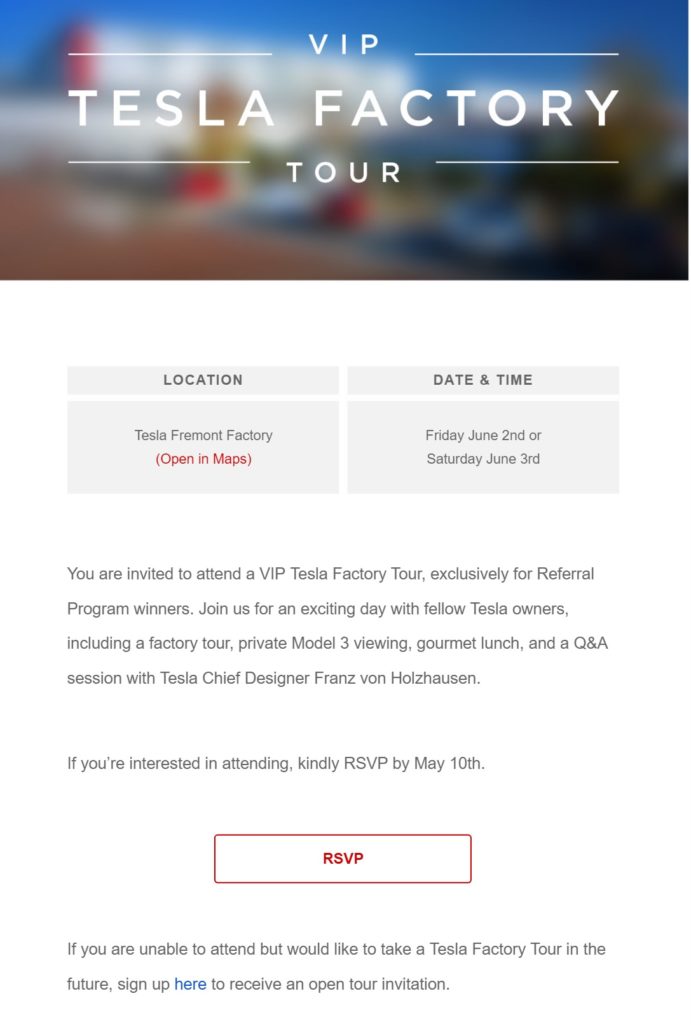 Today's event invitation is a first sign that final production of the Model 3 is well underway. The invite comes on the heels of a series of sightings of what appears to be a near-final version of the mass market electric sedan. It was just days ago that we received our first close-up look of a very production-ready Model 3 interior.
Though Tesla didn't explicitly state that the upcoming "private Model 3 viewing" is of a final production version, it's unlikely that they would showcase a non-final product to the public, especially during a "VIP Tesla Factory Tour" at the location where the vehicle is being produced.
Hat tip to Dennis Pascual @dennis_p