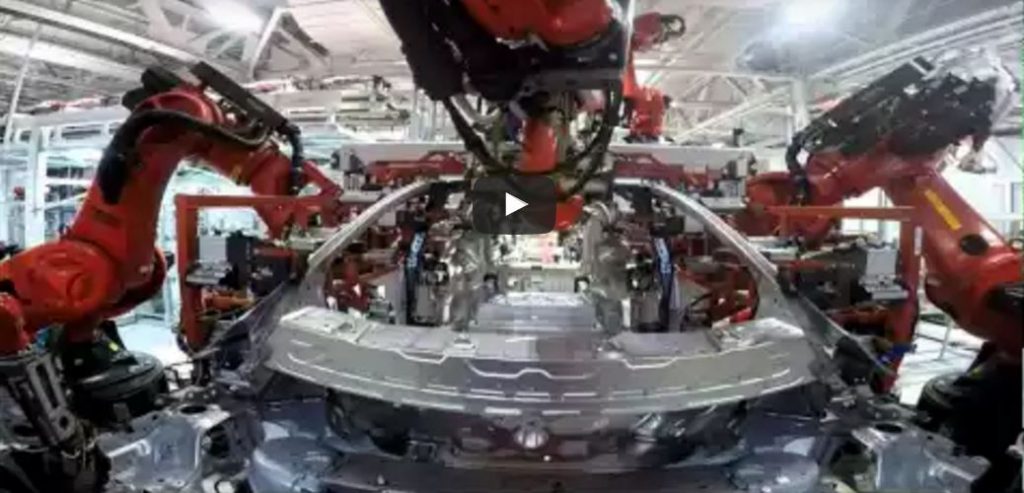 Tesla tweeted a short teaser video it calls "Team of robots gives Model X its backbone." It's not that unusual now to see a swarm of robots hovering over a collection of aluminum stampings and turning them into a car at the Fremont factory. What is unusual is how this video provides a glimpse of the structural components in the roof of the car that the falcon wing doors attach to.
Figuring out how to make a central spine strong enough to support the doors but narrow enough for the task was a critical engineering problem. That backbone is the item that will determine whether those doors continue to operate properly as the miles and years go by.
The falcon wing doors were one of the challenges that delayed the introduction of the Model X for almost 2 years. Getting the attachment point right was just the beginning. Tesla chose Hoerbiger Automotive Comfort Systems to design and build the operating system for the doors, but after more than a year, the firm was unable to meet Tesla's engineering standards. In the end, Tesla abrogated its contract with Hoerbiger and designed its own system in house. The two companies are now involved in litigation.
The original system was supposed to be hydraulic. The fact that the doors are hinged at the top and again in the middle made the operating system an engineering nightmare. Prototypes continuously overheated in testing or leaked hydraulic fluid.
After the Model X was launched, Elon admitted he might have been guilty of letting hubris get in the way. He said Tesla should have just brought the car to market and introduced upgrades later. The X is brimming with novel technology, from the panoramic front windshield to the unique monopost second row seats. Getting all those unique parts into production was a daunting task.
Lack of parts for the assembly line was the primary reason Tesla could only build a few hundred cars until recently. Supply issues have since been alleviated and weekly production is up to around 750 units. Tesla has discovered a problem with the folding mechanism of the third row seats, but so far no issues with the falcon wing doors have been reported. Credit the car's critical central backbone seen in this video for that.
Photo credit: Tesla Motors via YouTube