Less than two weeks since rolling out a series of aggressive price cuts for its entire S3XY lineup, Tesla initiated a minor $500 price increase for the Model Y Dual Motor AWD. With its recent price adjustment, the Model Y Dual Motor AWD now starts at $53,490. 
Even with the $500 addition to its starting price, the Model Y Dual Motor AWD is still far more affordable than it was last year. Prior to Tesla's major price reductions earlier this month, which brought the crossover SUV's cost down $13,000 to $52,990 before incentives, the variant was listed on the company's official website with a price of $65,990.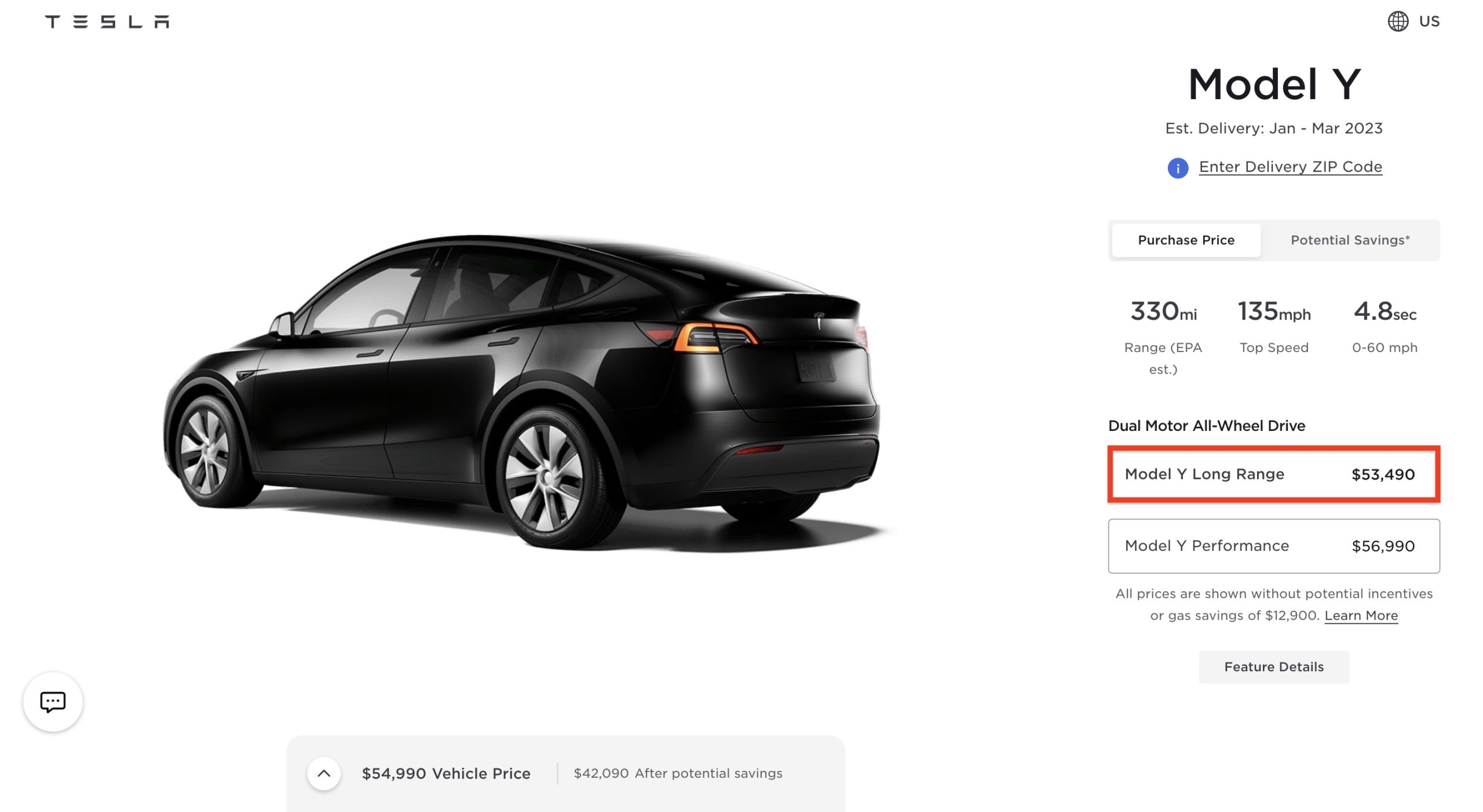 At $53,490, the Tesla Model Y Dual Motor AWD still qualifies for the $7,500 EV incentive of the Inflation Reduction Act (IRA). With the IRA's incentive in place, the Model Y Dual Motor AWD could essentially be acquired for $45,990. That's higher compared to its price immediately following this month's price cuts, but not by much. 
The recent Model Y price increase would likely result in a lot of orders for the vehicle, especially if consumers rush to acquire the all-electric crossover while it still qualifies for the IRA's $55,000 cap on "all other" vehicles. Acquiring the vehicle at $53,490 is a way for buyers to lock in the Model Y at a very reasonable price. 
Interestingly enough, the Model Y's starting price of $53,490 might also discourage consumers from opting for more options such as Red Multi-Coat paint or 20″ Induction Wheels. Both these upgrades are worth $2,000, so it would push the vehicle's price above the IRA's $55,000 limit.
The Tesla Model Y is already one of the United States' best-selling vehicles last year, and that's with its far higher price. With its more affordable cost, the all-electric crossover could very well sell substantially more units this year, all while pulling away consumers from otherwise legitimate options in the market. 
The Wall Street Journal recently shared such a story, citing the experience of 32-year-old California psychotherapist Stanly Tran, who was on a waiting list of a Ford Mustang Mach-E. While Tran was set on the Mach-E, the lower prices of the Model Y was simply something that he could not ignore. The psychotherapist ended up canceling his Mach-E order and opted for a Model Y instead, which already offers more range to begin with. 
The Teslarati team would appreciate hearing from you. If you have any tips, contact me at maria@teslarati.com or via Twitter @Writer_01001101.