A look at Tesla's online configurator for the Model Y has revealed that the electric car maker recently adjusted the starting prices of its upcoming vehicle, the Model Y.  The company has also updated its configurator to reflect the Model Y's updated default color, Pearl White Multi-Coat. 
Tesla's adjustments in the Model Y's price involve a $1,000 price increase for the three variants that are currently available for pre-order: Long Range RWD, Dual Motor AWD, and Performance. With the recent updates to the online configurator, the Long Range RWD Model Y now starts at $48,000 before incentives, the Dual Motor AWD now costs $52,000 before incentives, the Performance variant is listed with a price of $61,000 before subsidies.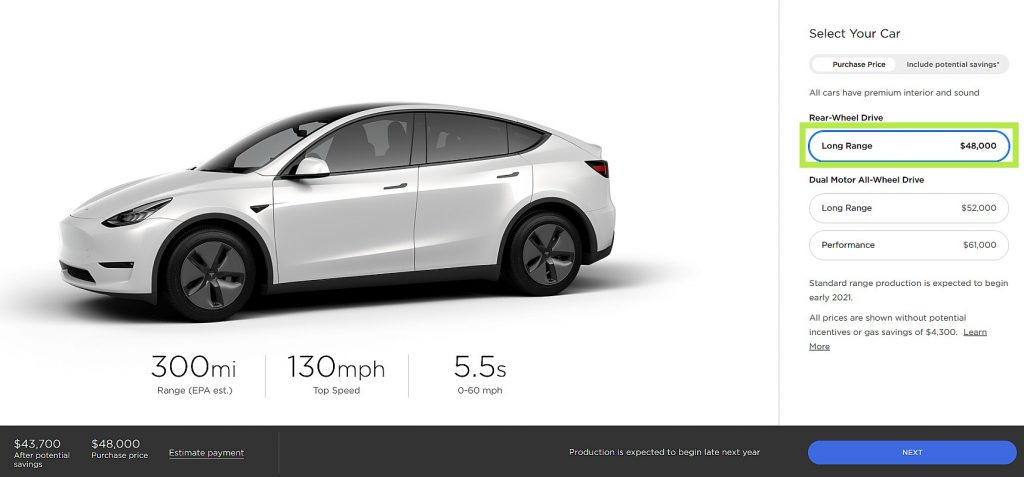 During the vehicle's unveiling last March, the Model Y's Long Range RWD version was announced with a starting price of $47,000, the Dual Motor AWD with a price of $51,000, and the Performance with a starting price of $60,000 before incentives. Tesla also announced a Standard Range Model Y RWD version with a starting price of $39,000, but since the vehicle is not yet available for pre-order on its configurator, it remains to be seen if the all-electric crossover's price has been adjusted as well. 
With the Model Y's default color being updated to Pearl White Multi-Coat, the vehicle's previous base color, Solid Black, now requires an additional $750 fee. Midnight Silver Metallic and Deep Blue Metallic both require an additional $1,000, while the Red Multi-Coat option is listed as an additional $2,000 fee. It should be noted that when Elon Musk initially announced Tesla's shift to a white base color, he noted that Solid Black would command a $1,000 charge.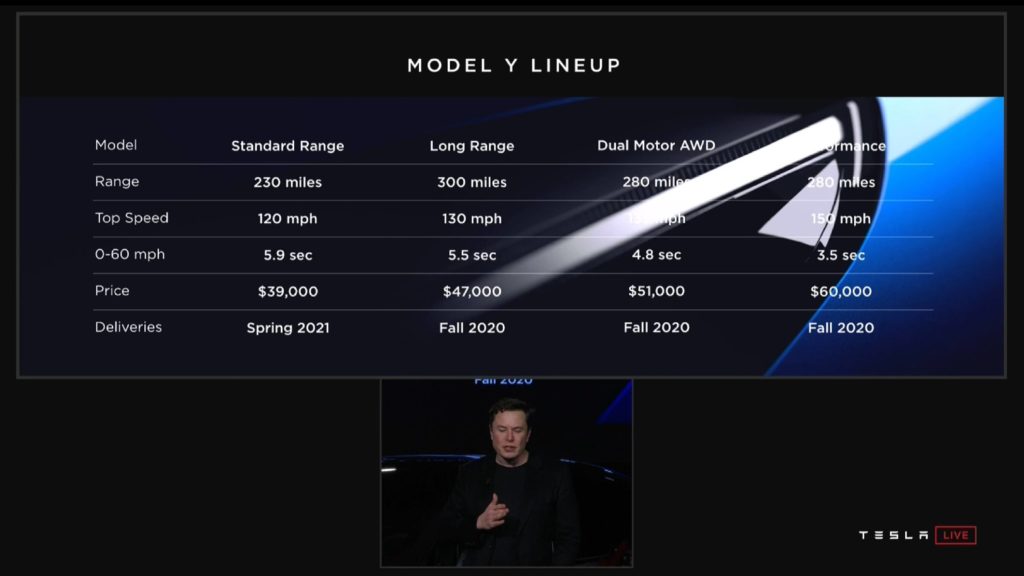 Being based primarily on the Model 3 sedan, the Model Y features Tesla's trademark performance and range. In terms of acceleration, the Standard Range variant goes from 0-60 mph in 5.9 seconds, the Long Range in 5.5 seconds, the Dual Motor AWD in 4.8 seconds, and the Performance in a Model 3-comparable 3.5 seconds. The top speed for the Model Y is 120 mph for the Standard Range, 130 mph for the Long Range, 135 mph for the Dual Motor AWD, and 150 mph for the Performance version. 
Similar to the Model 3, the Model Y utilizes Tesla's 2170 cells, which gives the vehicle impressive range. The Standard Range version goes 230 miles on one charge, while the Long Range version goes 300 miles per charge. Both the Dual Motor AWD and Model Y Performance get 280 miles of range per charge. The all-electric crossover is also compatible with Tesla's Supercharger V3 network as well, which supports charging at 250 kW, or 1,000 miles per hour.