It wasn't long after Elon Musk announced via Twitter that a hidden 'rainbow road' easter egg was embedded in the latest firmware 2.16.17, another arguably even cooler 'performance mode' easter egg surfaces. One that allows drivers to toggle between various versions of the vehicle.
By holding down the "T" located towards the top center of the touchscreen, a small prompt appears asking you to input an access code. Inputing 'performance' into the prompt will reveal a performance mode drop down towards the top left corner of the 'About Your Tesla' screen.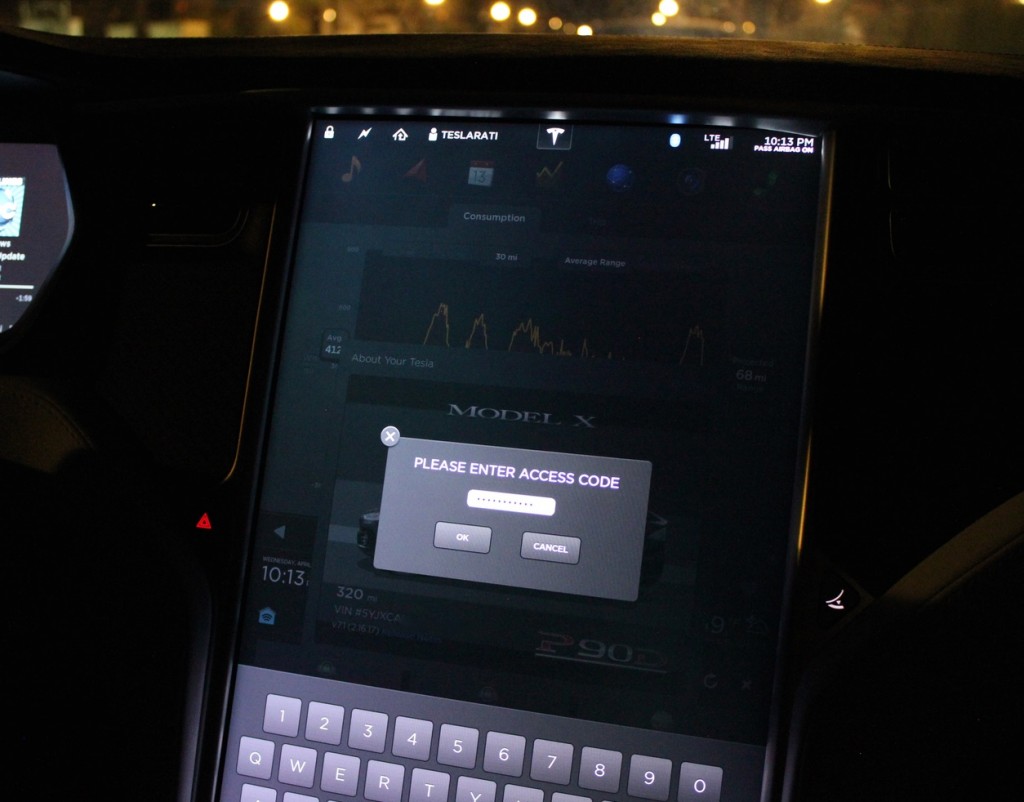 The drop down will effectively allow the driver to toggle between various versions of their Tesla. In other words, a P90D can be downgraded to a 90D, or further downgraded to a 70. But does it really work or is it just another fun easter egg (which we more than welcome)?
Naturally, we had to put it to the test.
The first thing we did was downgrade our P90D(L) to a 70. Even though Tesla never produced a Model X 70, nor a 70D which has since been upgraded to a 75D, I still remember the seat-of-the-pants feeling that came with a Model S 70D under full acceleration (having tested one in the past) and used that as my basis for this test.
With performance mode set to "70" followed by a heavy mash of the accelerator pedal to the floor, our Ludicrous Model X still delivered a rip-your-head-off type of feeling. Even on a low state of charge with 80 miles left on the battery, driving with performance mode set to 70 made no difference whatsoever.
The two spikes represented on the onboard Energy app shows energy consumption in regular P90D(L) mode and then toggled to the virtual Model X 70 mode. Based on our results, we're fairly certain that performance mode is meant for fun rather than a true service mode for Tesla to be able to toggle between various versions of a vehicle.
Testing 'Performance Mode' in native P90D(L) form and 70 on a Model X
Early rear wheel drive Model S owners can rejoice knowing that they weren't left out on the fun. The ability to enter performance mode via the same 'performance' access code was also available when tested on an early P85.
What caught our attention wasn't so much the ability to downgrade. Instead, the easter egg allowed us to magically add 5 kWh more of battery capacity making for a total of 90 kWh. Now if that only worked.