Tesla seems to be working towards releasing "Reverse Summon" or "Park Seek" in the near future. If recent comments from Tesla's AI team during AI Day 2022 are any indication, the company's parking lot stack could become a part of the FSD stack before the end of the year, potentially paving the way for the release of features like Park Seek and a more accurate Smart Summon.
Tesla's official page for Autopilot seems to have reflected these plans. A look at the upcoming features highlighted by the electric vehicle maker shows that a new function called "Park Seek" has been added to the page. "When you arrive at your destination, simply step out at the entrance and your car will enter park seek mode, automatically search for a spot and park itself. A tap on your phone summons it back to you," Tesla wrote.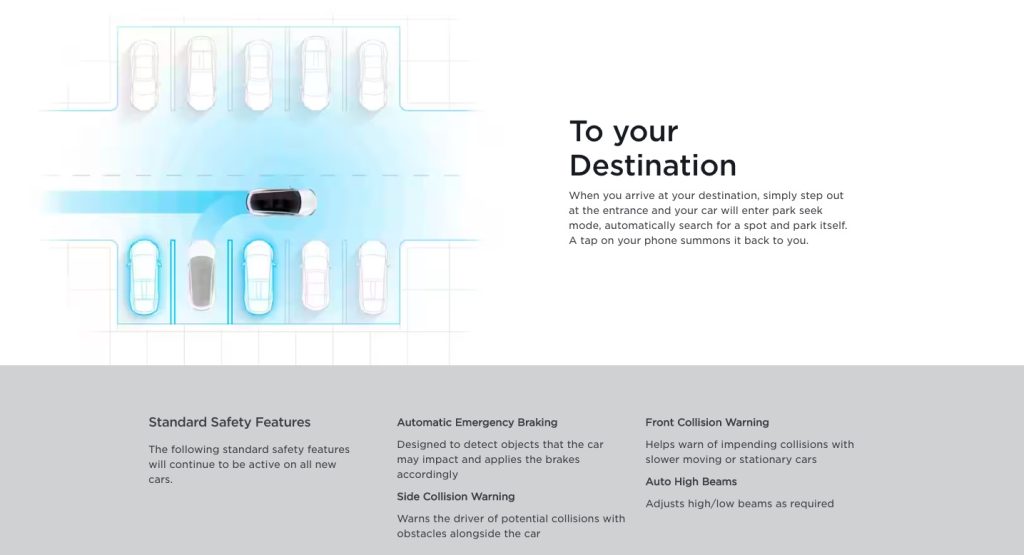 Tesla's Smart Summon feature can be handy at times, but in its current iteration, its limitations have made its use quite limited in real-world scenarios. Fortunately, notable improvements to the Full Self Driving Beta are being validated by Tesla's team of Autopilot engineers. Among these improvements are parking lot capabilities, as noted by NotATeslaApp. 
Tesla's Manager of Autopilot Motion Planning, Paril Jain, outlined some capabilities that would likely be included in the integrated FSD stack during AI Day 2022. "We do expect to also include the parking lot stack as a part of the FSD stack before the end of this year. So, that will basically bring us to you sitting in the car in the parking lot and drive till the end of the parking lot, at a parking spot, before the end of this year," the executive said. 
Previous reports from the electric vehicle community suggested that Park Seek, or "Reverse Summon" as it was fondly called then, would have three different modes — one that would look for a parking lot closest to an entrance, one that looks for a parking space that's closest to a cart return area, and one that looks for a spot near the end of a parking lot. The third option would likely be popular among Tesla drivers, particularly those who tend to park their vehicles away from other cars to avoid potential dings and dents. 
The key for Tesla's Park Seek feature, of course, would be FSD's integrated stack. During AI Day, several members of the company's AI team highlighted how the Full Self-Driving suite has advanced and how it will soon be using an integrated stack. CEO Elon Musk is reportedly using an integrated FSD stack in his vehicle, and so far, it has been working fairly well, though it still needs to be validated for all kinds of weather. 
Don't hesitate to contact us with news tips. Just send a message to simon@teslarati.com to give us a heads up.