Samsung Electro-Mechanics (SEM) is discussing a potential supply deal with Tesla for camera modules. SEM is based in Chachoengsao, Thailand and mainly produces electronic components for smartphones, automobiles, and smart home appliances.
As per Reuters, Samsung Electro-Mechanics did not disclose any more details about its potential supply deal with Tesla. However, the multinational components company did state in a regulatory filing that it would work on advancing and diversifying its camera modules. SEM also develops automotive Multilayer Ceramic Capacitors (MLCCs) that work with advanced driver assistance systems and infotainment setups.
SEM's Automotive Camera Modules 
Samsung Electro-Mechanics produces camera modules for autonomous driving, including viewing cameras, sensing cameras, and interior cameras. SEM has outlined the different applications each of its camera modules can perform.
The company's viewing cameras function much like the cameras that surround the exterior of Tesla's cars. SEM's viewing cameras provide a view of the car's surroundings and a rear view. These camera modules can aid with park assist features and may also replace mirrors–which might come in handy for vehicles like the Tesla Cybertruck. Samsung Electro-Mechanic's viewing cameras are available in VGA, HD, and full HD versions. 
SEM's sensing cameras would enhance the safety features of a vehicle. They can aid with automatic emergency braking, lane departure warning, forward collision warning, adaptive cruise control, traffic sign recognition, and blind spot detection. Samsung notes that its sensing cameras are optimized for "accurate machine vision applications," which seem like the perfect fit for Tesla Vision.
Then there are SEM's interior cameras, which seem to function similar to Tesla's in-cabin cameras. Both Samsung and Tesla's interior cameras monitor the car's cabin.
Interior cameras can be used to identify passengers, similar to Face ID on Apple's iPhone. They can also be used for video conferencing for an in-vehicle office setup.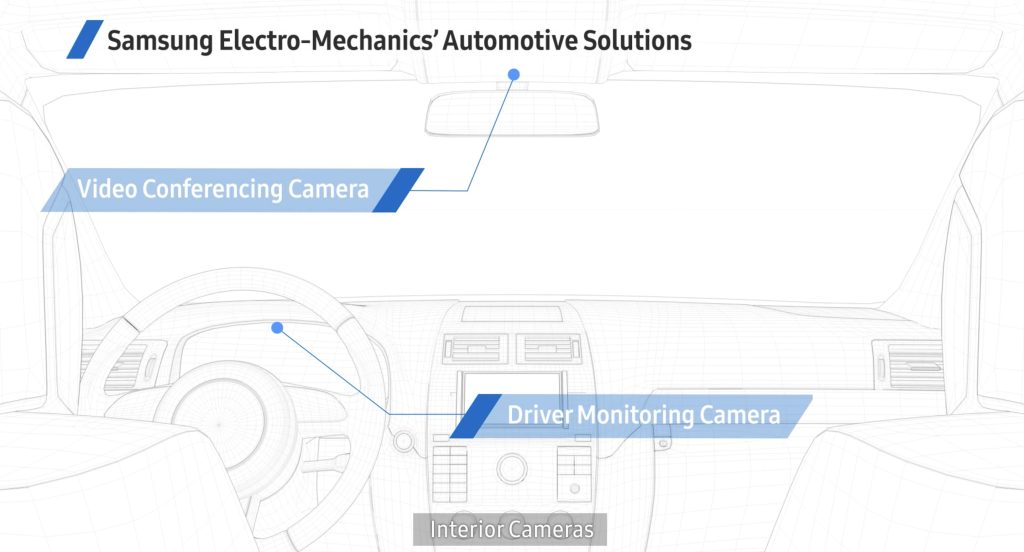 Potential
Tesla Applications for SEM Camera Modules
In a 2016 video, SEM stated its camera modules and other components could combine users' mobile experiences with traditional automotive experiences.
For instance, SEM camera modules could identify potential ride-share passengers using a mobile smart key access feature that connects devices like key fobs, phones, and smartwatches to the vehicle. Tesla drivers can already use key fobs and smartphones to access their vehicles. They are also the only ones that can remotely summon their cars. SEM's face recognition idea for ride-share customers could make Tesla's Robotaxi fleet safer for car owners.
SEM also discussed a wireless charging pad that synced users' smartphones to the car's infotainment screen. Syncing mobile features to the car's dashboard would make functions like video conferencing seamless. Add SEM's interior cameras into the mix, allowing users to have an in-office vehicle instantly. Apple showcased a similar idea at WWDC 2022 with its next-gen Apple CarPlay. 
Watch SEM's video below!
The Teslarati team would appreciate hearing from you. If you have any tips, contact me at maria@teslarati.com or via Twitter @Writer_01001101.