Tesla stock (NASDAQ:TSLA) is up ~3% in early Tuesday trading amid reports that Morgan Stanley has stopped its equity coverage of the company. As of writing, Morgan Stanley's website currently shows that Tesla had been moved from "Equal-weight" to "Not Rated."
Neither Tesla nor Morgan Stanley has issued a formal statement about why the financial firm ceased its coverage of the electric car maker. Nevertheless, speculations have now emerged that Tesla might have reached an agreement with Morgan Stanley to have the investment bank serve as a financial advisor for the company's possible privatization. Just last week, analyst David Tamberrino revealed that Goldman Sachs is serving as a financial advisor to Tesla for the company's go-private initiative. Prior to the release of Tamberrino's update, Goldman Sachs also stopped its equity coverage of Tesla.
Apart from Morgan Stanley possibly serving as a financial advisor to the electric car maker, reports also emerged that Norway's wealth fund could stay as a Tesla investor even if the company goes private. This was addressed by Trond Grande, the deputy CEO of Norway's $1 trillion wealth fund in a statement to Reuters. Norway's wealth fund had a 0.48% stake in the carmaker as of the beginning of 2018, which is worth about $253 million.
"The priority is to try to preserve the value for the fund. That is the priority. If that means that the fund will be invested in a company that has been delisted for a period of time, that could happen," Grande said.
Tesla stock had been particularly volatile since Elon Musk tweeted earlier this month that funding had been secured for the company to go private at $420 per share. Immediately after Musk's Twitter announcement, Tesla stock soared, closing the day up 11% at $379.57 per share. Tesla stock has taken a steady trek down in the days that followed, as questions emerged about the source of funding Musk mentioned in his tweet. The company's stock hit a low of $288.20 on Monday's early day trading, before recovering and ending the day at $308.44 per share.   
There is little doubt that Tesla's current volatility was caused in no small part by Elon Musk's social media activities. Had Musk not announced that funding was secured for Tesla's privatization on Twitter, the CEO would have escaped much of the criticism being directed towards him today. And this is not the first time Musk's social media activities affected Tesla's stock either. When Musk had a row with a British cave explorer about his efforts to help rescue a stranded soccer team in Thailand, for example, Musk's Twitter activities partly fueled a drop in Tesla stock. In an interview with Bloomberg's Tom Randall last month, Elon Musk mentioned that he would try to temper himself more on social media, particularly Twitter.
"I have made the mistaken assumption—and I will attempt to be better at this—of thinking that because somebody is on Twitter and is attacking me that it is open season. And that is my mistake. I will correct it," he said.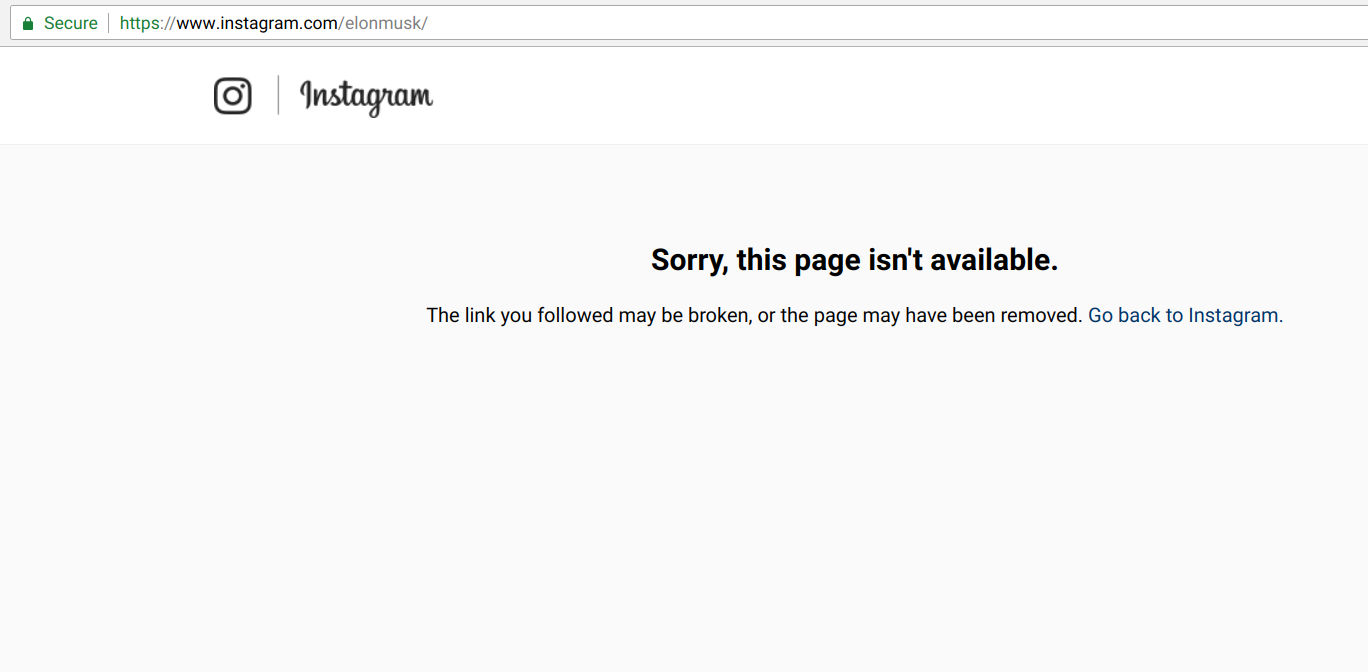 Today, Elon Musk appears to have taken a significant step towards tempering his social media use even further. Musk has been using Twitter and Instagram to post updates about his companies and his personal life, but today, his Instagram page appears to have been taken offline. Navigating to Musk's page, which had 8.4 million followers, now shows a page stating that the profile might have been deleted.
Elon Musk's use of social media is pretty much a double-edged sword for Tesla. On the one hand, it enables him to interact with his company's fans and customers directly, but on the other hand, it could also result in him causing harm to Tesla stock. As more pieces of the puzzle seemingly emerge with regards to Tesla's privatization, it appears that the deletion of Musk's Instagram page might be a step towards the CEO adopting a more cautious online stance on the company's privatization.
As of writing, Tesla stock is showing more recovery, up 3.23% at $318.41 per share.
Disclosure: I have no ownership in shares of TSLA and have no plans to initiate any positions within 72 hours.