Tesla's next-generation Roadster is designed to be the halo car that outperforms the world's top supercars in speed, power, and range while shattering world records in the making. But beyond its promised vertigo-inducing performance specifications, the vehicle's looks competes with the best exotics with its low profile, wide stance, and sleek, aerodynamic lines.
The Silicon Valley electric carmaker appears to have one working prototype of the next-generation Roadster that's painted in a rich, blazing red. It's not quite the signature red paint job featured in Elon Musk's personal Tesla Roadster that was sent on a journey to Mars, but the paint scheme of the prototype is unmistakable and eye-catching. Tesla also appears to have two to-scale models of the next-gen Roadster as well — a midnight silver-esque one featured during the unveiling last November and a white multicoat Roadster that was unveiled in the 2018 Annual Shareholder Meeting.
Considering the next-gen Roadster's design, there's arguably not a single color that wouldn't be jaw-dropping on the all-electric supercar. Graphic designer Miguel Castro exhibited some creativity after the vehicle's unveiling by envisioning how the Roadster would look in several colors, including "Electric Blue".
Teslarati's very own Reese Wilson also reimagined the 2020 Roadster in a menacing matte black. But matte-colored Teslas won't be making their way to the factory paint shop anytime soon.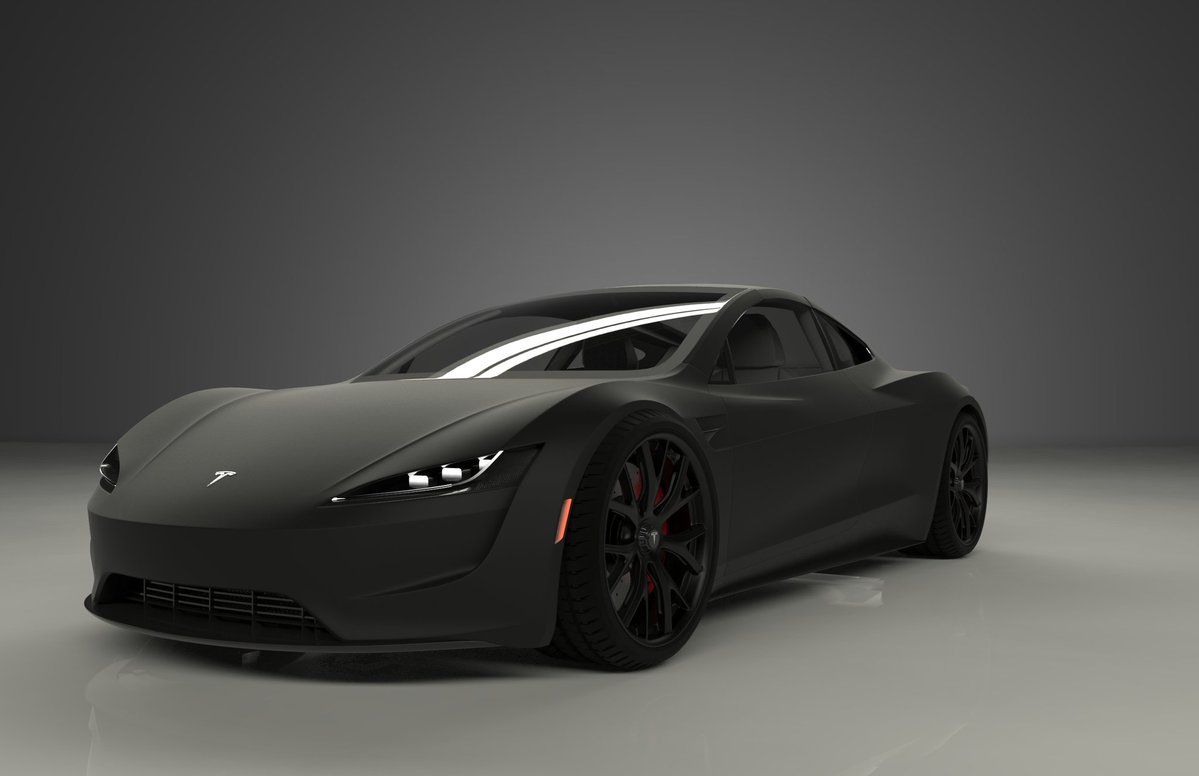 YouTuber and renown tech reviewer Marques Brownlee, and devout fan of matte black everything, digs deeper to find out why Tesla might be sticking to the more traditional glossy paint. In his recent tour of Tesla's Fremont factory with CEO Elon Musk, Marques asked Musk if Tesla would ever offer a matte black option for its vehicles, particularly since the company did showcase a matte Model 3 prototype when the electric sedan was initially unveiled. Elon Musk's response was encouraging, at least for the future.
"I actually like the aesthetics of matte. It's really tricky to repair matte. With gloss, you can polish it out. With matte, if you get like a little ding, it's really hard to then rematch so it looks like an even matte. We'd like to do matte in the future, but right now, for example, the paint shop is really operating at full tilt, so adding any complexity to the paint shop would not be wise right now, but I think it will be a cool thing to do in the future," Musk said.
One of the areas that Tesla has struggled in with regards to the Model 3 production ramp was the Fremont factory's paint shop. In the Q2 2018 earnings call, Musk noted that Tesla is "figuring out how to make the paint shop a lot simpler and general assembly a lot simpler" as the company starts producing the Model 3 in even higher volumes. Tesla's appears to have made progress with its paint shop improvements since then, as evidenced by the company uploading a rather lighthearted video of a cow udder-like robot used for painting the Model 3.
There is a pretty good chance that Tesla would not be offering matte black as an option for the next-gen Tesla Roadster. Nevertheless, some owners of the all-electric supercar who are fond of the color would likely use wraps as a way to make their vehicles more unique. One of these is Unplugged Performance's Burnt Orange wrap for the Tesla Model S, which is pretty eye-catching in its own right.
The next-gen Roadster would most likely shatter a lot of competition when it starts rolling out to customers in 2020, especially since the vehicle's insane specs announced by Musk during its unveiling is true only for the supercar's base model. Musk has since mentioned another trim for the next-gen Roadster, and that would be even crazier in terms of raw power and speed. That trim is the SpaceX option, a variant of the Roadster that would literally feature rocket tech from SpaceX, Musk's private space venture. To boost the vehicle's performance, Musk plans on using Composite Overwrapped Pressure Vessels (COPV), which are used in SpaceX's first-stage rocket boosters during re-entry and landing.