On the morning of Friday, July 6, Andrew Branagh received a call that would put his company's 30-year experience in the field to the test. Branagh, who serves as the CEO of Arcata-based Wing Inflatables, had been asked by Elon Musk's engineering team from SpaceX to construct an inflatable escape pod for the 12 children and their coach who are currently stranded in an air pocket inside the sprawling Tham Luang Nang Non cave complex in Thailand. Knowing that time is of the essence, Branagh and his team got to work.
The stranded members of the Wild Boar Soccer Team have been stranded in the caves since June 23, after a casual excursion into the underground caverns turned into a pitch-black ordeal due to flash floods. The group of 13, comprised of boys aged 11-16 and their 25-year-old coach, were missing until this past Monday, when they were located by two UK divers. The children and their coach have been given food and survival supplies, and on Tuesday, a doctor and a nurse spent the night with them. While the group is safe for now, however, retrieving them is not easy, considering that they are located 2.5 miles away from the entrance to the caves. Parts of the cave systems are also underwater, which would force the children to dive into murky waters during their retrieval.
Wing Inflatables' rescue pods under construction. [Credit: Giovanna Castro Salas/Wing Inflatables via Mad River Union]
In a tweet on Friday, Elon Musk posted a brief update on Twitter stating that SpaceX and Boring Co. engineers are headed to Thailand in order to see if they can be helpful to the government's rescue efforts. That was the same day that Branagh woke up to a text and call from the SpaceX team. Branagh notes that the message was brief, but the request was clear.
"Elon has an idea, or our team does."
Musk's initial idea to rescue the trapped children is to use an inflatable tube. Considering Wing's experience in the field, Branagh and his team went to work refining the idea. The result was a submersible "torpedo," which could hold a person with an air tank and a breathing apparatus. The torpedo is designed to be towed by its front and back, and be sleek enough to be guided through the cave system's trickiest sections. Branagh opted to utilize 30% of his company's workforce for the fast-track effort, reducing his business' usual output by half. The CEO's gambit worked, and by 9:30 a.m. on Friday, a prototype was ready. Branagh noted that the first rescue pod, which is 7-feet-long, sealed with velcro, and inflatable with the passenger's exhaled air, was a finished product. There were no throw-away units or re-dos. There was just not enough time.
By 1:00 p.m., Wing's rescue pod was tested on the Arcata Community Pool, with a certified dive instructor and two individuals who do not know how to swim. The tests were encouraging, with both test individuals being able to breathe comfortably inside the rescue pod. Branagh had also been speaking with Musk and his engineering staff in a conference call.
"He (Elon) was very direct and clear on supporting getting a solution in place," Branagh said.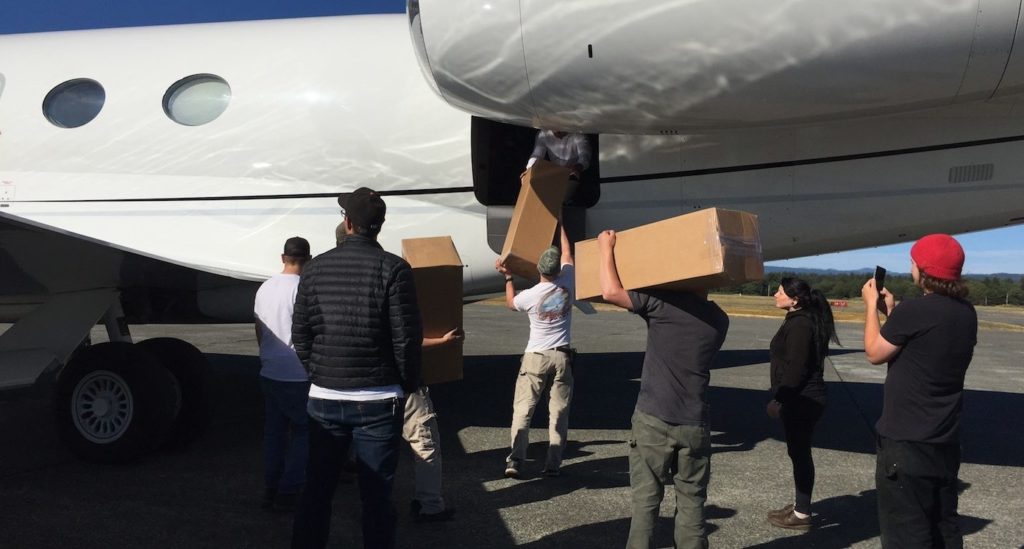 By 5:15 p.m., the first set of Wing Inflatables rescue pods were ready to be transported from Arcata-Eureka airport in Northern CA.
Apart from the inflatable pods that the engineers from SpaceX and The Boring Company transported to Thailand on Friday, Musk and his team at LA are also designing a mini-submarine for the children. In a series of tweets over the weekend, Musk stated that the mini-sub would be small enough to fit through the contours of the cave and its hull will be made of the same material as the oxygen transfer tube of a Falcon rocket, making it extremely durable. The mini-sub would have four handles and hitch points for the front and rear, with two air tanks on both front and rear, allowing up to four tanks to be connected.
Given Chiang Rai airport hours, soonest we could've departed US was an hour ago, but cave now closed for diver rescue. Will continue testing in LA in case needed later or for somewhere else in future.

— Elon Musk (@elonmusk) July 8, 2018
Rescue efforts for the stranded children are already underway as of Sunday. For this rescue attempt, the children would have to dive using scuba gear into the waters with two experienced divers. Divers who will be conducting the retrieval of the soccer team are expected to spend 11 hours inside the caves, six hours heading to the children, and five hours going out. It remains unknown for now if the rescuers will be utilizing the rescue pods delivered by the SpaceX and Boring Co. team. Musk's mini-sub continues testing in LA, just in case it's needed for the cave rescue efforts.