Tesla has come out to refute Jared Overton's claim his Model S went rogue at the end of April and crashed into the back of a large truck while he was inside a store.
This digital "he said, she said" has been playing out for more than a week. with each side claiming the other is wrong. "I think it behooves them to figure out what happened, what happened with the vehicle, address it," Jared Overton telling KPL News. "Just fix it."
Overton says he has a witness, a worker at the store he was parked in front, but Tesla remains unconvinced. The company sent Overton a detailed analysis of what the car's data suggests.
A letter signed by a regional service manager for Tesla says, "Tesla has reviewed the vehicle's logs, which show that the incident occurred as a result of the driver not being properly attentive to the vehicle's surroundings while using the Summon feature or maintaining responsibility for safely controlling the vehicle at all times."
The Summon feature "was initiated by a double-press of the gear selector stalk button, shifting from Drive to Park and requesting Summon activation," according to Tesla. Three seconds after the driver's door closed, the Summon function was initiated.
Overton says he put the vehicle in park. He has no recollection of initiating the Summon feature. He says the witness and he were talking about the car for 30 seconds to a full minute before they both went into the store. When he came out a few minutes later, his Tesla had impaled itself on the back end of a the truck parked in front of it.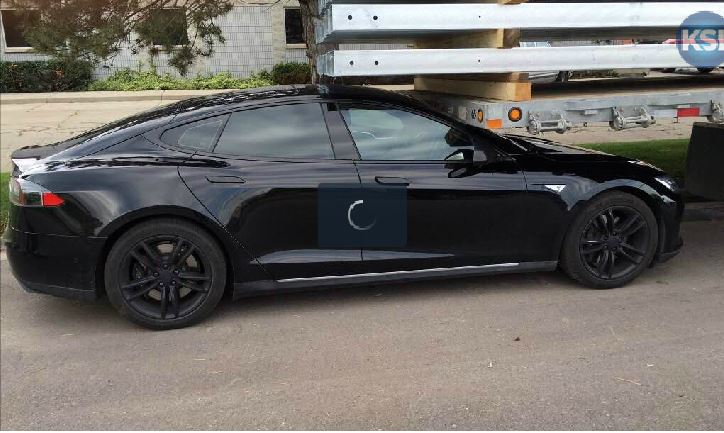 Source: KSL News
"Even during that 15, 20 second walk right here, we would have easily heard the impact of the vehicle into the back of the trailer," Overton said. "They can tell me what they want to tell me with the logs, but it doesn't change what we know happened here."
Even if he accidentally initiated the Summon feature, the vehicle should have started to park itself while he was still standing next to it, showing it off to the worker, he says. "They're just assuming that I sat there and watched it happen, and I was OK with that," Overton said.
A Tesla spokesman gave a statement to KSL News Tuesday night. It did not address Overton's statement directly, but did point out that the Summon feature is currently "in beta."
"Safety is a top priority at Tesla, and we remain committed to ensuring our cars are among the absolute safest vehicles on today's roads," the statement reads. "It is paramount that our customers also exercise safe behavior when using our vehicles — including remaining alert and present when using the car's autonomous features, which can significantly improve our customers' overall safety as well as enhance their driving experience."
Each Tesla owner must agree to terms displayed on their touchscreen before the feature is enabled. "This feature will park Model S while the driver is outside the vehicle," the statement continued. "Please note that the vehicle may not detect certain obstacles, including those that are very narrow (e.g., bikes), lower than the fascia, or hanging from the ceiling.
"As such, Summon requires that you continually monitor your vehicle's movement and surroundings while it is in progress and that you remain prepared to stop the vehicle at any time using your key fob or mobile app or by pressing any door handle. You must maintain control and responsibility for your vehicle when using this feature and should only use it on private property."
The company statement does not directly address Overton's concerns. "Imagine if a child was right there — I guarantee that they would be responding to this a lot differently," Overton said. "I will not feel safe with my little boy playing in the garage or the driveway if there's the potential for a rogue vehicle."
ALSO SEE:
Overton's situation highlights a potential problem for all drivers of digitally connected cars. Owners are not permitted to access data collected from their vehicles citing it as property of the manufacturer. That makes it exceedingly difficult to ever dispute what the company says it finds.
In this case, the Tesla did not fail to detect a small object. It somehow managed to ignore the back end of a rather large truck. That fact alone should motivate Tesla to take a closer look at what happened to Overton's Tesla.