A look at the specifics of Tesla's Q1 Update Letter reveals an electric vehicle maker that is steadily becoming a mainstream automotive company. While Tesla's gross margin in the first quarter was lower year-over-year, key aspects of its business, such as the Supercharger Network, are still growing at an incredible pace.
According to the Q1 2023 Update Letter, Tesla's Supercharger stations saw a 33% growth year-over-year, from an already impressive 3,724 stations in Q1 2022 to 4,947 in Q1 2023. Considering that the number of Supercharger stations in the fourth quarter of 2022 was listed at 4,678, Tesla appears to have set up 269 new stations in the first three months of 2023.
The growth of the Supercharger Network becomes even more prominent if one were to examine the number of connectors that Tesla has deployed to date. In Q1, Tesla's total Supercharger connectors deployed were listed at 45,169, a 34% year-over-year increase from Q1 2022's 33,657.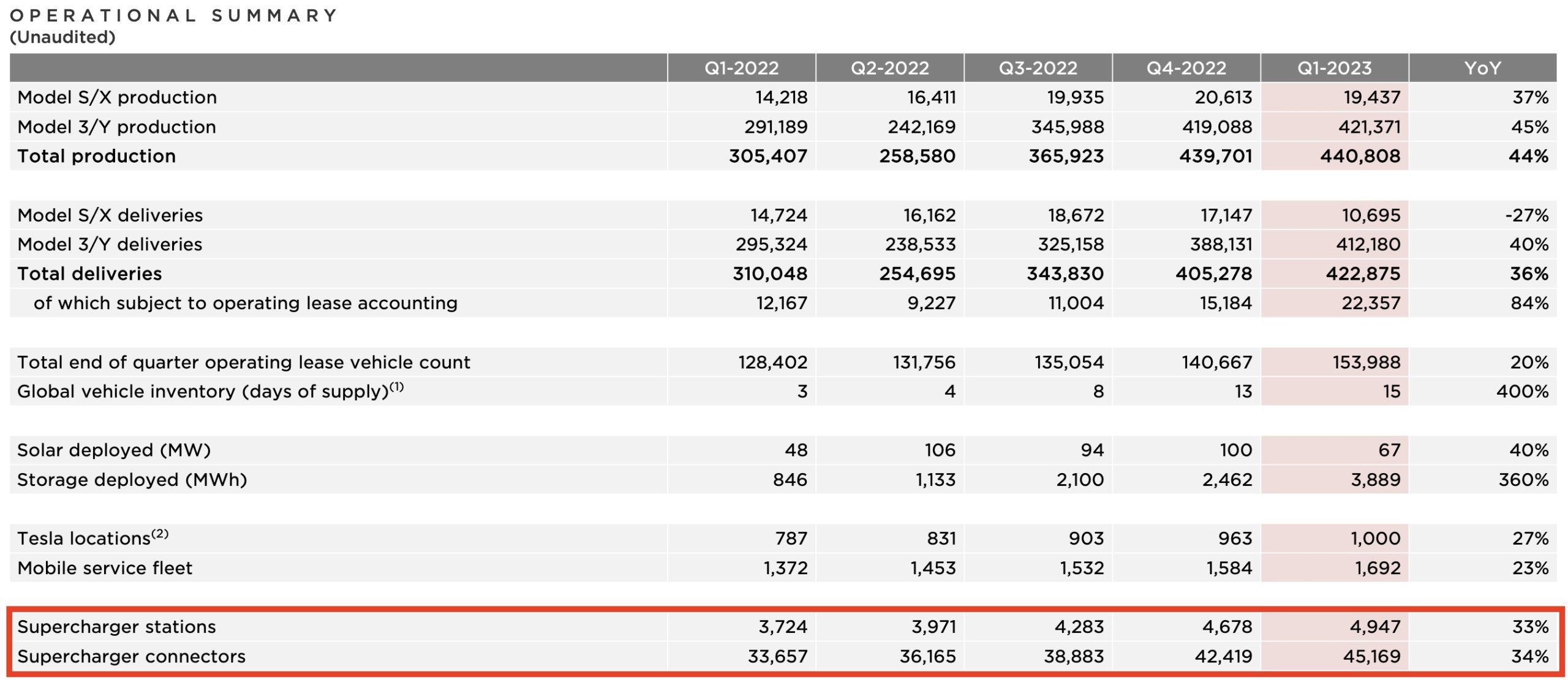 In the fourth quarter of 2022, Tesla's Supercharger connectors were listed at 42,419. This suggests that from January to March 2023, Tesla was able to deploy 2,750 new Supercharger connectors. And considering that the first quarter of 2023 only had 89 days, Tesla appears to have deployed about 30 new Supercharger connectors per day during the first quarter.
That's definitely impressive, and it shows that Tesla is truly a leader in the electric vehicle sector. The fact that the company is focusing intently on its Supercharger Network's expansion makes sense, especially since Tesla has started opening its rapid charging system to non-Tesla electric vehicles. With even non-Teslas using Superchargers, the need for a larger network is undoubtedly there.
There were many interesting tidbits of information shared in Tesla's Q1 2023 Update Letter. It showed, among other things, that Giga Berlin is hitting its stride by producing over 5,000 Model Ys per week at the end of the quarter. Tesla's FSD Beta program also reached 150 million cumulative miles, which is extremely valuable to the company's pursuit of autonomy.
The Teslarati team would appreciate hearing from you. If you have any tips, contact me at maria@teslarati.com or via Twitter @Writer_01001101.