Tesla's Full Self-Driving (FSD) Beta program has reached a significant milestone, attaining over 150 million miles driven (and counting) by users since the initiative was launched in October 2020. The EV maker highlighted this milestone in both its Q1 Update Letter and CEO Elon Musk's opening remarks at the first quarter earnings call.
"Our growing fleet of FSD Beta users has an exponential impact on total FSD Beta miles driven – with over 150 million miles to date and counting. This level of data collection is unprecedented in the industry. Mass collection of diverse datasets is essential for an AI-based approach – the only approach we believe can work for scalable autonomy. In Q1, we enabled the latest FSD Beta software stack for highway driving," Tesla wrote in its Q1 Update Letter.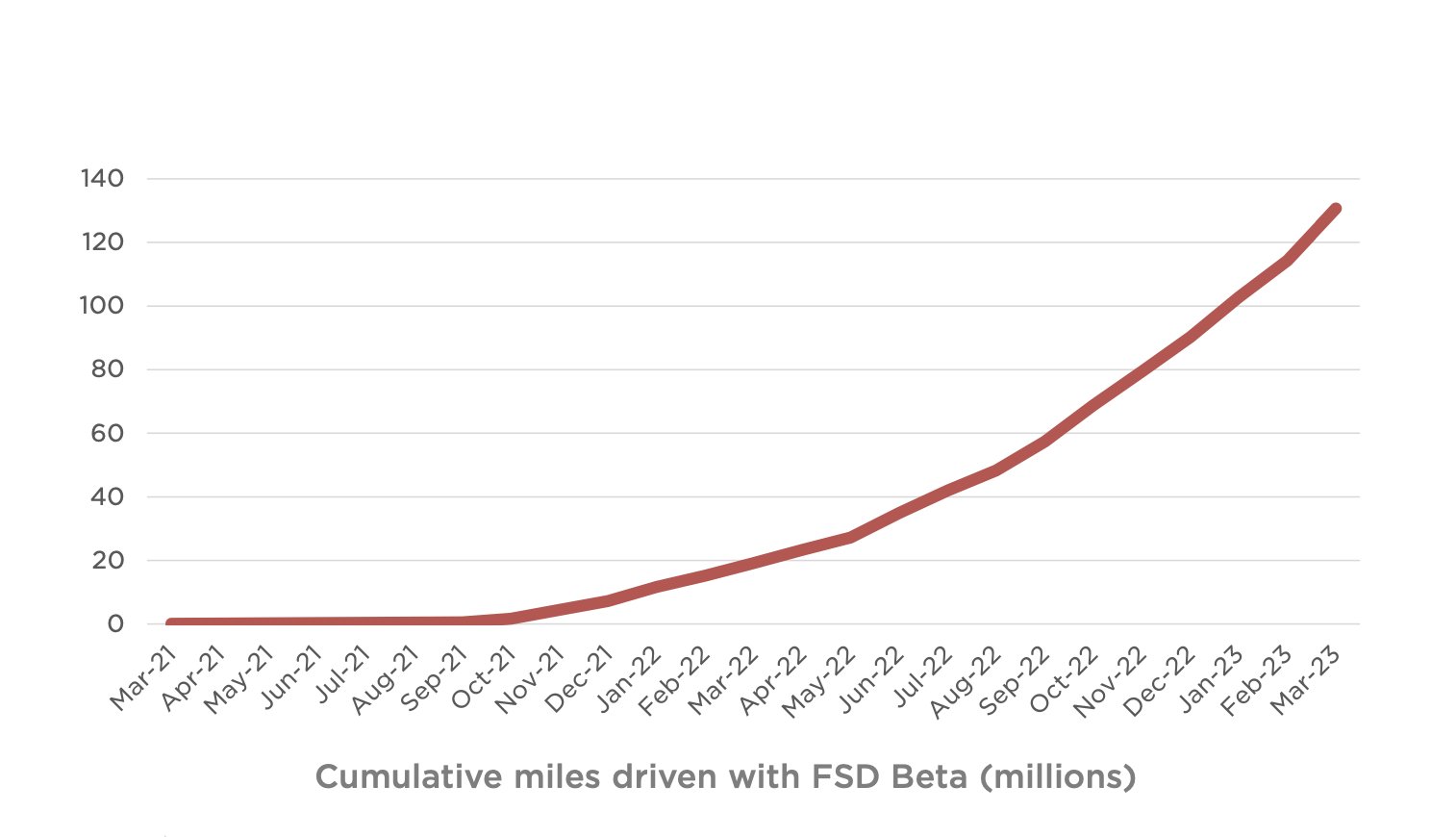 During his opening remarks at the Q1 earnings call, Elon Musk highlighted that the number of cumulative miles that FSD Beta has traveled is growing exponentially. He also noted that it represents a data advantage that sets Tesla apart from competitors.
"Those who understand AI will understand the importance of data — of training data and how fundamental that is to achieving an incredible outcome," Musk stated. Tesla's focus on improving its neural net training capabilities is key to achieving autonomy, as data and AI advancements are crucial to the ongoing development of Autopilot and Full Self-Driving.
Musk also stated that Tesla has been making steady purchases of NVIDIA GPUs, even as the company continues working on its Dojo project. The Dojo supercomputer is a training platform that the CEO believes has the potential to deliver an order of magnitude improvement in the cost of training. With Dojo in the picture, improvements to the capabilities of Tesla's Autopilot and Full Self-Driving should accelerate.
Musk compared the potential of Dojo to that of Amazon and its Amazon Web Services (AWS) business, which started as a bookstore but later became a leading provider of cloud computing services. "Dojo also has the potential to become a sellable service that we would offer to other companies in the same way that Amazon Web Services offers web services, even though it started out as a bookstore. So, I really think that, yes, the Dojo potential is very significant," Musk explained.
The CEO definitely seems optimistic about Tesla's chances in the autonomous driving sector. Musk predicted once more during the earnings call that Tesla could attain full autonomy this year, despite missing the same predictions in the past.
The Teslarati team would appreciate hearing from you. If you have any tips, contact me at maria@teslarati.com or via Twitter @Writer_01001101.