West Melbourne, a city along what's known as Florida's "Space Coast," will get the first Tesla Supercharger in the region.
The new Supercharger station located in the Hammock Landing shopping center, which will host multiple charging stalls will provide fast and easy access to Tesla drivers looking to travel along Interstate 95 near Palm Bay road. The high-powered charging station is expected to be open by the end of this year, according to FloridaToday.
"I think it's a really nice amenity," said City Manager Scott Morgan. "We think that will probably drive some more traffic as well as provide a nice convenience for those that own Tesla automobiles to be able to charge quickly while they're shopping in a really nice shopping center."
The new station will also provide an excellent opportunity for Model S, Model X and soon-to-be Model 3 drivers who are fans to Elon Musk's space company to charge their vehicles while in the area for SpaceX launches. The company has completed three launches within the past few weeks, and as launches continue to increase, the new station will be a great resource for Tesla drivers.
Space Coast, home to the Kennedy Space Center Visitor Complex at Cape Canaveral, is also known as one of Florida's major tourist destinations. The Sunshine state boasted 112.8 million visitors last year, a 5.9 percent increase from 2015. Cape Canaveral, a destination for space lovers and those curious about the future of space travel, certainly contributed to this major tourism total.
A Tesla Supercharger station in the region means tourists cruising down the coast in their Teslas will have a good option to stop and charge while on their way to Space Coast launches or other events.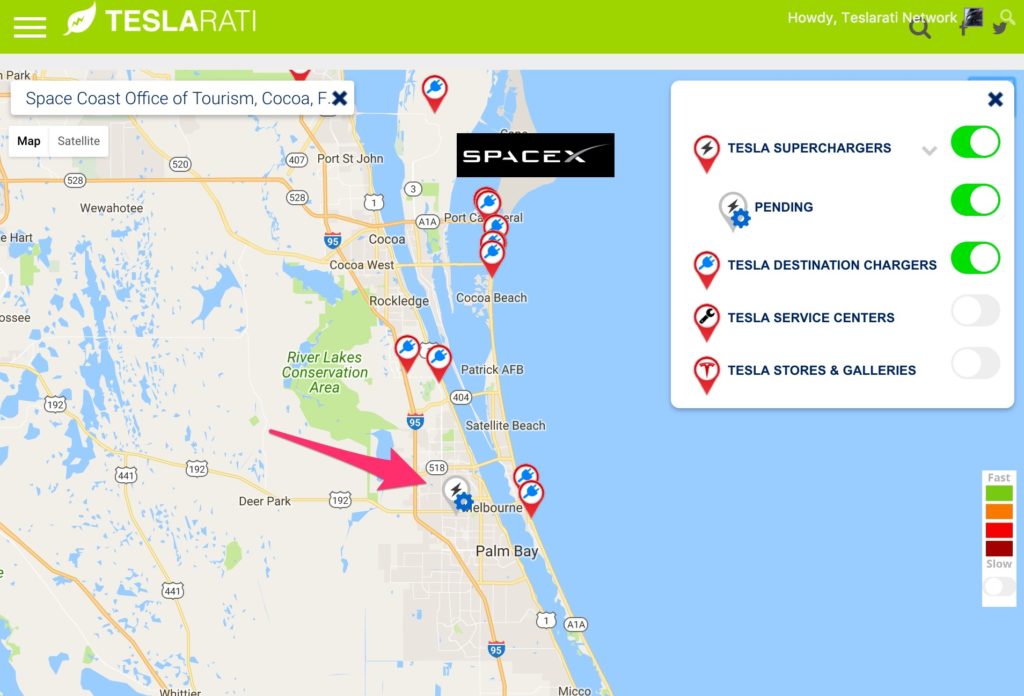 The Supercharger is conveniently located near a mall, which will provide Tesla drivers with places to shop and eat while they wait roughly 30 minutes for a push notification on their smartphone that says their vehicle has been fully charged.
More than a dozen "Destination Charging" stations have been available on the Space Coast for years in several different locations like hotels and the Kennedy Space Center. The Supercharging station, however, will provide a quicker charge compared to the Destination Charging stations, which are meant more for long-term charging.
Overall, it would seem that this new station is another big step for Musk in the Space Coast.