Tesla has begun sending emails to Referral Program winners that referred 7 or more qualifying Model S/X sales, notifying them that a personal invitation to attend the Model 3 delivery event will be coming as early as this week.
"For reaching 7 referrals, you qualify to receive an invitation for yourself and a guest to attend our Model 3 delivery event. An email containing more information will arrive in the coming week." read the email sent by Tesla last Friday, July 7.
UPDATED: Full details behind Tesla's Model 3 Delivery Event
Friend to Teslarati Ben Sullins of famed YouTube channel Teslanomics sent us the following screenshot of Tesla's email. The email notifies recipient-winners of an upcoming invitation to the highly anticipated July 28 Model 3 delivery event.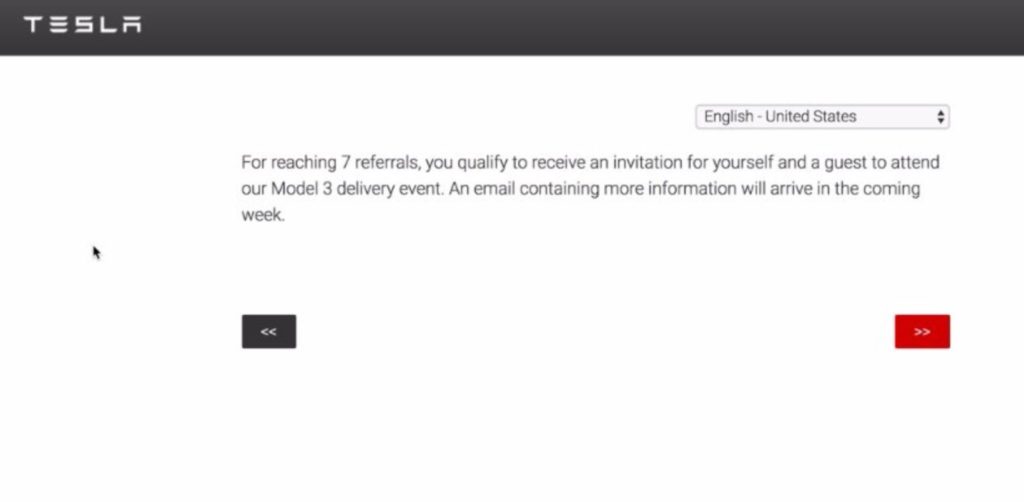 Tesla is expected to handover keys to the first 30 Model 3 customers at the upcoming 'handover party'.
Based on what we've seen at past Tesla events, we expect CEO Elon Musk to open with a presentation on Tesla's mission statement and how Model 3 plays an integral part of the company's overall Master Plan. A highlight of Tesla's vertical integration and its range of Tesla Energy products will likely take place, followed by a showcase of Model 3's unique features.
Recent spy shots of Model 3's battery charge meter suggests that the vehicle might be capable of over 300 miles of range per single charge.
Handover party for first 30 customer Model 3's on the 28th! Production grows exponentially, so Aug should be 100 cars and Sept above 1500.

— Elon Musk (@elonmusk) July 3, 2017
Though Musk confirmed that initial Model 3 production units would be single motor rear-wheel drive vehicles, it wouldn't be unexpected if he also touched on future variants, including the dual motor and performance versions. We would expect any discussion on future variants to be brief as Tesla likely wants to push configurations that the initial Model 3 production line is primed for.
Tesla Model 3 first production vehicle
Musk recently announced that Model 3 production will grow exponentially and at a rate of 100 cars in August, before ramping to above 1,500 vehicles in September. Production levels are expected to hit 20,000 vehicles in December.
Stay with us @Teslarati as we bring you live behind the scenes coverage from the Model 3 delivery event on Friday, July 28.