Tesla (NASDAQ:TSLA) recently lost its place as the most shorted company in the US stock market. With short interest slightly declining this third quarter, Tesla has handed over the title of most-shorted publicly-traded company to Amazon, which currently has a $9.97 billion short interest.
The update on Tesla's shorted shares was posted on Twitter by Ihor Dusaniwsky, Managing Director of Predictive Analytics at S3 Partners LLC, a financial analytics firm based in New York. Dusaniwsky noted in his update that Tesla short interest currently stands at $9.83 billion, which translates to around 32.43 million shares shorted, or 25.43% of the company's float. The S3 Partners executive further noted that Tesla shorts are up $638 million this week amidst TSLA's -6.02% price move.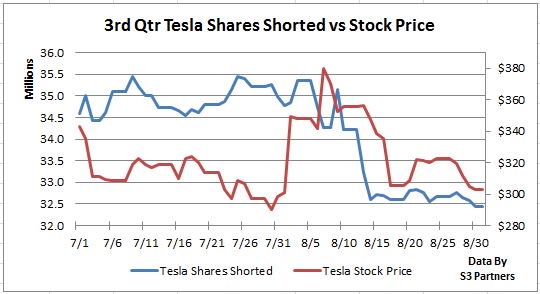 Dusaniwsky also noted to Reuters that there was some short covering during the aftermath of Elon Musk's fateful "funding secured" tweet last August 7. Despite this, most of the shorts that covered their positions then appear to have been replaced by new short-sellers.
"While there was some short covering the week after the tweet, there has still not been any significant net Tesla short covering on the Street. Any traders who have closed down their positions to realize some profits have been replaced by new ones looking for continued price weakness," he said.
August has proven to be a challenging month for Tesla investors, who saw the company's shares exhibit even more volatility than usual in the days and weeks following Musk's announcement and eventual cancellation of his go-private effort. Amidst reported SEC investigations, lawsuits, and increased attacks from critics and short-sellers, Tesla stock has remained resilient nonetheless, staying in the ~$300 range despite dipping as low as $288.20 on August 20.
The S3 Partners executive believes that the resilience of TSLA stock might become a trigger for increased short-selling activity against the electric car maker. Thus, it would not be surprising if Tesla ends up reclaiming its spot as the most-shorted publicly-traded US stock in the near future.
"A $300 Tesla price may be a signal of increased short selling since when Tesla's stock price dipped below $300 per share in March, shares shorted climbed from 30.0 million to 41.6 million in just over two months," he said.
Tesla is a polarizing company, attracting an equal number of supporters and critics, and this is particularly evident in the company's stock. Back in May, there were 39 million TSLA shares held short — the highest in Tesla's history. That said, the number of shares held short has since exhibited a slight yet seemingly steady decline, dropping to 32.72 million on August 15 and 32.43 million as of this week.
While Tesla continues to deal with the aftermath of Elon Musk's privatization attempt, the progress of the company's Model 3 production push is quite encouraging. Over the past two months, Tesla has showed signs that it is capable of maintaining a sustained optimum rate for the production of the electric car — a feat confirmed by Elon Musk in the Q2 2018 earnings call when he announced that Model 3 production hit 5,000 vehicles per week during "multiple weeks" in July. Tesla's VIN registrations also went into overdrive in August, passing the 100,000-vehicle mark. Baird analyst Ben Kallo referenced the Model 3 in a recent note as well, stating that Tesla's fundamentals, such as its progress in its mass-production efforts for the electric sedan, is still "underappreciated."
As of writing, Tesla shares are trading down 0.73% at $300.93 per share. 
Disclosure: I have no ownership in shares of TSLA and have no plans to initiate any positions within 72 hours.