Tesla shares (NASDAQ:TSLA) are up over 3% on Monday's intraday, exhibiting some strength on what is a rather quiet day for news surrounding the company. TSLA stock's movements come amid unconfirmed local reports from China pointing to the possibility of Gigafactory 3 starting production activities, or at least its preparations, for Model 3 production.  
In a rather ironic turn, Monday was turning out to be a fairly quiet day for TSLA updates, save for a few tweets from CEO Elon Musk. Even TSLA stock's page in platforms such as Yahoo! Finance showed tempered coverage amid the rise in the electric car maker's shares. This resulted in some Tesla retail shareholders showing some surprise at the movement on TSLA stock on Monday, especially since the NASDAQ is -0.10% on the red as of writing. 
What is particularly new information came primarily through sources from China. One of these is Wuwa Vision, a drone operator and filmmaker who has been following the progress of Tesla's Gigafactory 3 since its site was acquired by the electric car maker last year. Since then, the Tesla enthusiast has provided regular updates on Gigafactory 3's progress.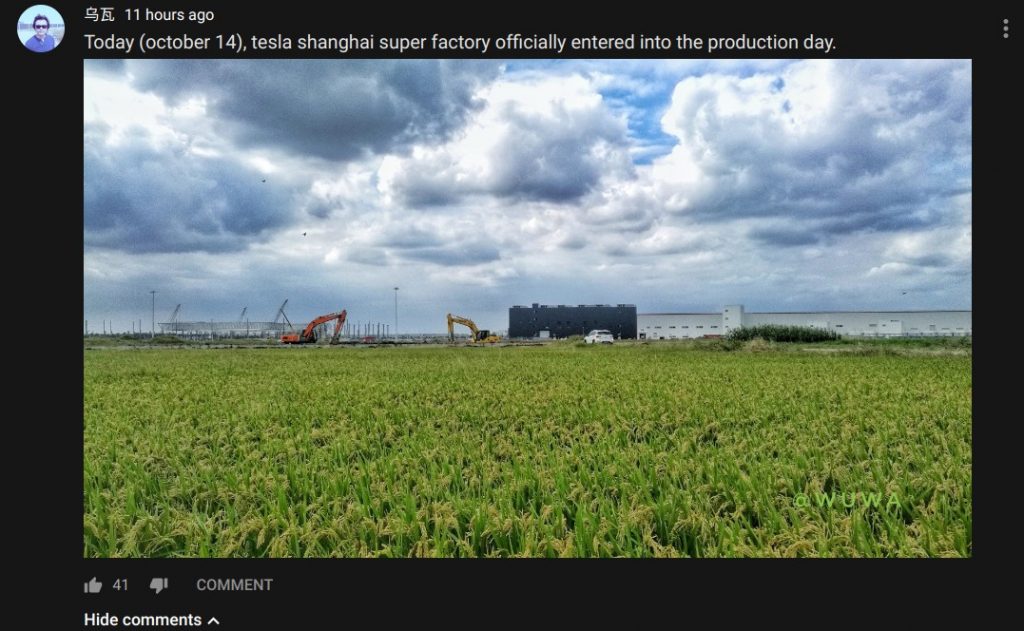 The most recent update from the drone operator featured an image of Gigafactory 3 with the caption "Today (October 14), Tesla Shanghai super factory (Gigafactory 3) officially entered into the production day." Granted, the image of the electric car production facility did not show any Model 3 coming out of the general assembly building, though the update is in line with previous reports about the start of electric car production activities on the site. 
Prior to the enthusiast's update, reports were already abounding among local media outlets stating that Model 3 production would begin sometime in October. These were augmented by reports stating that the electric car maker will no longer be importing Model 3 Standard Range Plus vehicles from the United States starting October 13. It should be noted that Gigafactory 3 is intended to exclusively produce affordable variants of the Model 3 and the Model Y from China. 
Apart from the drone operator's brief teaser, Tesla owner-enthusiast Jay in Shanghai shared a number of images that were reportedly from Gigafactory 3's interior. The images featured a black Model 3 with 18″ Aero Wheels seemingly coming out of a production line, as well as pictures of a meeting room and the exterior of the general assembly building. Granted, these images remain unconfirmed, as Tesla has been reportedly conducting trial Model 3 assembly runs in Gigafactory 3 for some weeks now. Fellow owner-enthusiast Vincent Yu also shared a similar update from a source in China. 
With Gigafactory 3 seemingly activated, the start of Model 3 production in the Shanghai-based site is likely at hand. This is, of course, notably earlier than expected as even Elon Musk expected Gigafactory 3 to enter its trial production phase by the end of the year. It's only been a couple of weeks into the fourth quarter of 2019. Considering the rise in Tesla shares on Monday, this might very well be the case.  
As of writing, TSLA stock is trading at +3.79% at $257.29 per share. 
Disclosure: I have no ownership in shares of TSLA and have no plans to initiate any positions within 72 hours.