Tesla has released its last three major software overhauls in September and October of 2016, 2018, and 2019 with the V8, V9, and V10 updates. With each of the new software editions, Tesla has added many new features and accessibility options to make for a more well-rounded ownership experience for drivers.
With Tesla CEO Elon Musk confirming several new features to its vehicles on Twitter, some have not yet made their way to V10 updates. This hints that they could be included in Tesla's V11 Software Update, which was recently discussed in a video with owner-enthusiast and tech YouTuber Ben Sullins.
Police cars revolving light
🚨What's Coming in Tesla V11?? 🚨Here are my thoughts and a possible sneak peek I found from last year. What feature are you most excited about? 👉https://t.co/kMWk5gsqQQ pic.twitter.com/6RmycgAUBg

— Ben Sullins 💪 (@BenSullins) October 20, 2020
Sullins compiled a few examples of features that owners have requested, and Elon Musk has confirmed, but have not yet been added to the company's vehicles. Because of this, Ben believes they could be added to Tesla's V11 Software Update based on the timing that the previous three overhauls have been released to the public.
Vector-Space Bird's Eye View
On October 3rd, Twitter account @TeslaOwnersSV requested that Tesla's Driving Visualization be capable of a new "Birdseye view" feature that would give owners a perspective above their car. This would essentially give drivers a 360-degree view from above the vehicle, allowing for a full-scale indication of what surrounds their vehicle. Sullins mentions that this feature is available in the Porsche Taycan. Many Tesla owners would likely benefit from the addition of the view, simply because of the benefits of a wide-range perspective.

Enlarged Side Cameras for Backing Up
@ThatT3slaGuy requested that the side cameras could be enlarged while backing up, which could provide drivers with more confidence when in reverse. A single-camera setup, which only provides a view of what is directly behind the vehicle, can prove problematic in tight parking spaces where the driver's point of view is limited. Musk confirmed that this feature would be "coming soon" on October 1st, but it has yet to be released.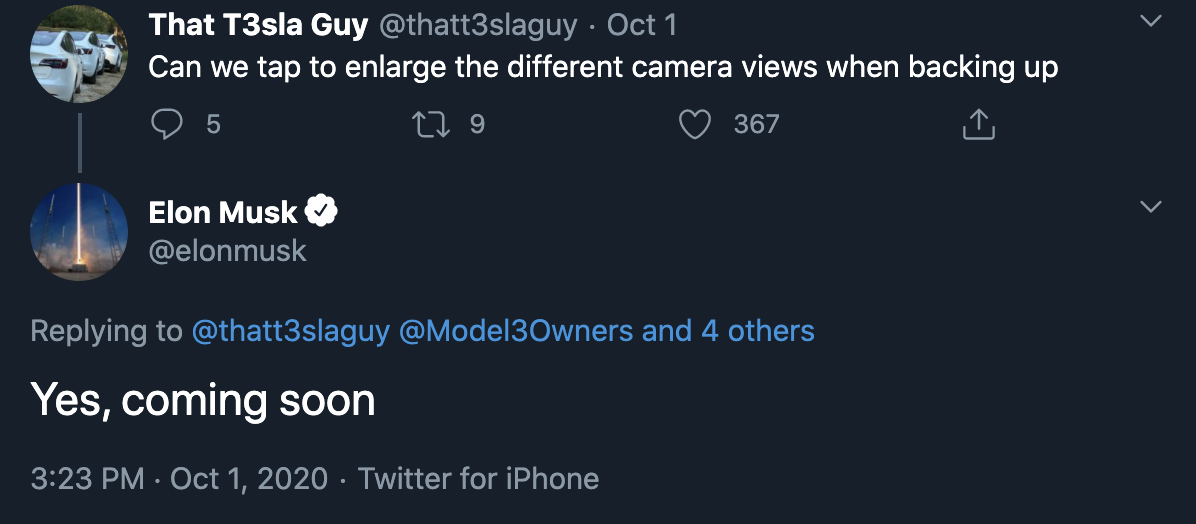 GPS Waypoints
Musk has always been a firm believer in Tesla's GPS. When owners repeatedly requested the addition of Waypoints, he denied it time and time again. However, on September 21st, Musk finally gave owners who have been seeking the feature a glimpse of hope when he said, "Fine, we'll do it already," after @Model3Owners asked one final time. The addition of GPS Waypoints will give owners full customization of which route they would like to take on a trip, making for the perfect road trip.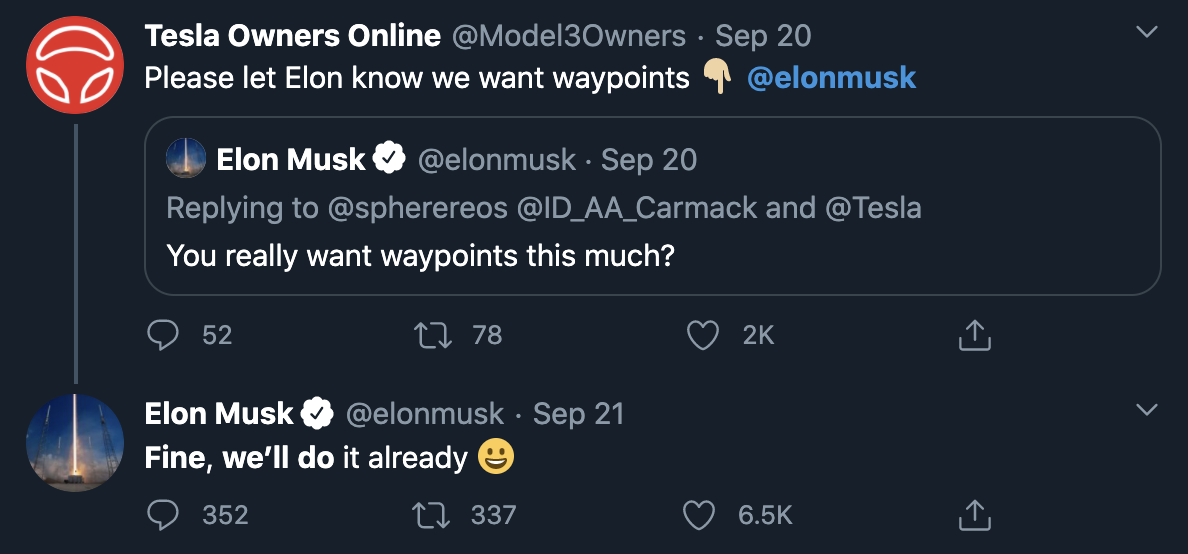 Blind Spot Warnings/Side Repeater View with Turn Signal
Another use of the Side Repeater Cameras could be used as a Blind Spot Warning feature. @AusTeslaOwners gave Musk the idea to have the Repeater Cameras show full-screen images of what is beside the vehicle when traveling. If the driver were to be on a highway and looking to move into a lane to their left, the left turn signal would be activated, and the left-side camera would also activate and be displayed on the dash screen.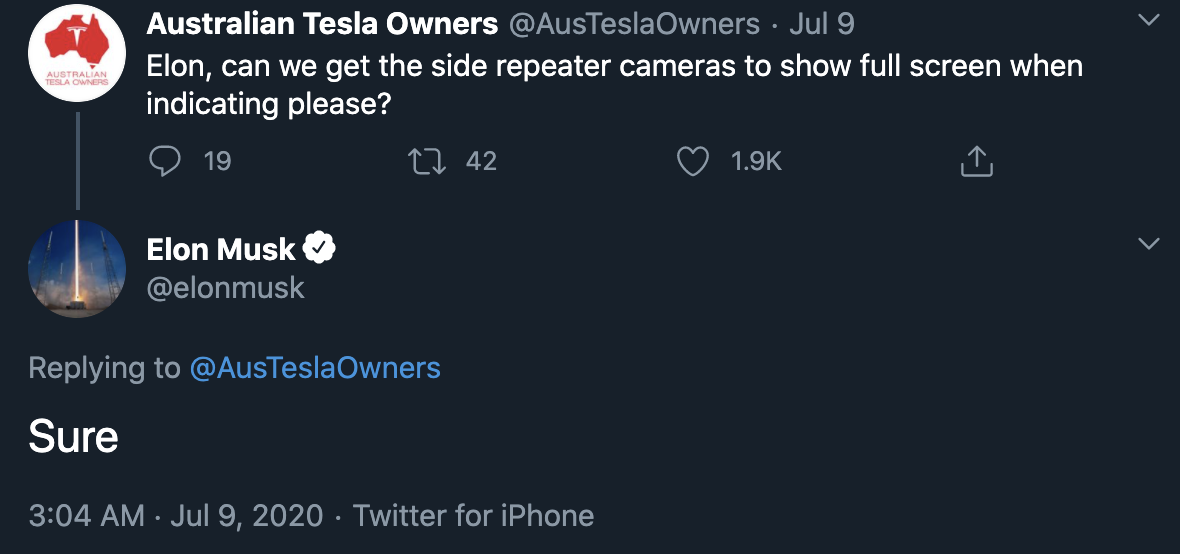 Video Conferencing inside of a Tesla
This request was also made by @TeslaOwnersSV in May. The interior cabin-facing camera that is included in the Model 3 and Model Y would allow owners to set up video conferencing from inside the vehicle. Musk stated, "Yeah, definitely a future feature," but it has also not been added yet. Sullins believes this could be another addition to V11.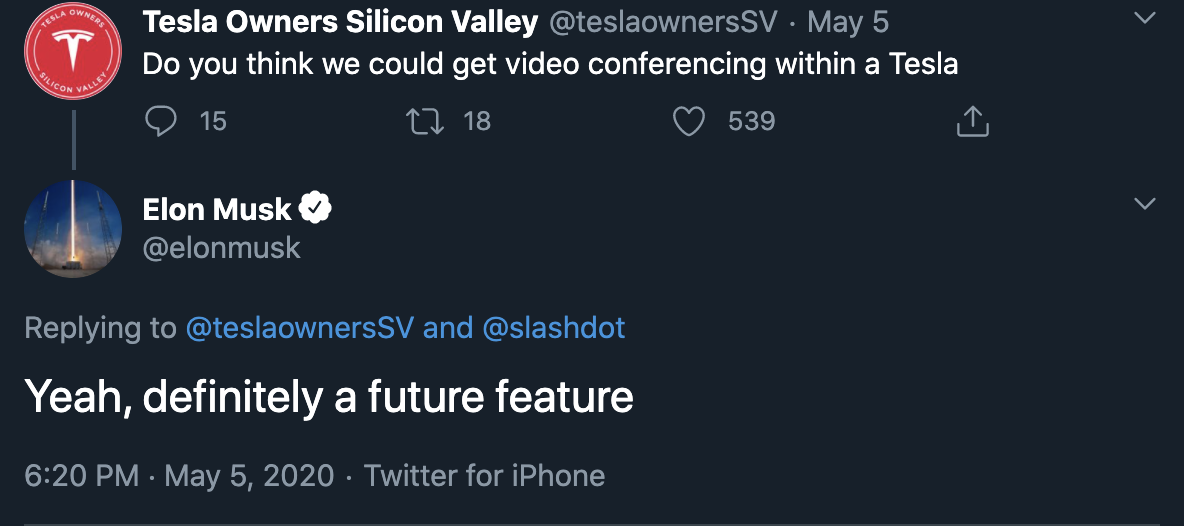 Interior Camera Activation with Sentry Mode during a break-in
@Model3Owners also suggested that the interior camera be activated during a break-in. This feature makes a lot of sense, especially if a thief is successful during their attempt to enter a Tesla. It could make the pursuit of the criminal much easier for law enforcement.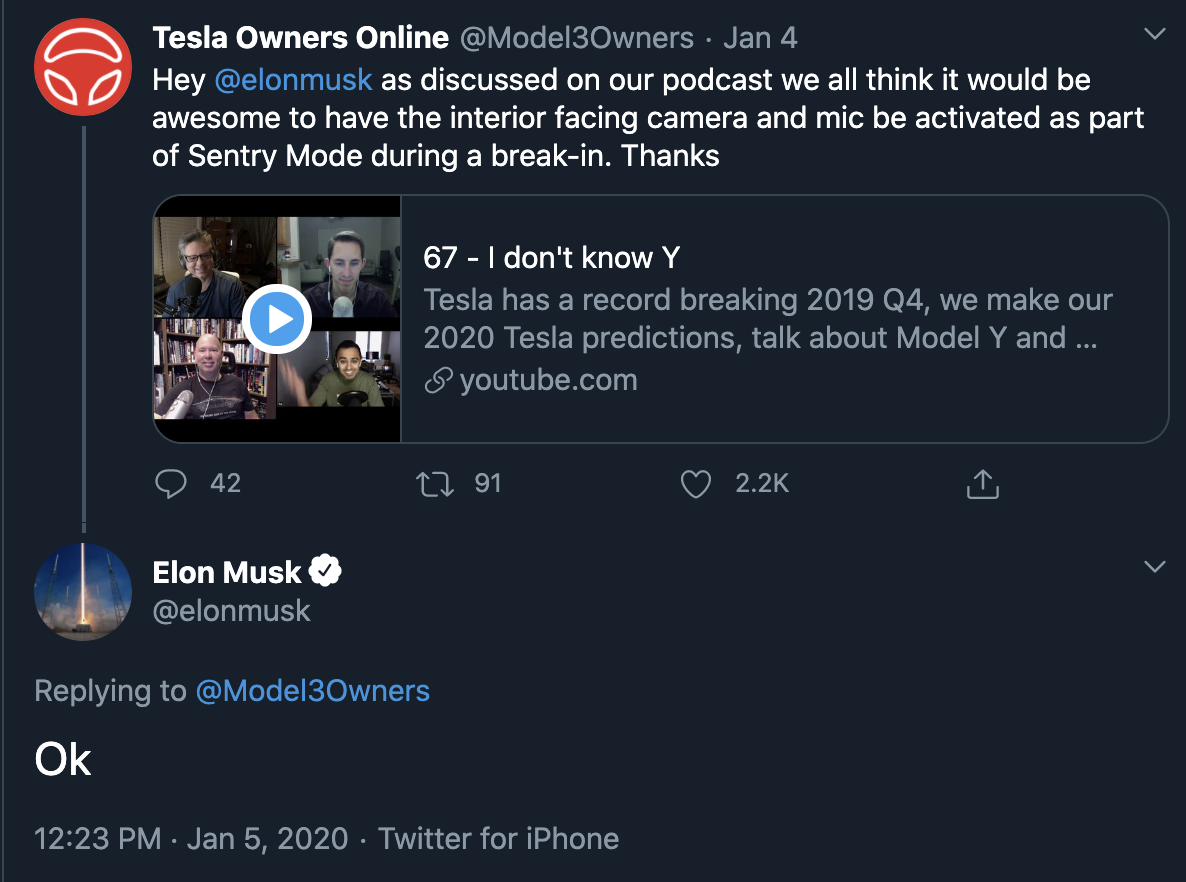 Sullins' full video on what is coming with Tesla's V11 Software Update is available below. Be sure to subscribe to his YouTube channel, or follow him on Twitter @BenSullins.