If you've been following our Tesla Racing Series you'll know that we've experienced some of the most thrilling heads-up racing competitions in our very own 48 TESLARATI Model S throughout the season. We've shown the world what a pure battery electric vehicle is capable of, in a Motorsport setting, by pitting it against the likes of Ferraris, Nissan GT-Rs, Corvette C7s and even had the opportunity to perform R&D work with the Saleen Team on the FOURSIXTEEN.
Putting all this aside, the pinnacle of our career thus far has to be our recent time-attack at Laguna Seca Raceway with, former Team Ducati Superbike World Championship rider and active member of Brammo, Eric Bostrom.
Brammo, the electric bike headquartered in the US, brings to Laguna Seca Raceway their all new 6-speed, 100% electric Empulse electric motorcycle capable of 650 ft-lbs of torque. Ready to test its prowess against the fastest electric sedan in the world, the Telsa Model S (48 TESLARATI) – this was a test of pure electric versus electric; lightweight agility versus heavyweight power and speed.
Thanks for the fun Brammo!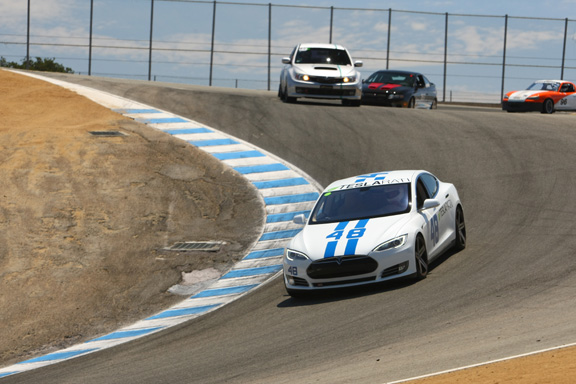 RELATED: [Video] TESLARATI 48 Tesla at REFUEL 2014 EV Race Competition