Taking a Tesla road trip will be even easier with the addition of the latest Firmware 6.1 Trip Energy Prediction feature which calculates projected energy remaining based on predicted speed and elevation changes. This update really hits a sweet spot for me because of the many improvements that I've been hoping for over the last year such as adaptive cruise control, back up camera parking lines and music shuffle! I'll be reviewing some of these features in upcoming posts but today it will be about the perfect trip planner – Trip Energy Prediction
Trip Energy Prediction: New Displays
The trip energy display only appears when a route is set through the Navigation system. The percentage of energy that remains will be displayed at the bottom of the turn list. There's also a new "Trip" tab under the Energy app that allows you to visualize the amount of battery that will be remaining, ahead of time.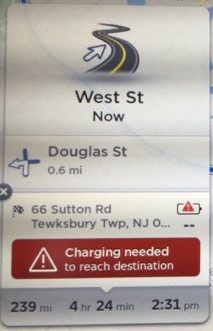 The Navigation popup displays two additional pieces of information as follows:
The expected amount of energy left in the battery when your destination is reached.
The expected amount of energy left in the battery when performing a roundtrip journey.
This popup appears briefly and then disappears. Touching the section which reads "estimate" towards the bottom of the Navigation instructions will reveal the information once again. The Trip Energy Prediction algorithm will also pre-compute the likelihood of you reaching your destination and notify you if a charge is needed beforehand.
Trip Energy Graph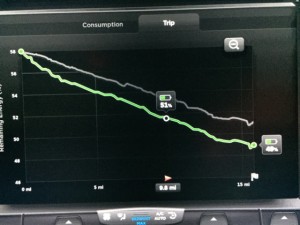 The Trip tab within the Energy app will outline the predicted energy usage for the Model S over the course of the trip. The calculations are handled in near real-time and will update as you continue to drive. I found the energy usage estimation be very close to my actual usage and within a 1 – 2% margin of error.
The only interaction you can have with this chart is zooming in to take a closer look at the changes in predicted energy consumption or zooming out to see the entire 0-100% trip energy prediction.
Using the climate control features such as Defrost (a daily use here in New England right now) made a big difference in the way the system was able to estimate predicted energy usage.
The Trip Energy Prediction algorithm predicts whether you'll run out of charge before reaching your destination and make it very clear on the Trip chart.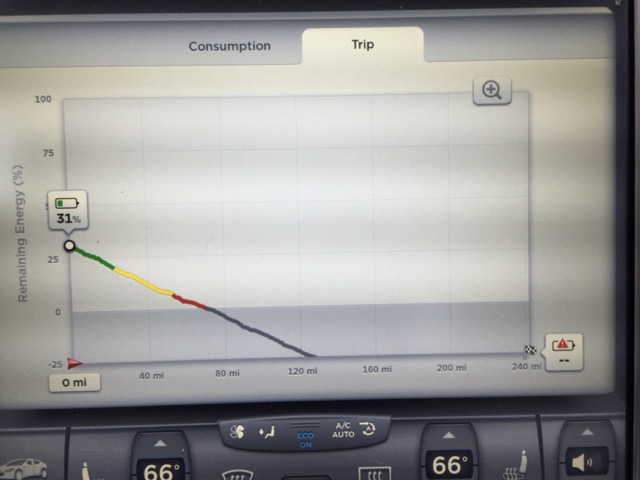 You'll likely not use these charts for everyday driving but I can see this being an invaluable addition to a Tesla road trip.
Summary
Tesla's Firmware 6.1 Trip Energy Prediction is the perfect road trip planner that takes into account elevation changes, speed and your predicted driving behavior. Best of all it's built directly into the Model S Navigation display making it seamless to use.
I'm secretly hoping that this is just the beginning of a Tesla master plan involving multiple waypoint routing via Superchargers using shortest route, shortest time based on charge levels and other factors that will determine the most optimal way of getting from point A to point B.