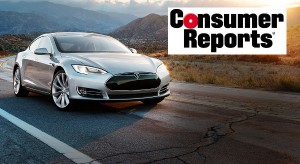 Consumer Reports has acknowledged the recent announcement of Tesla's Infinite Mile Warranty, but plays it down due to lack of full coverage.
Consumer Reports downplays Tesla warranty upgrade
Consumer Reports buys and reviews its products, which it then publishes on its magazine and website for members to read. However, the organization typically focuses on the best bang for your buck, which theoretically should put the Model S at a disadvantage because of its luxurious price tag. In a recent article we covered here, Consumer Reports wrote that the Model S has flaws which started a media frenzy that was Tesla quickly squashed through the announcement of their Infinite Mile Warranty. Now Consumer Reports is back again with another article, saying: "Tesla extends warranty to cover Model S problems. 8-year, 'infinite' mile warranty adds motor coverage but skips body hardware"
Consumer Reports says Tesla warranty not enough
The magazine says the warranty extension comes after many reported experiencing problems with the Model S. Most of the problems they ran into didn't involve the powertrain. The story concludes that the new warranty wouldn't have covered these types of problems. Instead, the problems Consumer Reports had faced revolve around the door handles being retracted when not needed, as well as experience of a blanked out center screen. A more alarming item is their report of a failure with the third-row seat belt.
The article softens up by saying Tesla quickly repaired the problems and never needed to go into the Service Center to do so. Most of the fixes came as software upgrades over the internet. Although the problems were inconvenient, they were quickly and well handled. In fact, Consumer Reports says: "Bear in mind that the experiences with our test cars are purely anecdotal and never factor into our reliability ratings. After all, it's a sample size of one."
All in all, Consumer Reports' new article is a follow up that is more diplomatic. Still, when you get down to it, it feels like much ado about little. Yes, the problems were annoying, but were handled efficiently. And yes, we are talking about one car, albeit it, the door handle problem has been reported before. All things considered, sensational headlines sell well. In Consumer Reports' favor, the magazine concludes with: "The Tesla Model S was our Top Pick for 2014, based on its impressive performance in our tests, along with early data showing the car had average reliability. But considering that Tesla is brand new to building cars, it's not altogether surprising to find some bugs in its cars"
We couldn't have said it better. Oh, wait, we did in our original article. Yes, the problems Consumer Reports found with the Model S warrant publicity, and the Tesla warranty upgrade did come four days after the original article.