Prospective Model 3 reservation holders will need to agree to the Tesla Model 3 Reservation Agreement come Thursday, regardless of whether they plan on placing a deposit in stores or online later in the evening. That agreement will then be submitted to the company along with your deposit. The one page document is written in standard English rather than impenetrable legalese, so congratulations to Tesla for doing that. Here are a couple of significant points contained in the agreement you should be aware of.
The Agreement is not a sales contract
The Model 3 Reservation Agreement makes it clear that it is not a sales contract. It is nothing more than an opportunity to enter into a sales contract at some point in the future. It says the reservation fee, which is $1,000 in the United States, is fully refundable if the prospective purchaser decides to cancel or abandon the reservation. It also says Tesla may "decline to maintain you as a reservation holder." You may want to refrain from saying negative things about Tesla publicly to keep that from happening. If and when Tesla decides it is time for you to enter into a validly binding sales contract, it will notify you.
Deferral and non-transferability
If and when the time comes to place an order for a Model 3, and the reservation holder decides not to proceed with signing a sales contract, they will be permitted to defer reservation until a later time. Only one deferral is permitted. Those looking to make a quick profit by selling their early reservation should take note that it is not transferable.
Priority
There has been much discussion in the past few weeks about getting a low reservation number. People are fanatically interested in getting their Model 3 before the federal tax credit for Tesla vehicles begins to expire. Others just want to be the first on their block to own one. Either way, just being first in line at your local Tesla store on March 31 won't necessarily determine your place in the Model 3 reservation queue. The Reservation Agreement makes that crystal clear.
"We will establish your reservation sequence position in our sole discretion. We may decline reservations to avoid over-subscription or as we deem appropriate in our sole discretion. If your reservation is declined or we decide to cancel your reservation, you will be notified and your Reservation Payment will be refunded."
Limitation of liability
Tesla anticipates that a few customers may become annoyed with the Model 3 ordering process at some point in the future. There may be delays. Specifications for the car may change. Any number of things could happen that could be contrary to a buyer's expectations at the time the reservation was made. Can you sue Tesla for disappointing you? No, you cannot. Forget about it.
Acknowledgements when you sign a Reservation Agreement
When you sign your Reservation Agreement and hand it to a Tesla representative or transmit it electronically, Tesla wants you to know a few more things.
"You understand that Tesla may not have completed the development of Model 3 or begun manufacturing Model 3 at the time of your reservation. You also acknowledge that, if you purchase a Model 3, the Model 3 may not be delivered to you until the end of 2017 or later. You also agree that we will not hold your Reservation Payment separately or in an escrow or trust fund or pay any interest on Reservation Payments."
In other words, when you sign on the dotted line on March 31 or any later date, you should be aware that the Model 3 is still a work in process. What you see at the official reveal may or may not be the car that will be built for you in the future. It could have more or less doors. It could look substantially different. What you see may not be what you get.
Summary
Make no mistake about it, Tesla intends to build the Model 3 and lots of them. It just wants you to understand that by reserving one now, you are only getting the right to purchase something in the future. What that something is remains totally up to Tesla to decide. Since all reservations fees are fully refundable, you have nothing to lose. You are reserving a ride on the road to the future. Enjoy your journey but be prepared for some twists and turns along the way.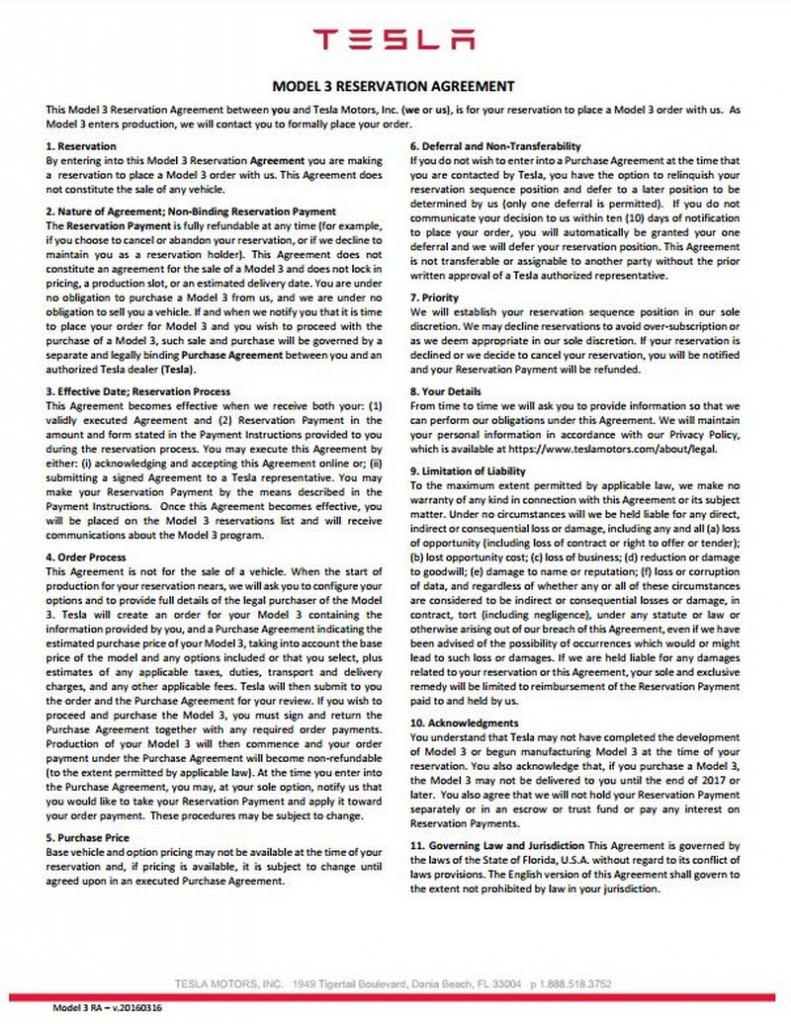 More Tesla Model 3 News