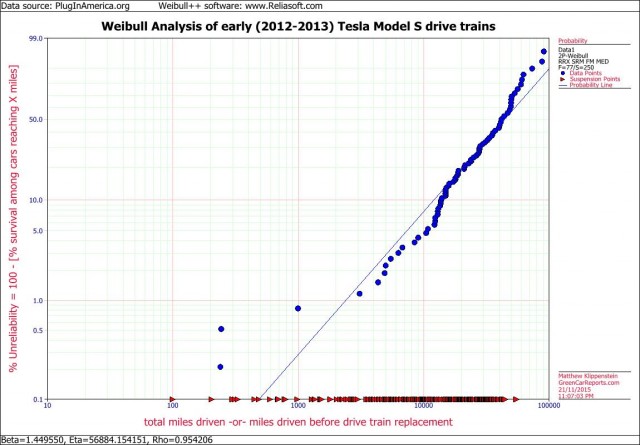 Plug In America has completed a survey of owners of 2012 and 2013 Model S cars. A Weibull analysis of the data finds that two thirds of the drive units in those early cars are expected to fail by the time they accumulate 60,000 miles of driving according to Green Car Reports.
The survey collected data from 327 owners and asked each if their drive unit had been replaced and at what mileage. Green Car Reports reporter Matthew Klippenstein found some transcription errors in Plug In America's raw data. He corrected them and then redid the reliability analysis using Reliasof. The results are slightly more favorable to Tesla and are plotted on the graph below.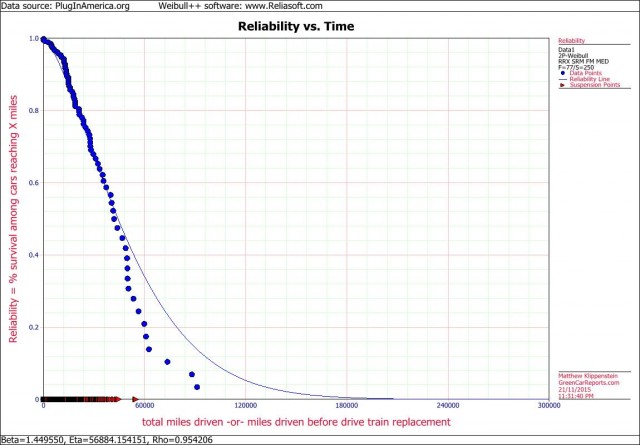 Only 43 owners of 2014 and 2105 cars responded to the Plug In America survey and the amount of miles on those cars was well below the threshold for drive unit replacements, so no analysis of that information was performed.
Elon Musk said recently that the company has added automatic grease injection to counteract premature wear issues in the newer drive units, but its impact on reliability won't be known until later.
Green Car Reports contacted Tesla, requesting answers to these specific questions:
How many motors has Tesla repaired or replaced in 2012 and 2013 Model S cars to date?
What percentage of total cars does that represent?
What does the company's own reliability data indicate about the percentage of cars that will require motor replacements over the life of the vehicles?
Musk said in November that reliability had doubled; how confident is Tesla that it has now fully resolved the reliability issues with earlier motors?
What is the company's projection for failure rate in the motor(s) of current production cars?
What would Tesla Motors say to owners (and future used-car buyers) of the early cars regarding the reliability of the motors?
Tesla declined to answer the questions, preferring to rely on a general answer to cover them all. "Close communication with our customers enables Tesla to receive input, proactively address issues, and quickly fix problems. Over-the-air software updates allow Tesla to diagnose and fix most bugs without the need to come in for service. In instances when hardware needs to be fixed, we strive to make it painless."
The company is reacting positively to reliability issues as they occur. Indeed, Tesla owners report they are very satisfied with their factory service experience. The 8 year Infinite Mile warranty on drive units and batteries means that few owners have suffered out of pocket expense to repair a malfunctioning drive unit.