Elon Musk's Boring Company will officially begin drilling for its underground tunnel in Las Vegas later this month, according to the Las Vegas Convention and Visitors Authority (LVCVA). The tunnel will allow the Las Vegas Convention Center's visitors the opportunity to travel quickly from place to place.
The TBM is currently 40 feet underground, with the machine expected to be started later this month, initiating the first drilling phases of the two, mile-long tunnels. The transportation system is expected to move people between three stations in less than one minute, making traveling in the LVCC area easier and more convenient.
Progress of the project has ramped up heavily within the past couple of months. In September, Boring Co. began shipping portions of the tunnel boring machine (TBM) to the site, along with a cutter head and mixing chamber. Just a month later in late October, heavy machinery was present as the site entered its full construction phase with workers beginning the building of a passenger station at the end of the transport tunnel. On top of that, a tunnel boring machine was assembled around this time, making it evident construction was scheduled to be underway soon.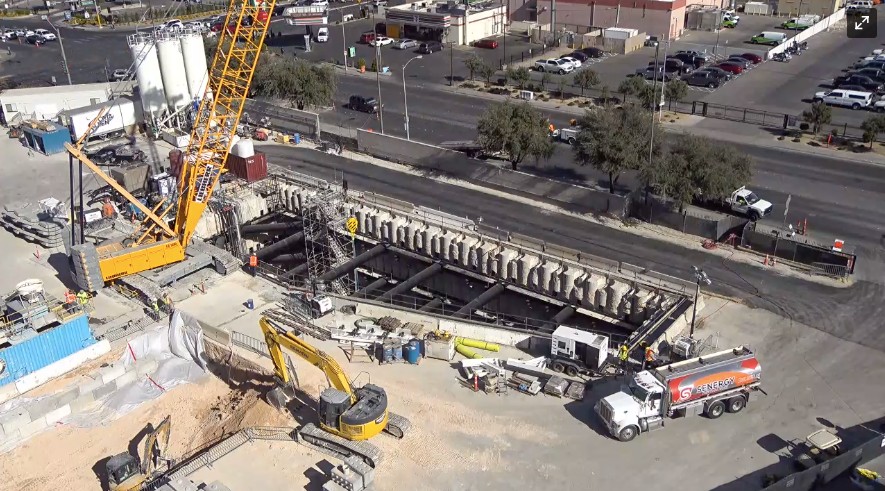 Since these reports, the site has really started to take shape. A 24/7 livestream of the site shows the outlines of the passenger station, along with cranes and other pieces of heavy machinery visible, suggesting the most crucial portions of the project are underway.
Now, with the reports of the machine underground and ready to begin making progress toward boring out the tunnel, the project's intended completion time before the Consumer Electronics Show in January 2021 seems realistic. Sources close to Teslarati reported in October that there were no known hold-ups in the construction process or building department.
The Las Vegas tunnel will cost $52.5 million and is one of five current projects listed on the Boring Co. website. While CEO of the LVCVA Steve Hill has highlighted the project as an innovative way for Las Vegas residents and visitors to navigate quickly, it was a hard-fought battle to get the contract approved by all board members.
Some members wanted the Austria-based Doppelmayr Garaventa Group to conduct an above-ground project, citing the 125-year history of the company would be a safer option. "They already have projects here that are operating successfully. The Boring Co. is three years old and has yet to deliver a final package on anything," Michele Fiore, an LVCVA board member wrote.
The Boring Co. was an idea by Musk that would eliminate the increasingly frustrating traffic in his base city of Los Angeles. Since the overwhelming support of the company from his supporters, Boring Co. has branched out to other areas, like the Las Vegas' project, a pre-approved Baltimore-Washington hyperloop, and a Chicago tunnel whose contract remains under negotiation.