Two grid-scale Tesla Powerpack energy storage systems have been unveiled in Europe, one in England and the other in Ireland.
The first system is in Somerset, England and located in conjunction with a 500 kWh solar farm. U.K.'s Energy Minister, Baroness Neville-Rolfe, met with the heads of Engineering, Procurement, and Construction (EPC) provider Poweri Systems and developer/financier Camborne Energy Storage at the formal opening ceremony.
"We welcome this exciting project from Tesla and Camborne. Innovation in storage technologies will help manage our electricity grid more efficiently, support greater energy security and, crucially, drive down consumer bills," said Neville-Rolfe. Tesla U.K. manager Edward Sargent was also present at the unveiling.
The Camborne Energy Storage (CES) project should be able to fulfill electricity supply needs of around 500 regional households. CES managing director, Dan Taylor, commented that the "project is already commercially operational, providing low carbon power during times of high demand." He indicated that CES may be delivering further low carbon power to the U.K.
Ireland also received its first Tesla Powerpack energy storage system (100kW/190kWh) at the offices of Boston Scientific in Galway. The Galway Powerpack project will likely be complemented with a proposed 160kW solar system.
This project is a collaboration of two Kingspan ESB subsidiaries, one of which makes insulation and building fabric and another that is an Irish electricity supplier. Fergus Sharkey, general manager at Kingspan, confirmed that the batteries will help integrate local renewable energy and provide grid services, known by the term DS3 services in the jargon of Ireland's grid operator, Eirgrid.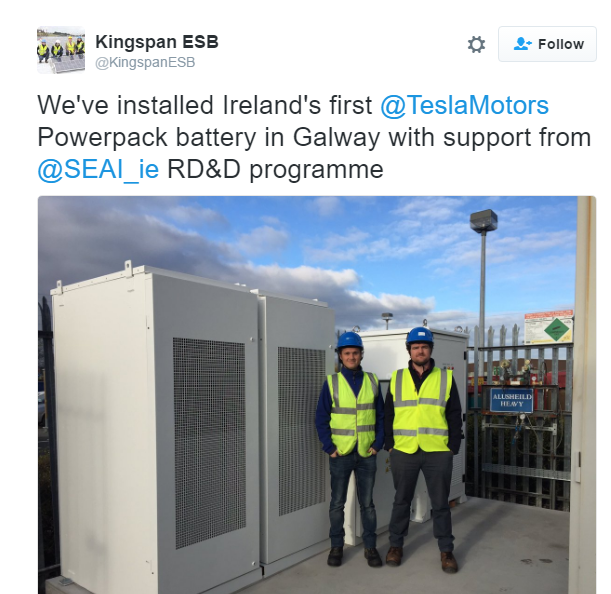 Partially funded by the Sustainable Energy Authority of Ireland, which paid €183,317.85 (US$197,900) of the installation's total €407,373.40 cost, the project is part of a wider program that also entails research, development, and demonstration. Biomass, heat pumps, and various other technologies are funded by the government authority.
Other Boston Scientific sustainable energy projects around the world include a site in Coyol, Cost Rica, which is being equipped with a 4MW battery storage system, and a solar rooftop installation in Quincy, Massachusetts.
The U.K. government has sent contradictory messages about clean energy over the past year. While it has reduced previous support for renewables, it also released a "call for evidence" for data that helps the U.K. to reform its energy system to be "smarter." Within the call for data is a request for stakeholder input on issues including the integration of energy storage.