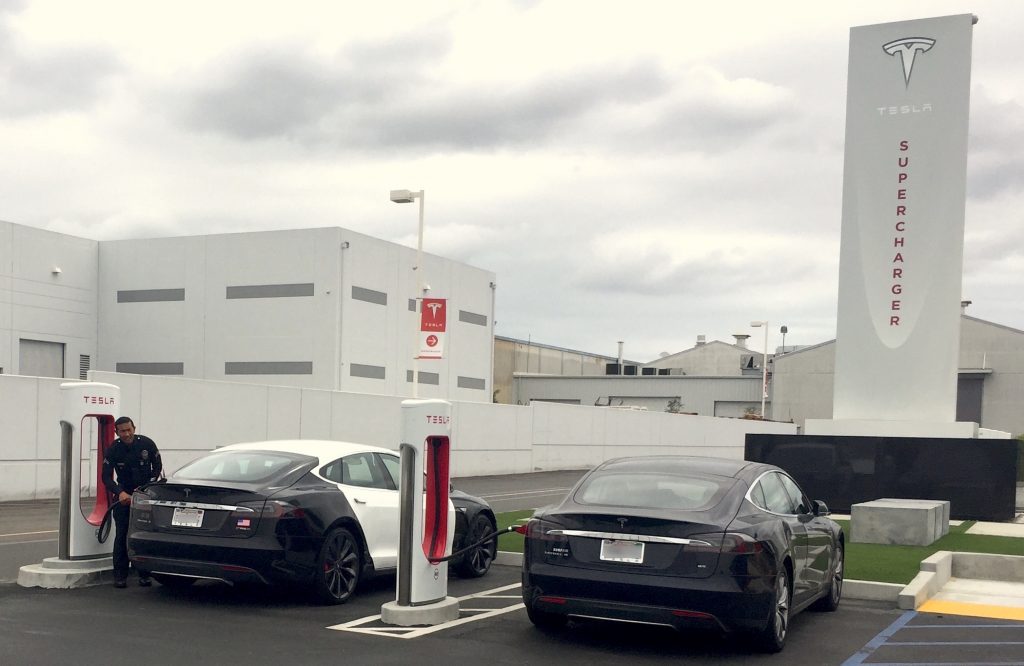 An officer from the Los Angeles Police Department was spotted this past weekend while Supercharging the department's black and white Model S P85D at Tesla's Design Center in Hawthorne, CA.
Andrew Rozendal had just finished a tour of neighboring SpaceX and captured the moment while walking back to his Model S that was charging at a HPWC adjoining the Supercharger stalls. According to Andrew, the officer was all smiles when he stepped out of the vehicle and event took the time to chat with Tesla Design Center employees and nearby Model S owners.
Andrew tells us, "When we got back out to our cars after the [SpaceX] tour we were delighted to see a Tesla cop car pull up to a Supercharger. I'm glad we had just been reunited with our phones, since we hadn't been able to take them on the tour. (Even when we were waiting in the Design Center before the tour we attempted to take a picture of the Radio Flyer Model S for Kids but they stopped us and said no photographs.)  The officer was all smiles when he stepped out. My buddy had all but left yet he turned around and parked again so he could chat with the officer. A Tesla employee also came out of the Design Center to talk with him and see how things were going."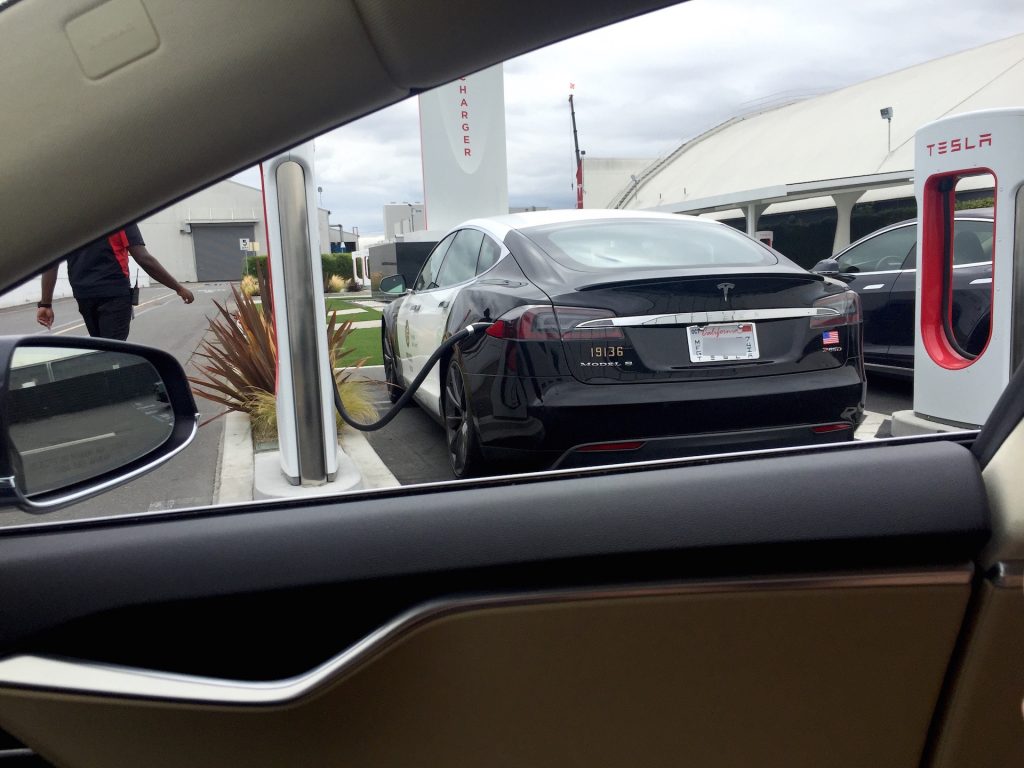 This rare sighting of the LAPD Model S P85D on loan from Tesla, comes on the heels of reports that BMW beat Tesla on a contract that would supply the Police Department with 100 electric cars. The LAPD had been testing Tesla's P85D variant over the past year but decided that it will lease the more affordable BMW i3 as the department's community outreach and police business vehicle. LAPD will not be using the fleet of 100 leased BMW i3s for patrol or car chases.
Los Angeles Mayor Eric Garcetti announced that the LAPD will be leasing the vehicles as part of a three-year agreement with BMW, enabling the city "to be flexible and to change as EV technology evolves further."
With the announcement of the new deal with BMW, expect to see a few last joy rides by the LAPD in its Insane Model S P85D before it returns it back to Tesla.
A big thanks to app developer and Model S owner Andrew Rozendal for sending in the tip with photos.