Maye Musk, the mother of Tesla CEO Elon Musk, shared photos of an evening out in Berlin in a Midnight Cherry Red Tesla Model Y. Ms. Musk noted that a Tesla executive drove her around the city in the vehicle, which had her name on the screen.
Thank you @Tesla for allowing the elegant Eva, a Tesla executive, to drive me around Berlin in the stunning Midnight Cherry Red color. My name is on the screen😉😍 #Tesla #Gigafactory #Berlin #Brandenburg @elonmusk 🙏😘#EineFrauEinPlan 📖 #Esisttoll74zusein 💪 pic.twitter.com/6cdExnL0MB

— Maye Musk (@mayemusk) January 20, 2023
Midnight Cherry Red is one of Tesla's newest colors, exclusively made at Gigafactory Berlin. Tesla announced the launch of it and the Quicksilver paint color option in October for higher prices than the other colors. Elon Musk noted previously that the German factor will be able to create paint options with "more layers of stunning colors that subtly change with curvature."
Both colors are available for European customers. However, Midnight Cherry Red is currently only available for those ordering the Tesla Model Y Performance. The EV community was not only widely appreciative of the new colors, but Tesla's chief designer Franz von Holzhausen said that he "hopes so" when asked in an interview by Ryan McCaffrey if Tesla's factories in the U.S. were due for new paint options.
Maye Musk attended a fashion show for the label Marc Cain at Berlin Fashion Week. She also walked the red carpet at Tempelhof Airport for the Marc Cain fall 2023 fashion show. Fault Magazine noted that she closed the show "with her signature style and grace" and that her participation was sure to "reverberate throughout Berlin for the remainder of fashion week."
While in Berlin, she took a moment and visited Tesla's factory. The photo below was taken by Anna Sherman, and Maye Musk shared it with her Instagram stories.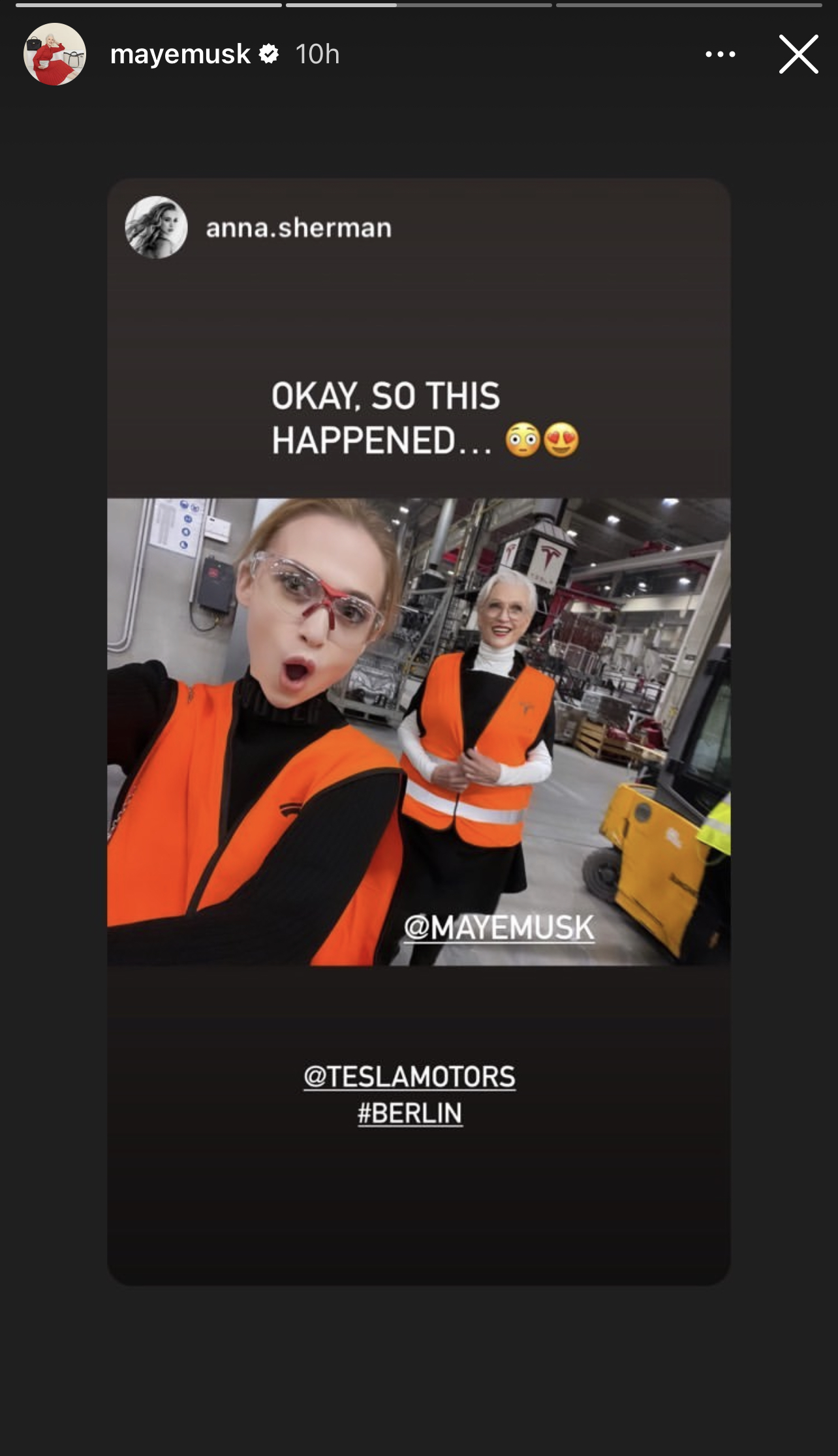 Tesla's Giga Berlin has recently been deemed ready for its production ramp by German officials during a recent meeting with the IG Metall labor union. Although it began production less than a year ago, the factory has been working toward expanding at a fast pace, allowing it to reach higher production numbers.
Disclosure: Johnna is a $TSLA shareholder and believes in Tesla's mission.  
Your feedback is welcome. If you have any comments or concerns or see a typo, you can email me at johnna@teslarati.com. You can also reach me on Twitter at @JohnnaCrider1.
Teslarati is now on TikTok. Follow us for interactive news & more. Teslarati is now on TikTok. Follow us for interactive news & more. You can also follow Teslarati on LinkedIn, Twitter, Instagram, and Facebook.