We're confirmed on attending this year's REFUEL 2015 to be held on June 26th at the legendary Laguna Seca Raceway. Join TESLARATI for a little spirited track action fun or watch us take on the new 691hp Model S P85Ds during the official Time Trial (TT) electric vehicle competition!
REFUEL is Speed Ventures' annual clean power motorsports extravaganza where a wide range of EVs, ranging from Teslas, BMW Active-Es (we imagine there will be a large showing of BMWi's this year), along with some competition specific EVs, will be on track to test their skill and might on the world famous course.
Driving an EV on a race track is, not only a heck of a lot of fun since you get to really experience the agility of the car through turns and sweeping banks, but it's the only event outside of professional racing where you can compare your results with other EVs.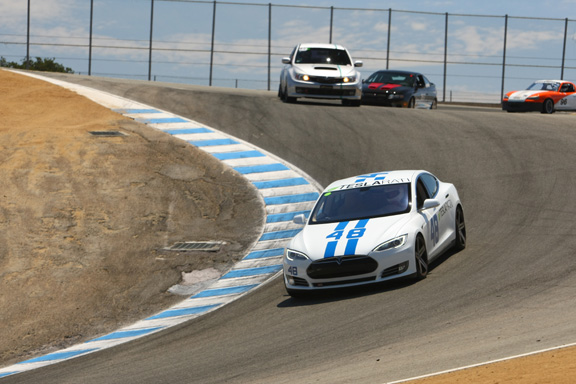 What's most fun about the track is the blind crest, known as the Corkscrew, which sharply descends three stories through a quick sequence of turns.
Although last year was our first-ever REFUEL attendance, we quickly realized that we'd be coming back for more, especially having experienced the exhilarating lure of the fast, yet twisty, track.
We managed to peform fairly well last year in the REFUEL TT race in our 48 Tesla, taking first place in the Model S and second place overall, bested by Joe Nuxoll's Tesla Roadster.
>>> TESLARATI @ REFUEL 2014 RECAP [VIDEO]
It's always tough to compete against a Tesla Roadster, that is smaller, lighter, and doesn't have as much overheating issues as the Model S does. This year we have a whole new challenge awaiting us – the Ds. We're talking about the Model S 70D and the insane 691hp P85D. While these dual drive Model S' are unbelievably quick off the line, there's still no reports on how well they'll fair when placed in a track environment.
Needless to say, we look forward to finding out!
Register for REFUEL 2015 and the TT competition here: Register. The event sells out quickly (if not already), so be sure to hurry!
Even if you don't plan on taking your EV onto the track, but happen to be in the area, stop by and say hi to our Teslarati 48 team! We met a lot of great people last year including engineers from Tesla Motors, as well as new Tesla friends from TMC who went on track ride-alongs with us, so we hope this year will be just as rewarding and fun!