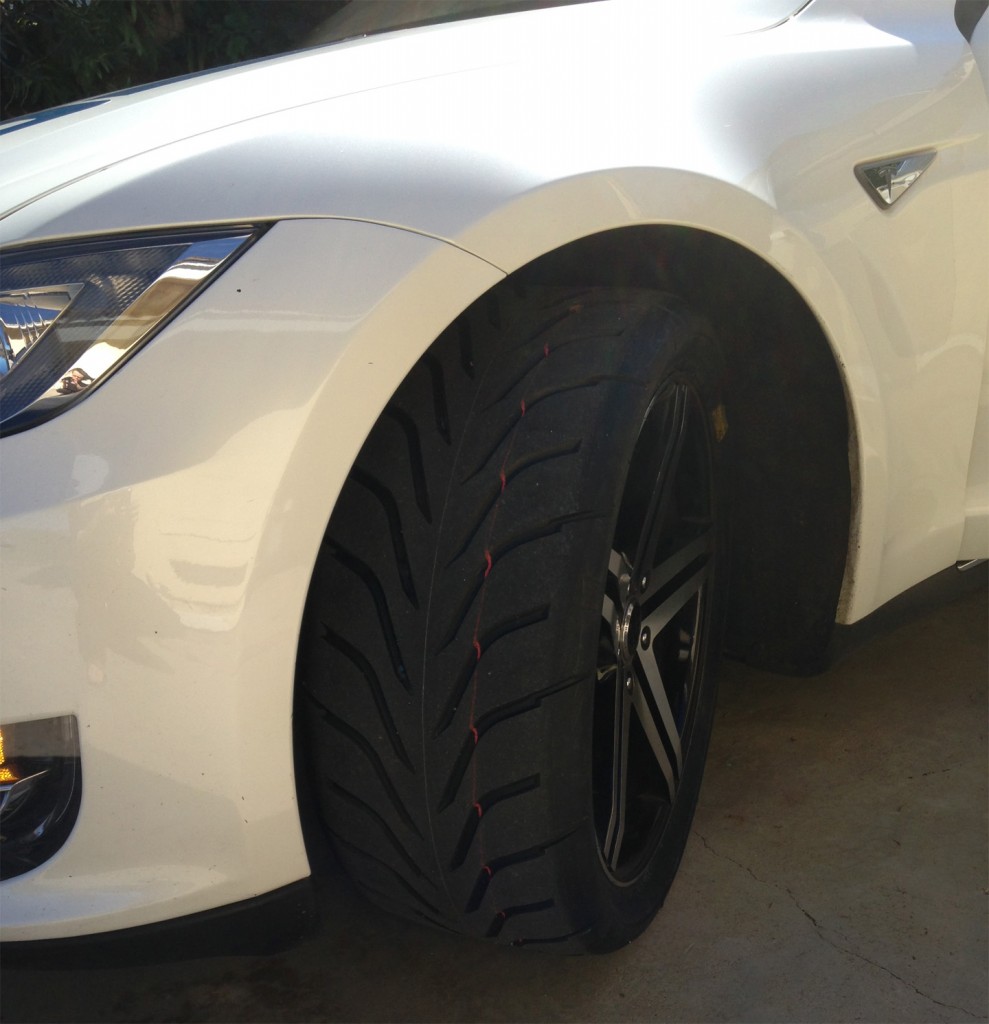 Finding the perfect tire is a never ending pursuit in the world of racing. For those taking their Tesla Model S to the track, the most frequently asked questions are around tires. What tires support the weight of the Model S and performs the best on a race track? Having gone through several tire configurations in our Tesla racing conquests we can now provide some answers to that question.
Your choice of tire really depends on what you are trying to achieve with the Model S. We've broken it down to three usage categories as follows:
If you track your Model S very infrequently (ie. once a year), then any tire will work. Tracking in the beginner's groups won't stress your tires since most of the time you'll be driving at lower speeds while learning racing best practices.
If you do it frequently and/or do performance driving (usually in the intermediate groups) softer compound performance tires would be your best choice.
If you are racing your Tesla in the advanced group where ever millisecond counts then racing tires are a must.
We will review performance vs. racing tires in detail, and outline the pros and cons of each.
Performance Tires
Usually found under Performance Summer (Extreme/High/Max) category at retailers like Tire Rack. Our choice of performance tires is, 265/35ZR-20 BFGoodrich G-Force Rival, grade 200. While they very slightly exceed the spec for front wheels, rubbing is very minimal, only when tires are new, and only on full lock. We found it to be a non-issue fot track use and daily driving. This is how the tires  look like on a race track: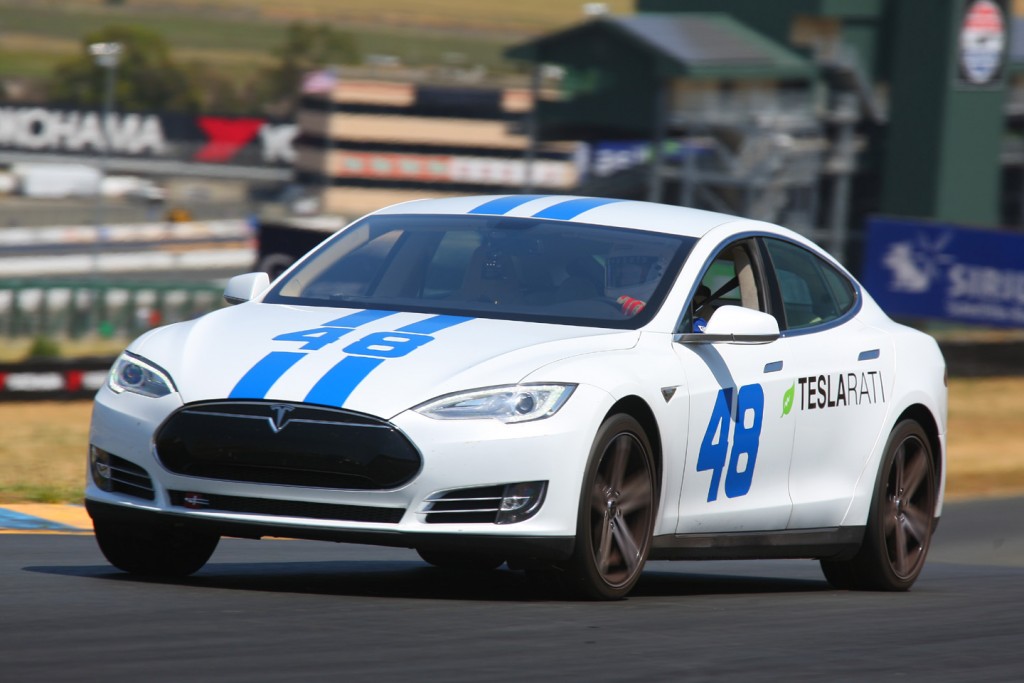 Pros:
The tires can be used for both race track and daily street driving. We did not find them consuming substantially more energy. They are fully street legal, comfortable to drive on, and they don't wear out nearly as much as racing tires.
On the track the tires provide an excellent balance between traction/grip and slide/drift, allowing for an easy, controlled drift through turns (as much as stability control will allow).
You can achieve a fairly steady 0.9 to 1.0 lateral G through the turns, with occasional spikes to 1.1 and as high as 1.3.
At $260 per tire, they are very economical and versatile. Overall, fun tires to use on the track.
Cons:
These are not meant for all out racing. The edges of the tires will get torn up if you drive very aggressively on them.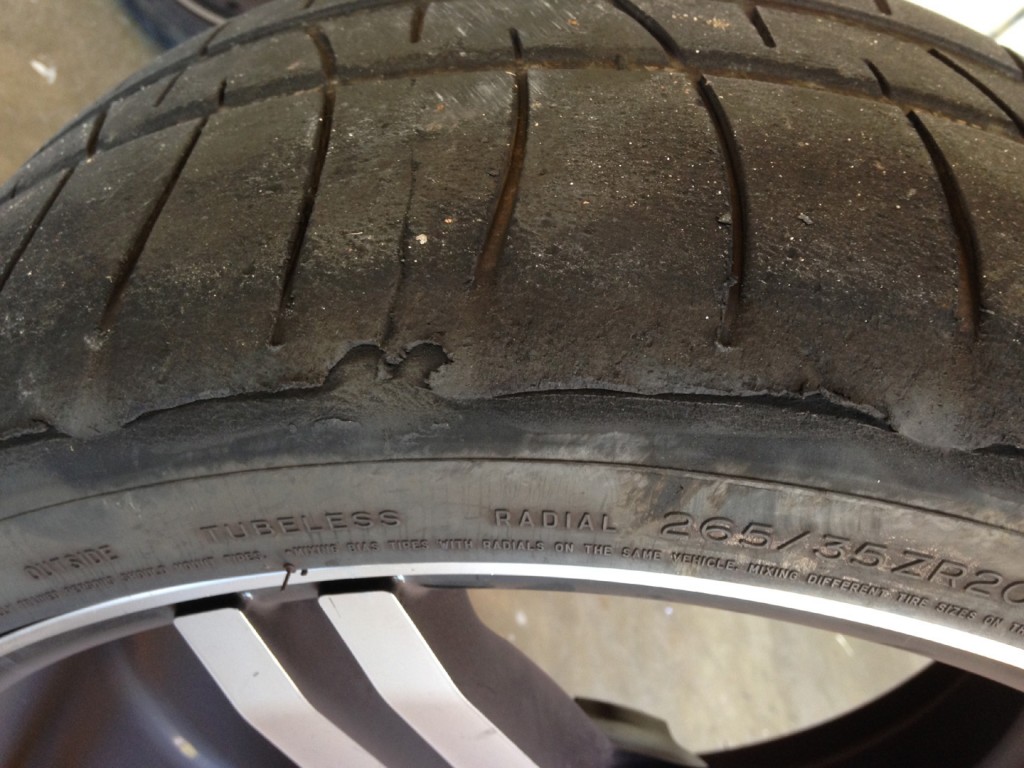 Using a higher tire pressure will alleviate some of the wear but it will ultimately succumb to the car's weight. Some feathering is normal, but as shown on these photos, these tears are deep and often go down all the way to the cord. Move to racing tires if this is happening to you.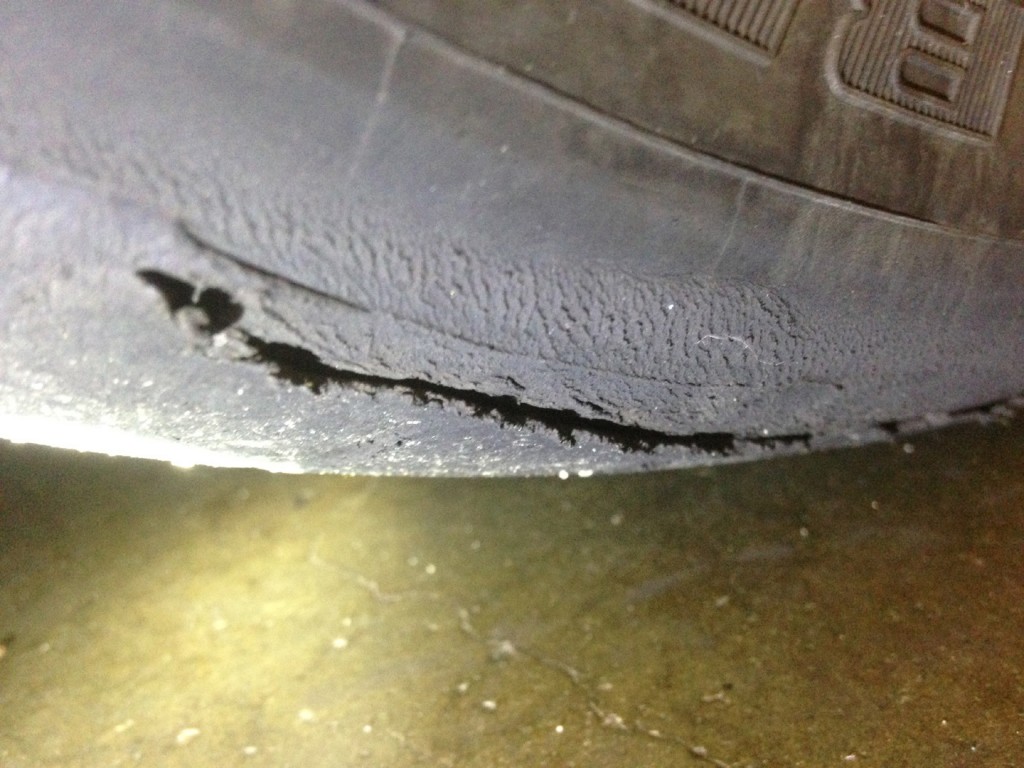 Racing Tires
Racing tires can be found under the Racetrack / Competition Only category at online retailers such as Tire Rack. Our choice of racing tire is the Toyo Proxes R888 @ 285/35ZR-20, grade 100. Finding racing tires for the Tesla Model S can be challenging mainly because of the car's heavy weight, something not all tires can support. It's not everyday that you see a 4600+ "race car" tearing it up on the track. There's only two or three racing tire choices that fit the bill. Of the two choices available, 285 wide 20″ vs. 265 wide 19″, the bigger tires are our favorites. This is what they look like mounted on the car: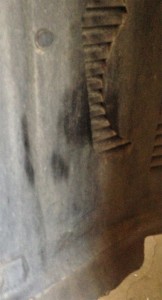 The larger tires work extremely well for racing purposes but be mindful that minor rubbing against the inner plastic fender can occur at approximately 3/4th of the steering wheel turn. It's not an issue for racing applications because most turns are less than 1/4th of steering wheel turn.
This picture to the right was taken after driving slowly with the steering wheel turned to full lock.
The overall tire diameter is almost the same as the standard Model S tires. There are sufficient horizontal and vertical clearances with the suspension set to Standard.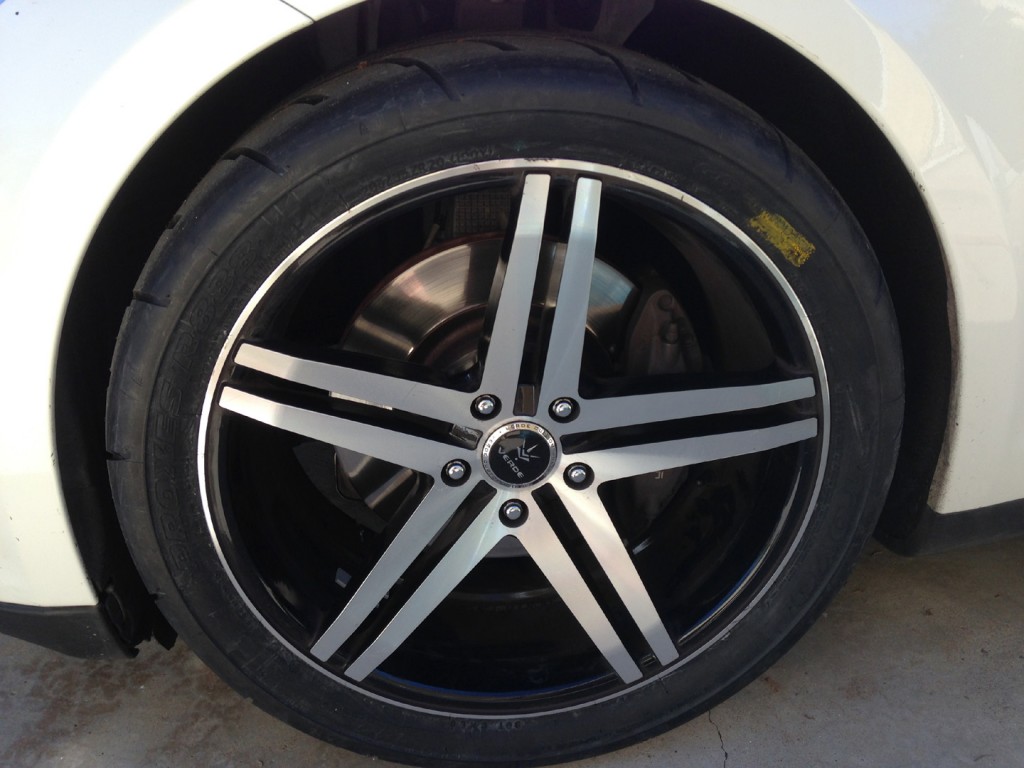 Pros:
One of the benefits of having a larger racing tires is that the steering wheel lockup issue during banked turns is eliminated. Based on our experiences the Model S steering wheel locks up under high G and until the forces are reduced. Examples of where this has occurred are Fontana turn 1, Laguna Seca turn 9, Sonoma turn 1. We've been in contact with Tesla about the issue, but understandably addressing it is low on the priority list since this issue only occurs under extreme driving forces.
Softer and wider tires provide better traction because of the grippier compound. However a stiffer suspension is usually needed to be able to fully realize the potential. We did not find an improvement in lateral G, but we did notice a longer duration for holding the G.
One of the main advantages of these tires vs. performance tires is race track durability. They are capable of handling the grueling conditions of racing especially including the heavy weight of the Tesla.
Cons:
While they are technically street legal (barely), the tires resemble slicks and not suitable for daily driving.
Parking becomes a difficult task especially if you need to make a full turn.
Racing tires are very noisy because of the increased friction against ground surfaces.
Racing tires are not designed for wet conditions. They did surprisingly well on a wet race track surface, but do not repeat our mistake and try driving through standing water.
And lastly, while these softer, wider, and grippier tires improve traction on a race track, more energy is needed to move rotate them. How much more? A whopping 20%. We registered 390 Wh/mile of street driving using the racing tires vs. 320 Wh/mile when using standard tires.
The tires need to be transported to the track.
At $380 per tire, racing tires are much more expensive than performance tires. They also tend to wear down much faster.
We'll be gathering some more track data over time using our racing 285/35ZR-20 Toyo Proxes R888. We'll be monitoring the effects these racing tires have on energy usage, lateral Gs and of course our lap times!