As we continue on our mission to prove that electric cars can stand on equal footing with its gasoline counterparts on a race track, we return to Buttonwillow race track where our Tesla Model S adventures began a full year ago.
Since then we have visited 8 race tracks across California and Nevada logging close to 1000 race track miles and 400 race track laps over the course of a year. We've graduated to an advanced Green group at Speed Ventures, improved our racing skills, installed professional video recording equipment, and upgraded our tires to full racing slicks. But more importantly, we've clocked our fastest lap time at 2:12 which is a full 6 second improvement over last year's 2:19.
The Track
Buttonwillow is a technical track yet it's forgiving of driving mistakes due to the lack of retaining walls and soft flat shoulders. Because of this, racers love experimenting with driving techniques they would not ordinarily try. Racers are seen pushing their cars to the limits which inevitably leads to off-track mistakes. I suppose we're speaking from experience here. Luckily these mistakes are generally met with little to no damage to the vehicle because of the flat ground and lack of barriers.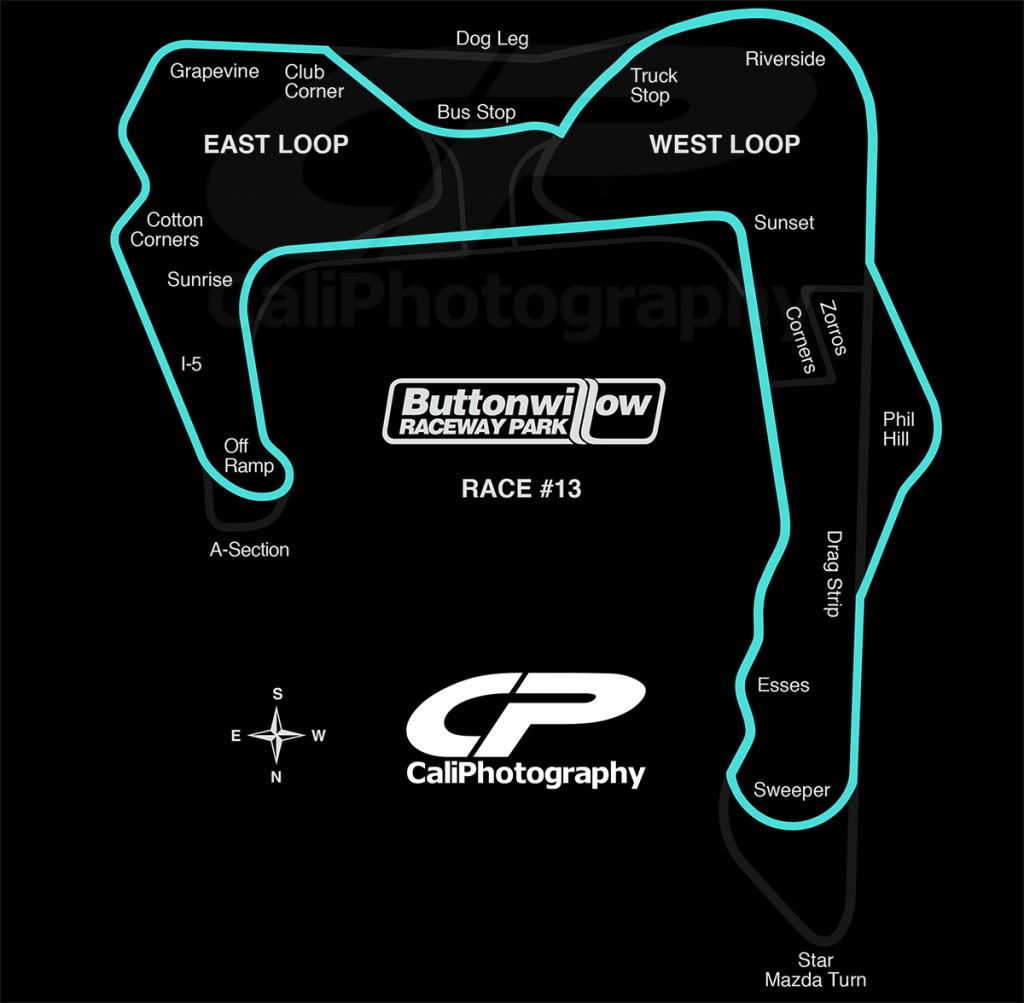 The huge plume of dust in the background is our Teslarati 48 losing a battle with extreme lateral G forces. End result? We slid off-track at the Riverside sweeper exit.
Teslarati 48 Sets Personal Best
The first lap shown in the video happened to be our quickest time ever at 2:12. But even with that, we know there is plenty of room for improvement since power limitation begins kicking in halfway into the first lap. There's really no opportunity to perform a full lap under full power. By the end of the first lap and all subsequent laps, the power limitation is so severe that you end up driving a car that feels completely different than what you just had minutes ago.
Our latest selection of Toyo R888 racing tires continues to perform great is also extremely resilient. Much better than the BFGoodrich G-Force Rivals. Tire wear has become more evenly distributed and the edges of the tire no longer look shredded due to drifts and slides. The downside to having increased traction is the need to expend more energy when moving the vehicle forward. This isn't much of a problem under full power, but at half power the car really struggles.
Charging and Power Consumption
Buttonwillow has plenty of 240V 50Amp RV outlets available at the track. Power consumption remains similar to other tracks at 1200 Wh/Mile. This equates to 13 rated miles per lap, or 4.5 rated miles used per 1 actual mile.
Starting track day at 230 rated miles and running half of each session and with recharging in between, you'll end up with 70 rated miles remaining by the end of the sessions. That's almost enough to get you to the Tejon Ranch Supercharger which is situated 75 rated miles away. Top off a few extra miles at the track before leaving.
What's Next?
We're looking forward to racing on two new race tracks this year – Thunderhill in Northern California in March, and Circuit of the Americas (F1 track) in Texas during April. Come say hello or come for a Teslarati 48 ride along if you're in the area. Let us know in the comments below.
RELATED: My First Tesla Ride: 126mph Riding Shotgun on a Racetrack