If you're a Model S owner who has been on the wait list for a Premium Center Console solution from Tesla, raise your hand. Now, if you have a carbon fiber interior trim or obeche wood, keep your hand raised. You, my friend, are part of the group who will not be receiving your long awaited center console because Tesla has just cancelled delivery of it. Owners with the Piano Black trim will still be eligible although I'm not quite sure that's a good thing (see video at end of post).
Tesla Console Order Issues
Shortly after ordering my Model S on March 10 of 2014, I reserved a Tesla Premium Center Console with the Obeche Wood Matte Décor to match my interior trim. From that point on, the communication from Tesla merchandise, or lack there of, and actual fulfillment of the reservation was shameful.
So, what happened, according to Tesla Motors?
March 10, 2014:
We estimate that the console will be available to those recently added to the list in August.
May 2, 2014:
Consistent with that mission, we have added improved parts to the center console. The updated estimate for resuming the shipping of the consoles is currently slated for early June.
August 1, 2015:
Center consoles in other décor finishes will be available in limited quantities starting early 2015.
January 2, 2015:
We do not anticipate the console with your décor to become available until spring 2015.
May 19, 2015:
We have made the difficult decision to offer only the Piano Black Front Center Consoles on Model S.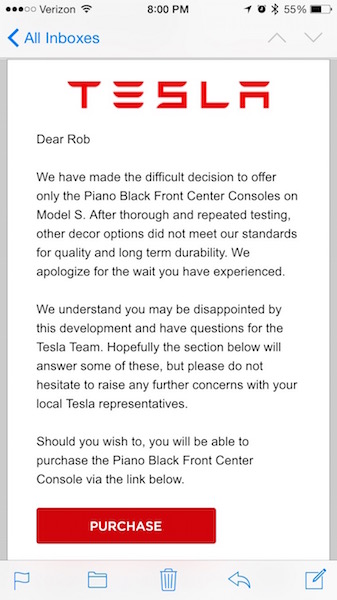 After that tremendous wait and poor customer experience, why would anyone actually click that "PURCHASE" link?
While these fulfillment issues were taking place, Tesla meanwhile offered a Premium Rear Console (in all finishes) – something they seem to have delivered on with no quality or availability problems.
>>>> REVIEW: Tesla Model S Premium Rear Console
How is it possible for such an advanced company to screw up such a simple project like a center console?
According to forum chatter, Tesla evidently used one supplier for the front console (perhaps with an exclusivity agreement), but after experiencing quality and fulfillment issues, they switched suppliers for the rear console, but at the expense of may disappointed and frustrated Model S owners.
What is more frightening about this experience as a shareholder, Model S owner and Model X reservation holder, is that interest for the Powerwall and Model X fall into the same category as being "reservations" rather than orders. Granted, Tesla probably isn't relying on a third party aftermarket supplier to produce the Powerwall and Model X, but it still begs the question,
Can Tesla deliver on other reservation types or will we have another Console-gate on our hands?
I sincerely hope that by sticking to their wheelhouse, Tesla will be able to deliver on other new products that come along. The Model X has had at least 3 major slippages in initial delivery dates since I started tracking it.
Tesla Center Console Quality issues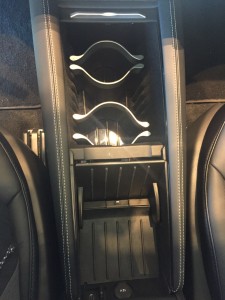 During my extended wait for the factory Tesla Model S Center Console, I did a bunch of research and reading that ultimately led me to an aftermarket center console insert (CCI) solution from EVannex.
I did, however, really like the design of the cupholders in the factory Tesla center console, and the fact that both can be hidden from view. I didn't get a chance to "test" the cupholders with my beloved Dunkin' Donuts cup, but they looked like they would be up for the task.
Also the console seemed to have a lot more storage in the area near the cupholders than the EVannex CCI offering.
That's where my 'likes' come to an abrupt halt. I didn't particularly like the phone holder area. I'd never use it, favoring the pocket on the front of my driver's seat over that. The space within the center console is not useful for much else, either open or closed — it has an odd shape, grooves etc. And when closed, you get the full piano black glare: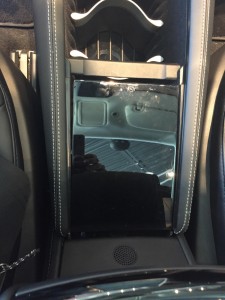 I had a chance to inspect the quality of the factory Tesla Model S center console solution, installed within the car, and much to my dismay, I found it to be not up to par. Keep in mind that this was a console installed by Tesla Service (the only way one can have a Tesla Console installed).
Below is my video showing the quality of the center console as seen from a Model S on the showroom floor (Paramus, NJ, April 11, 2015):
From the video you can really see the wobbliness of the unit even though I barely applied any force.
Summary
It's evident that Tesla was not prepared to take on the demand and challenges that came with their Premium Center Console offering. Yes, they ran into delivery and quality problems, but what's more disappointing is how they handled those issues.
Rather than fixing the issue by working with other third party suppliers, Tesla decided to drop much of the center console offering. This was a bad call in my opinion and sends the wrong type of message to product reservation holders.
Tesla, you can do better.
RELATED: Review of Tesla Model S center console insert (CCI)