The Track
Thunderhill is one of the most challenging and unique road racing courses we've been to. It's a technical 3-mile road course with 15 turns, located just over an hour north of Sacramento, CA. The course features unique configurations, with sharp elevation changes, blind turns, off-camber turns, and combinations of the above. What we've learned is that in some of these unique turns, normal racing lines do not apply, and you have to know specific ways of taking them. Overall it's a unique and fun track, which takes a lot of courage to drive.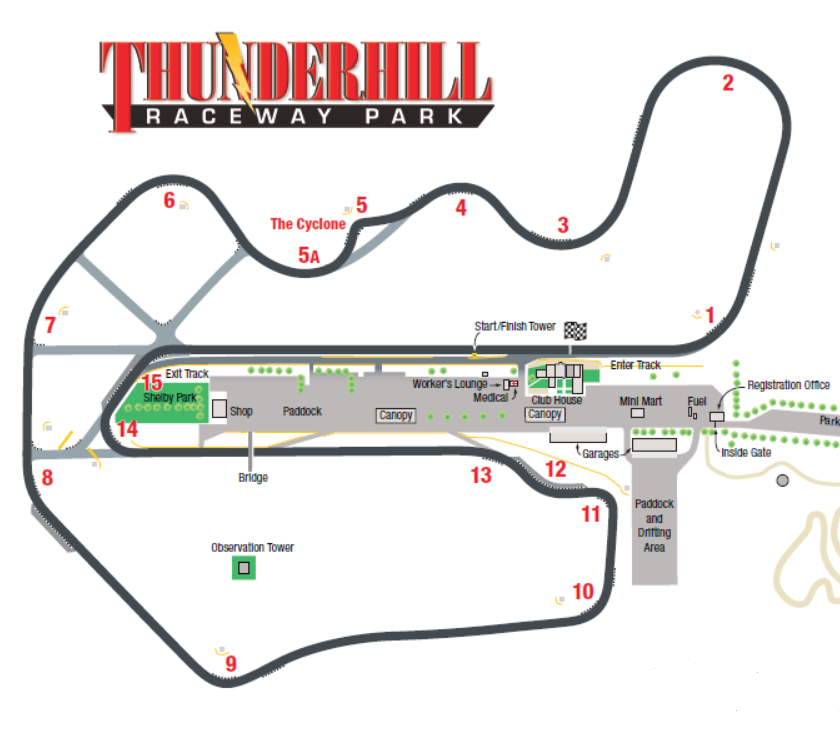 The Tesla Model S
Turn #3, is significantly slanted off-camber, and no turn like this can be found in any other track in California. The Model S has a lot of challenges with off-camber turns in general, and this one in particular, because of the car's heavy weight.
Turn #5 bypass is sharply downhill and off camber. It's probably the scariest turn on the whole track. You can't fully appreciate it from any of the videos or pictures. It's a blind turn, so you really have to pay attention to flag stations, so you don't have a collision if there is a car turned around on the other side. Once over the hill, you can't brake or turn, because the car has very little traction. One or two times we ended up sliding sideways down that hill, while we were learning the track.
Turn #5 section of the track has two configurations, Cyclone or Bypass. Cyclone (in the video below) was really fun, very similar to Laguna Seca's Corkscrew. The Model S worked the hill really well and felt well under control. Bypass – not so much, because trying to improve here results in the car carrying too much speed for its weight, and you end up sliding downhill off-camber with little control.
Turn #8 is another 'scary' turn, but of a different kind since it's supposed to be taken at full throttle. Easier said than done as you fight your brain's natural instinct to do the complete opposite. It also leaves zero room for error but can be done with practice.
We completed 10 sessions over 2 days with the Northern California Racing Club (NCRC) in the Open group. Our top speed was 116mph at then end of the front straight-away, and lateral G forces in 1.0-1.2 range. Our new 20″ 285mm Toyo R888 tires are working out quite nicely, but even they could not stop the car from sliding in off-camber turns. Our best lap time was 2:15 bypass and 2:17 cyclone, with the fastest car in this group at 2:00 and the slowest at 2:29. Overheating and resulting power limiting were present on this track but not significantly more or less than other tracks.
Here's a video of couple of our laps. Negotiating this tracks well requires more than two days of practice, so please don't judge too harshly, since it was our first time on this track 🙂 We are looking forward to coming back here in the future to continue improving our skills.
Charging and Power Consumption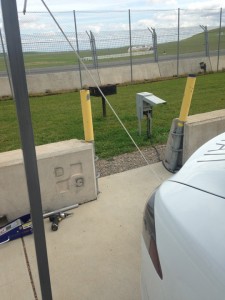 Power consumption was similar to other tracks, at approx 1.2 kW/mile average energy consumption, with approximately 12 rated miles used per lap, and 4 rated miles used per 1 actual mile.
There is a number of 200V 50amp outlets at the track (charging at 24 miles per hour), and the track lets you use them for free. It's enough to get you through the day, running half of each session.
Corning Supercharger is 35 miles away, so overall, charging situation is covered well at this track.
Travel
It was the furthest we've ever driven to a race track. It was a 600-mile 12 hour trip from San Diego. One of our goals has been to prove that, like gasoline cars, not can we only be on the track on equal footing, but  also drive to and from the track. It's not been easy in some cases, but on this trip Superchargers made it easy. 2.5 of the 12 hours were spent on charging at 4 SCs (San Juan Capistrano, Tejon Ranch, Harris Ranch, and Manteca), which is not significantly higher than a gasoline car.