The Tesla front trunk cargo net used to come standard on early versions of the Model S until some bean counter at corporate decided they could make more money by selling it as a $20 (plus shipping) optional accessory.
I always wanted a frunk cargo net, however I didn't think it was worth the price Tesla was charging, especially since the cargo net would not reside in a very visible area.
Research
After measuring the frunk dimensions, I decided that a cargo net of approximately 13″ x 13″ in size would work best. My quest to find a small cargo net through Google led me to a results listing of cargo nets for bicycles and motorcycles.
Amazon is usually my go-to place for any online order, but unfortunately they've been struggling with keeping illegal and knock-off items out. The one I really wanted was the "Pyramid Bicycle Bungie Cargo Net" but when I went to order it, I was prompted with a standard shipping notice between 17-28 days. This generally indicates a Chinese knock-off.
I ended up on ebay
 searching for the same item and was lucky to be able to find it at $8.95 with free shipping. The bungee arrived within a few days, but the best part of it all was that I got to pay for it using PayPal thanks to Elon!
Installation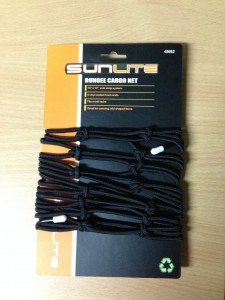 I purchased the aftermarket cargo net mainly because it has four hooks instead of six, and can easily attach to the four plastic buttons along the outter edge of the Tesla Model S frunk.
Fitment was great and the product did its job by securing items within the frunk. The bungee cargo net is not quite as nice as the one being sold directly by Tesla Motors, but then again this aftermarket bungee is 70% less expensive and I was able receive it much faster. In the picture below it's holding a 30′ NEMA 14-50 extension cord in place (subject of a future post!)
Summary
The Tesla frunk cargo net should really be a standard item with the Model S. It costs practically nothing to manufacture and scores big points with the consumer when provided as standard equipment with the Model S. Tesla has gone back and forth on many of the accessories that were once standard equipment but later became optional components only to become standard again (ie. the rear parcel shelf).
The microwave-like storage space in the Tesla Model S frunk can be an extremely useful compartment, but items will slide around unless held in place. For less than $9 this solution does a perfect job.