SpaceX officially confirmed that it will move the location of a Falcon 9 booster's post-launch recovery in order to better preserve the site of Crew Dragon's catastrophic April 20th failure.

Instead of returning the booster to one of SpaceX's two Cape Canaveral Landing Zones (LZs), SpaceX has applied for an FCC permit to land the rocket less than 20 miles (~30 km) off the coast of Florida on the drone ship Of Course I Still Love You (OCISLY). The culprit for the last-second change of plans is a catastrophic failure of Crew Dragon that spread debris throughout SpaceX's Landing Zone facilities, debris that will now be critical for the process of anomaly resolution. Landing a Falcon 9 booster at LZ-1 or 2 would invariably spread Crew Dragon's debris and complicate the failure investigation even further.
Much like a tornado passing through a crime scene would likely hamper the value of that crime scene and any related investigations, a Falcon 9 booster landing at the scene of a fresh accident investigation would be an extremely unwelcome complication. Even with just one Merlin 1D engine firing during a Falcon 9's landing burn, the engine exhaust departs the nozzle traveling approximately 2.7 km/s (1.7 mi/s) and could easily send Crew Dragon remnants hundreds or even thousands of feet away and incinerate smaller debris. Given that Crew Dragon's explosion appears to have been highly energetic, many, many pieces will already be spread many hundreds – and perhaps thousands – of feet around the incident.
Crew Dragon is an extremely complex spacecraft. Even the tiniest of fragments could potentially be critical to the successful completion of the explosion investigation, especially if the fault began somewhere in capsule C201's many hundreds of feet of plumbing. The pipes, valves, and pumps that make up Crew Dragon's propellant management system have many hundreds (if not thousands) of small parts that must work without issue to safely pressurize and handle the spacecraft's hypergolic propellant.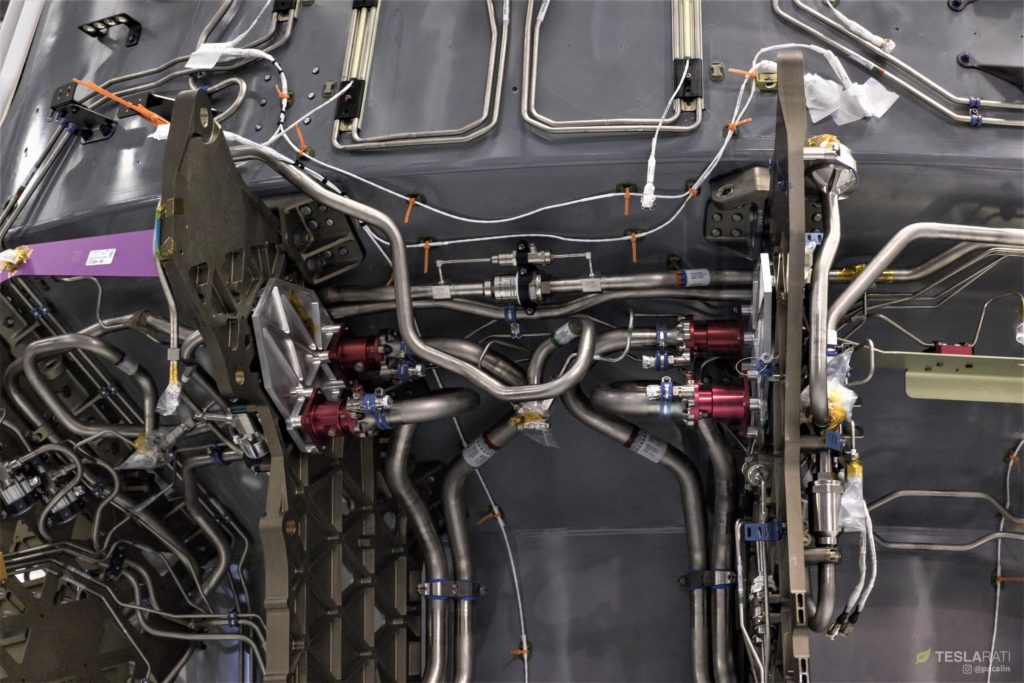 Cargo Dragon set for launch
Despite Crew Dragon's serious failure and the need to change Falcon 9's booster recovery plans at the last moment, SpaceX still appears to be working to maintain the planned launch date. The instantaneous window is set for 4:22 am ET (08:22 UTC), April 30th, delayed five days from the original April 25th target. Based on an update provided by NASA last week, those delays are the result of International Space Station (ISS) scheduling and additional time needed for payload preparations. Orbital-ATK's (now "Northrop Grumman Innovation Systems" or NGIS) uncrewed Cygnus spacecraft successfully berthed with the ISS on April 19th, followed by the station's astronauts unloading the three metric tons of cargo it contained over the next several days.
Once Cygnus operations have been completed, the ISS astronauts will be able to start preparing for Cargo Dragon's CRS-17 resupply mission, likely carrying another three or four metric tons of pressurized cargo. Although the logistics of unloading, unpacking, and stowing the contents of hundreds of packages of consumables, hardware, tools, science experiments, and more is not exactly thrilling, the reality is that the task takes a surprising amount of time and care. Of the maximum six astronauts aboard the ISS at any given moment, only a few of them are able to focus exclusively on the cargo logistics at the same time as time-sensitive science experiments must be immediately set up to avoid ruining the data produced. Furthermore, although the ISS is truly massive, there are only a handful of berthing and docking ports and the actual habitable volume can be cramped, as are the ports between the station and visiting spacecraft.

An unknown Falcon 9 booster – perhaps B1056 – will perform a routine static fire test at SpaceX Launch Complex 40 (LC-40) five or so days before launch, likely within the next 48 hours. Soon after, Falcon 9 will be mated with CRS-17's flight-proven Cargo Dragon capsule and expendable trunk before rolling back out to LC-40. If the FCC works fast and grants SpaceX's updated booster recovery license in the next few days, CRS-17 should remain on track for an April 30th launch.
Check out Teslarati's newsletters for prompt updates, on-the-ground perspectives, and unique glimpses of SpaceX's rocket launch and recovery processes.