Shareholders voted to approve Tesla's new performance award for CEO Elon Musk on Wednesday, allowing the electric car maker and energy company to keep the billionaire entrepreneur as its head for the next decade. With Musk's $2.6-billion pay plan approved, Tesla is now set to take on its biggest challenge yet, with the company aiming to reach a market cap of $650 billion by the end of the 10-year-mark.
The votation for Musk's high-stakes, high-reward compensation plan was held at the Tesla Training Center on Fremont, CA, where shareholders voted for or against the 10-year plan. Proxy cards from shareholders submitted through the internet, phone, and regular mail also determined if Musk's award would be approved. 
Patterned after Elon Musk's 5-year performance award back in 2012, the new 10-year plan requires several breakthroughs for Tesla before the serial tech entrepreneur would be compensated. Under the new plan, Musk would only get rewards if he meets 12 milestones for Tesla, comprised of $50 billion additions to the company's market cap and a series of operational targets. If Tesla fails to attain these goals, Musk would not be compensated at all. Tesla's investor communication describes the high-stakes nature of Musk's performance award.
"For each of the 12 tranches that is achieved, Elon will vest in stock options that correspond to 1% of Tesla's current total outstanding shares (1% of that amount is approximately 1.69 million shares). If none of the 12 tranches is achieved, Elon will not receive any compensation."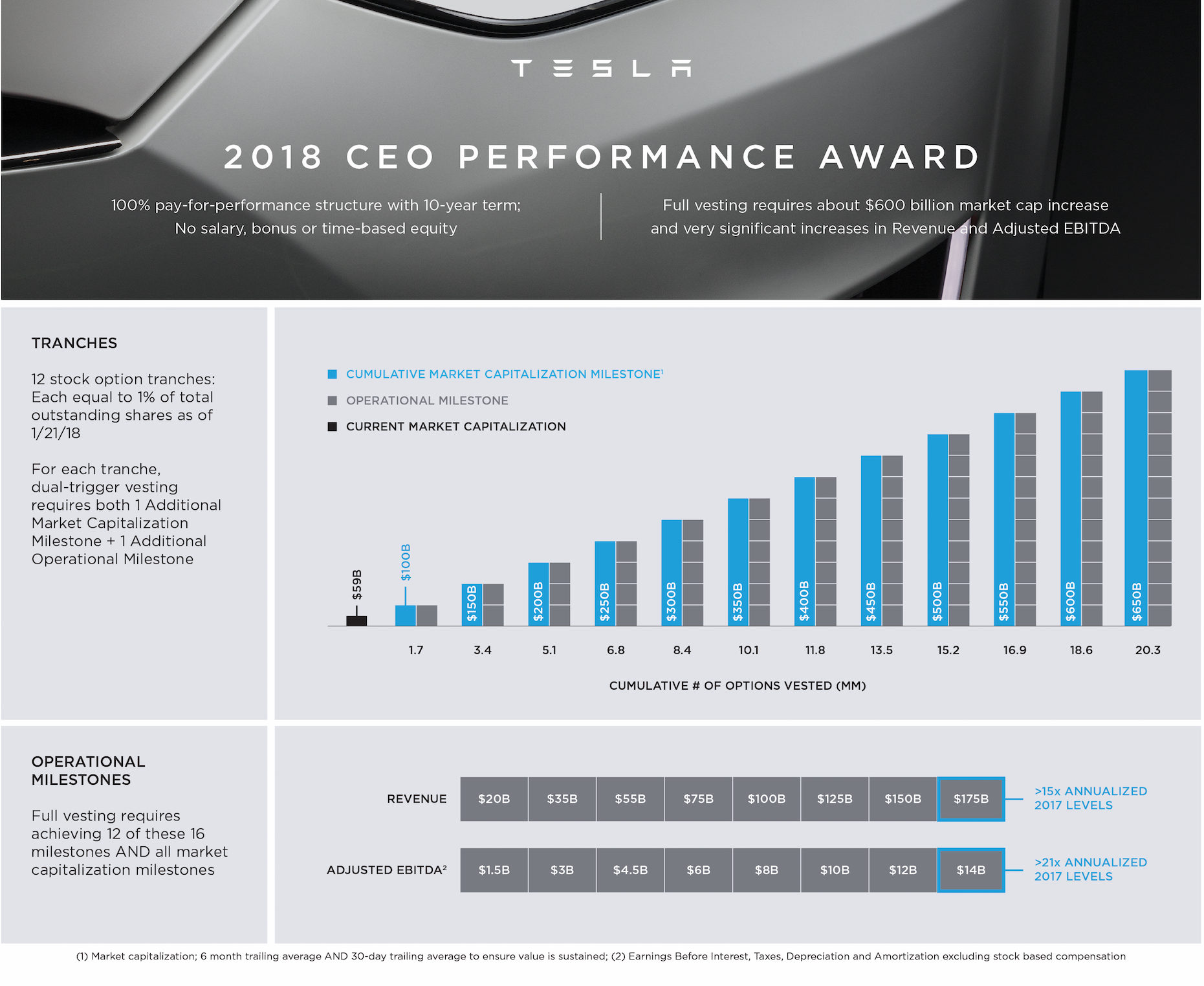 Musk's performance award was not approved without opposition, however. Earlier this month, proxy advisor companies Institutional Shareholder Services Inc. and Glass Lewis & Co. issued a statement encouraging shareholders to deny Musk the 10-year compensation plan. According to the advisor firm, the potential income and the sheer amount of shares that Musk would command if he succeeds would be far too much for one person to hold.
Tesla's other investors, however, such as Baillie Gifford & Co. and T. Rowe Price Group Inc., which command a combined 14% of Tesla's shares, have publicly expressed their support for Musk's new performance award prior to Wednesday's vote.
If Elon Musk succeeds in accomplishing Tesla's goals for the next ten years, the electric car maker and energy company have a market cap of $650 billion. This is well into the territory of the tech industry's most prominent companies such as Apple and Google, both of which have market caps that are closing in on the $1 trillion mark. 
The full, detailed results of today's votation will be available on the official SEC website (www.sec.gov) by Tuesday next week. The complete tally of the votes for and against Musk's performance award will be accessible from the government site on March 28, 2018.