Tesla China recently posted a rather cryptic "Cybervault" poster that hints at a special announcement coming around April 3, 2023. The poster hinted at something new, and based on its design, it might very well be Cybertruck-related.
Tesla China has an active social media presence, especially on local platforms such as Weibo. It was then no surprise that the cryptic new poster was shared on the social media site. The poster itself does not have a lot of details, but it contains just enough hints to capture the EV community's interest. 
Tesla China posted a short description of the poster on its Weibo account. "Cyber-enhanced, balancing commuting and traveling; A technological appearance, fully meeting your expectations; This time, our protagonist is ___ ; Only 3 days left until the reveal," the text on Tesla China's Weibo post read.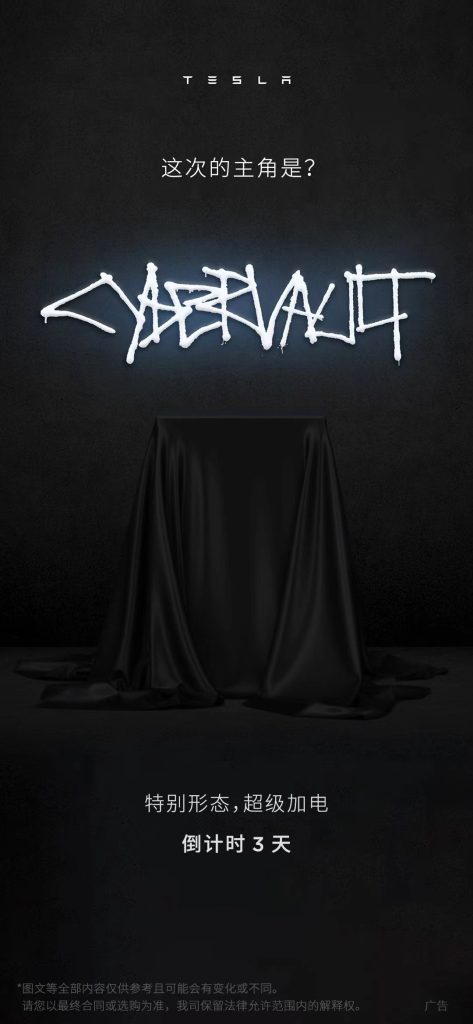 Perhaps the most interesting aspect of the poster, however, was the word "Cybervault" featured prominently at the center of the image. Interestingly enough, the text was written in the same font as the one used for the Cybertruck's promotional materials. This has triggered speculations that the upcoming announcement may be related in some way to the all-electric pickup truck. 
Tesla owners and EV enthusiasts have weighed in on what the electric vehicle maker's announcement could be. Some have speculated that the announcement may be related to Tesla's V4 Supercharger, which was already activated in Europe. Others have speculated that the poster may also relate to some new items like a new wall connector, which, considering the text in its poster, might feature a design inspired by the all-electric pickup truck. 
There are already a number of Cybertruck-related items that Tesla has launched, but there are none that have received a similar teaser as the one hinted at in Tesla China's poster. It would then be very interesting to see exactly what Tesla China unveils in a few days and find out why it was worthy of being kept inside the "Cybervault."
Don't hesitate to contact us with news tips. Just send a message to simon@teslarati.com to give us a heads up.